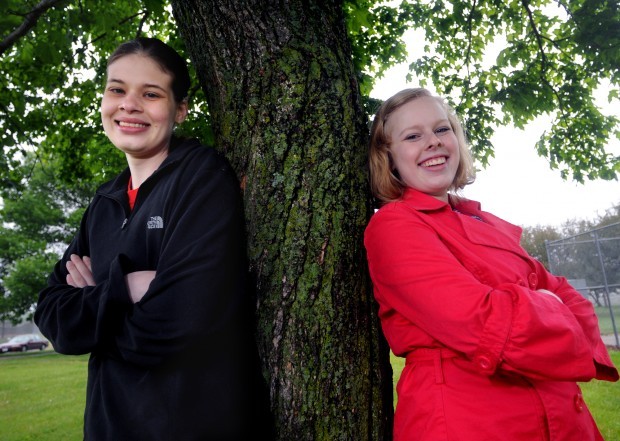 Hope Waggoner, a sophomore at Lincoln East High School, isn't the type to get scared before giving a speech.
She's a varsity cheerleader. She's used to getting up in front of people.
But she felt nervous the other day as she took her seat in Period 4 Oral Communications. It was the day she had to give her persuasive speech. She knew what she wanted to say. She knew the words she would read to the class were important. But could she make it to the end without crying?
(That was the title. She'd crossed it out for emphasis.)
She began her speech with an example: Your teacher says there's a math test tomorrow on a difficult chapter. You're angry. You turn to a friend and words come out of your mouth.
Dude, that's so retarded!
You may not think of it this way, she continued, but the R-word feels like hate speech to millions of people with intellectual disabilities, and to the people who love them.
Her voice filled with emotion as she got to the part about her sister, Haley.
As you can imagine, I take great offense to this word mostly because of her. It kills me to see the look on her face when she hears the R-word. She starts to feel like an outcast, someone who doesn't belong. When, really, she's the greatest person I have ever met, and will always be.
Her eyes filled with tears.
Haley Waggoner graduated from Lincoln East in 2008. She works at the Hy-Vee Bakery. She likes to make cupcakes.
Unlike everyone else in the Waggoner family, Haley likes to play sports. (Hope is the "girly girl," she jokes.) Haley likes basketball and tennis. She's a big fan of Roger Federer and his big serve.
In July, she will compete in tennis during the Special Olympics National Games in Lincoln.
Family and friends of athletes like Haley -- and the athletes themselves -- hope this summer's games turn into a learning moment for Lincoln and the nation and help people understand how much it hurts them to hear the R-word.
They hope people will see the athletes' determination, their diverse personalities, their skills. They hope people will see beyond the stereotypes, see them as people.
"She wants to win," Hope says as she sits with Haley in the commons area at Lincoln East after school one recent afternoon. "She beats me at tennis every time."
Haley says she's proud of her sister for giving the speech on the R-word. It's a word she's heard a lot.
"It's not really like in my face," Haley says. "But I hear it in other people, especially like kind of jokingly. It makes me sad. And you really shouldn't say that."
Special Olympics uses the term "intellectually disabled." The organization encourages people coming to the games or volunteering or writing about the games to use it, too.
Special Olympics also encourages people to take the R-word pledge and vow not to say the word again. The campaign, called "Spread the Word to End the Word," aims to eliminate the R-word from everyday speech.
In her speech, Hope urged her Oral Com classmates to go to r-word.org and take the pledge.
She feels the word has been thrown around in pop culture a lot these past few years. The Ben Stiller movie "Tropic Thunder" turned "Never go full retard" into a catch phrase.
The Black Eyed Peas sang "Let's Get Retarded." (They later changed the lyrics to "Let's Get It Started.")
Hope says her friends who use the R-word don't mean it as a literal put-down of people with intellectual disabilities. They mean "stupid" or "ridiculous."
So why not use "stupid" or "ridiculous" instead?
"I think by putting it in movies and television shows and songs, it's making it more of a joke to say it," she says. "It's like, 'Oh, I'm so cool I can say the word.' I don't think it's ever been a really popular word to say, but just bringing it up in pop culture has brought it out into high schools and things. It keeps spreading.
"In my little corner of East, I'm trying to change that."
Last year, President Barack Obama apologized to Special Olympics CEO Tim Shriver after he told "Tonight Show" host Jay Leno his bowling score was "like the Special Olympics or something."
Shriver, son of Special Olympics founder Eunice Kennedy Shriver, told the president a Special Olympics athlete in Detroit bowled three perfect games.
The R-word made political news again in February when Obama's chief of staff, Rahm Emanuel, called liberal activists' plan to run ads against conservative Democrats "retarded." He apologized, too.
With Special Olympics officials watching, he signed the R-word pledge.
Shriver said those incidents could be used as learning moments for the nation.
Kim Duncan thinks so, too. She helps coach softball for Team Nebraska, which will represent the state in the National Games. Her two sons play on the team. Her oldest, Nick, has cerebral palsy.
Nick is 26. So Kim has heard the R-word for 26 years. Each time, it's made her feel angry and hurt.
Nick's not the team's best athlete, she says, but he may be the most gifted when it comes to determination.
"I'm hoping that these games, when they come and they bring all these athletes to the state, that it opens up people's eyes to realize that these are special people ... that they're just as much of a human being."
Nick Duncan was 8 when he first heard the R-word. Another boy called him that as he smashed his face into a school locker. It made his nose bleed.
The principal asked the bully's parents and Nick's parents to come in for a talk.
The bully's parents used the R-word, too, Kim Duncan recalls. Retards shouldn't be in the same place with normal kids.
Nick used a walker back then. He walks on his own pretty well now.
He stops smiling when he retells the story.
"I not like the R-word," he says. "Because hurt my feeling."
Nick has lots of friends. Many are on Team Nebraska with him, and they sat around the kitchen table at his home in north Lincoln on a recent rainy evening, talking and laughing and eating brownies as they made posters and door-knob hangers for their dorm rooms for the National Games.
He'll room with teammates Dustin and Mike Kelley.
Nick likes the Yankees. He glued a picture of a Yankees batter onto their poster. Dustin's into monkeys. He stuck on a picture of a smiling monkey.
Mike glued a photo of a moose.
"They call me Moose," he says. "Because I big and look like a moose."
He likes being called Moose. He doesn't like hearing the R-word.
"That word is disrespectful, and I don't know why people like calling people that. Everybody out there, don't say it!"
Another R-word to consider: Red.
Let's say you have red hair and people call you Red.
If you like it, great. But what if you don't, and they keep doing it?
"Anyone who's decent would stop calling you Red," best-selling author Mary Pipher says.
The Lincoln psychologist and author who has written about oppressed groups has thought a lot about the power of words and the negative effect of stereotypes. The title of one of her books is "Writing to Change the World."
"Words matter," she says. "Language matters.
"From my point of view, it's a matter of good manners that people be called what they want to be called. When I'm working with people, I ask them. If I want to be described as a clinical psychologist or an Irish-American or a writer or a mother, I feel I have the right to say that.
"The same with people who have developmental delays."
Language can be a weapon, she says. When someone uses certain words to describe groups of people, it's easier to see the people in that group as less worthy of respect, less human.
It can be confusing. Some groups have taken once-derogatory terms and turned them on their head. Many gay men, for example, now use "queer" in an empowering way. So do some black people with the N-word.
But when people use the R-word, Pipher says, it's always a put-down. Almost no one with an intellectual disability wants to be called it.
"The word 'retard' allows us to think in categories and stereotypes," she says. "But one of the most important things is that it obscures the fact that we're dealing with an extraordinary and unique individual."
Although falling out of favor, mental retardation is still a diagnostic term. Some advocates and family members of people with intellectual disabilities are fine with the term. Others prefer cognitive impairment or intellectual disability. The American Association on Intellectual and Developmental Disabilities, the largest organization of professionals and people who care about intellectual and developmental disabilities, changed its name three years ago. It used to be the American Association of Mental Retardation.
According to its website, one reason the change was made was because mental retardation "has devolved into an insult."
It may be difficult to know how to address people without insulting them, Pipher says. She advises asking what they prefer.
Growing in empathy helps people expand what Pipher calls their moral imagination -- understanding another person's point of view in the universe. Embedded within those words is an acceptance of that person's point of view, compassion for him or her and an eagerness to help.
This summer's National Games, she says, will present a great opportunity for people in the area to expand their moral imaginations.
"When anyone uses the word 'retard,'" she says, "they may use it habitually, they maybe aren't even thinking. But also, their moral imagination is not at work. They are not realizing that there are people out there with this condition, and there are people out there who love them who really have a very different view on this word."
Another R-word to consider: Redeemed.
That's the word the Rev. Don Coleman wants people to think about when they think of people with intellectual disabilities.
God has given them special gifts, says the reverend, who's head of M.A.D. Dads of Lincoln.
M.A.D. Dads is donating scores of bikes to Team Nebraska athletes competing in the National Games. On a door at the group's headquarters at Sixth and J streets, he has taped a newspaper photo of a Special Olympics athlete smiling as she crosses the finish line.
That photo was taken recently in Florida. Coleman, who was attending a M.A.D. Dads conference there, got to see that Special Olympics track meet.
"That is what Special Olympics is all about," he says. "Every one of them will have a smile. They always have a smile.
"That's why my R-word is redeemed. These are special kids. And they've got special parents. And now it's time for recognition for some of the things they can do -- and they can do them very well."
This is just so retarded!
One day, Deb Safarik was watching her son Paul at marching band practice at Lincoln East when she heard another kid in the band say those words after being told to stand in a spot far away from other kids playing the same instrument.
"When I heard it," she says, "it was like someone hit me with an electric shock or something."
Deb is president of the Down Syndrome Association for Families of Nebraska. She prefers "people first" language. For example, she'll describe her son as "Paul, my son who has Down syndrome" instead of "My Down syndrome son, Paul."
Paul is 17. He loves basketball. He's good at sinking 3-pointers. He plays baritone in band. And he has Down syndrome.
"For some people, the world 'retarded' is such a hot word they don't even want to hear it," Deb says. "They want it banned from the English language. I don't have trouble talking about somebody who has 'mental retardation.' I cannot say that my son does not have mental retardation, because he does.
"But it's just a part of who he is."
People probably are using the term mental retardation less now, she says, because the R-word has given the term such a negative feel.
Think. Think. Double, double retard!
A third-grader said those words to Liz Streur when she was in second grade. She's 25 now and plays second base for Team Nebraska.
She loves flowers. She glued flowers to her door hanger that recent rainy evening at the Duncans' kitchen table. She drew a softball on the poster for her dorm room during the games.
"Be more respectful for kids with disabilities," she says.
One more R-word to consider: Respect.
Says Team Nebraska member Arthur Duff: "The R-word. We're trying to keep people not saying it anymore. Respect people."
Says Nick Duncan, the young man who got pushed into a locker as a kid: "Treat other people respect."
Hope didn't make it through her speech on the R-word without crying. In fact, she still was crying when she returned to her chair.
A friend patted her on the back.
You did a really good job, the friend told her.
The teacher thought so, too. Hope earned 49 out of 50 points.
Her goal, she says, is not so much about changing the language. It's about letting people understand how the R-word affects people like her and her sister Haley.
"It felt good to get that off my chest," she says, "and to let everyone realize what the R-word really does to people."