When looking to land a signature event, cities often can tout glitzy new facilities — arenas and stadiums — in trying to draw visitors.
But for Lincoln, landing an event worth $2 million to $3 million in annual economic impact came down to a giant slab of concrete.
Since 2009, the Sports Car Club of America has brought 1,000 or more participants to Lincoln Air Park, where 91 acres of apron from the former Air Force base is transformed into a weeklong playground for enthusiasts competing in the Solo Nationals.
"First and foremost, the site out at the airport is A-1," said Howard Duncan, senior director of the event for the SCCA. "Second has been the great welcome we've gotten from the community. By now these participants feel like this is a second home for them."
Indeed, only 300 of the record 1,375 participants in 2018 were newcomers to the event, which spent 14 years in Topeka, Kansas, before first coming to Lincoln.
It's booked at Lincoln Air Park through 2022, with an option to extend the contract through 2027.
That's good news for local hotels and restaurants, and the Lincoln Convention and Visitors Bureau.
Derek Feyerherm, director of sales and operations for the Convention and Visitors Bureau, said the median income of participants is estimated at $130,000 a year. The vast majority stay in Lincoln hotels multiple nights, sometimes paying a premium for rooms when the Solo Nationals overlap a Nebraska football weekend.
The event generally shuts down at dusk, so visitors have time to spend their evenings in the Haymarket.
Annual events like the Solo Nationals and the Roller Sports National Championships are big business.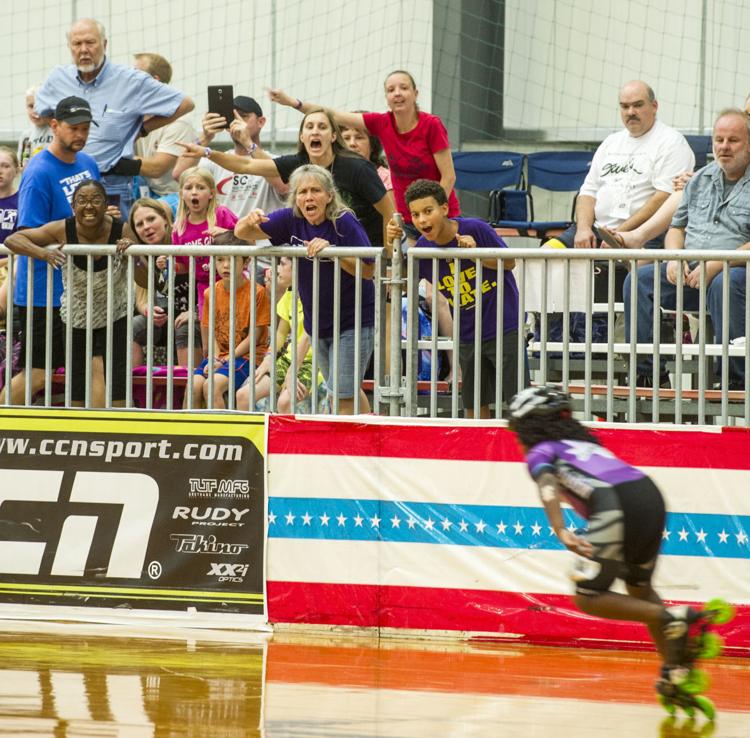 The Roller Sports championships, an almost-annual staple at the Pershing Center before the downtown arena shut its doors, most recently played out on the wood floor put down at Speedway Village in southwest Lincoln. The earliest the skaters will return to Lincoln is 2021.
The event, which has grown to four weeks in length, has an estimated annual economic impact of $7 million to $8 million.
Unlike the sports car drivers who perennially return to the same location, the roller sports enthusiasts have looked to move the event around on occasion.
In these so-called hobby sports, competing at the national level is often a vacation week for participants, Feyerherm said. As a result, roller sports organizers seek to change the location in an attempt to keep participation at high levels.
Lincoln has an advantage though in that it's centrally located to participants from both coasts, and like the Air Park apron for drivers, its city-owned wood floor has been a favorite of roller sports participants for decades.
Officials are hoping the city will put its arms around another annual event set to debut in Lincoln in 2020.
The Lancaster Event Center will host the National High School Finals Rodeo for the first time. It will return in 2021 and again in 2026 and 2027.
Each annual rodeo is expected to draw 50,000 visitors and competitors from more than 40 states, Canada, Australia and Mexico, competing in 13 events, from bull riding to barrel racing, pole bending to breakaway roping.
Each rodeo is expected to generate an estimated economic impact of $16 million in Lincoln alone, drawing competitors — and their families — from around the country who likely wouldn't otherwise visit.
Feyerherm believes having the high school rodeo in Lincoln may open up the market to other rodeo events.
Be the first to know
Get local news delivered to your inbox!