It's all about the dirt now.
Amy Dickerson, who left Nebraska three decades ago to pursue a career in sales and marketing on the West Coast, came home six years ago.
She brought the husband she'd met in the Galapagos Islands, three children and a desire to take on a new challenge. 
She was still working for Hewlett-Packard then, her realm largely the digital world. But the York native was ready for a job where she wasn't one of 300,000 employees.
She found it in a newspaper ad seeking a managing director of the Lancaster Event Center. 
"I love a challenge and this was a unique twist on using my experience in a new way," she said. "I was attracted to the idea of working in a nonprofit, a smaller organization where I could make a difference."
The Lancaster County Agricultural Society liked the idea, too, and in 2014 hired Dickerson to "relaunch" the 13-year-old event center at 84th Street and Havelock Avenue.
She quickly learned about dirt floors: how important it was to properly maintain them, how each event requires different preparations of the arena "footing," how an uneven floor can result in animals getting injured, how a venue's reputation for good flooring spreads.
"I've never thought more about dirt in my life," she said.
The sprawling event center was at a crossroads when the last manager retired in 2013. Ag Society members -- who oversee the center and run the county fair -- wanted to take advantage of the event center's niche in a city with a new downtown arena and the loss of Pershing Center. 
The event center had weathered its share of controversy in the early years: debates over the initial location; a $12 million price tag, three times the amount proposed when discussions began; allegations of mismanagement and debates about whether to move the state fair there.
But it persevered, with key improvements including an $8 million upgrade a decade ago that included a new pavilion, more parking and horse stalls and other improvements. 
The event center is largely self-sustaining, though it levies a tax to pay for bonds used to build the center and help fund the county fair. Its annual budget is about $4.5 million, and it runs the largest county fair in the state with the lowest per-capita public funding, Dickerson said.
And for years the Ag Society wanted to capitalize on its potential: to realize the long-planned final expansion of the center and find a way to juggle more regional and national events with the local 4-H groups and other community events that define the event center's mission. They knew events like the Shrine Circus would be looking for a home with Pershing locking its doors.
"I think the Ag Society's vision was to find someone that would not only keep our local events and give back to our community -- we also wanted to be able to grow the event center," said Kendra Ronnau, vice president of the Ag Society board.
Dickerson saw the potential: an event center in the middle of the country with a city full of restaurants, hotels and shopping. Some county event centers have become destination spots for regional and national events, and Dickerson thought Lincoln could too.
"Why not us? Why not be that?" she said. "(The ag society members) are gung-ho. They want to do it, but with this real independent, western spirit."
They're making inroads. The center hosted about 250 events when Dickerson took the helm. Today that number is over 300, she said.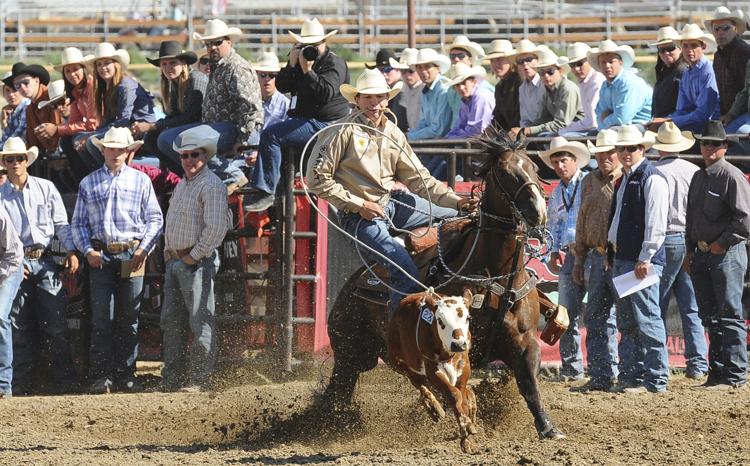 About a third of those are national or regional events, and the center recently landed a big one: The National High School Finals Rodeo, which will attract nearly 1,700 contestants from 43 states, five Canadian provinces, Australia and Mexico.
The event center will host the finals in 2020 and 2021, and possibly in 2026 and 2027, bringing an estimated 50,000 visitors to Lincoln each year. The estimated economic impact to the city is $16 million annually -- a total of $64 million if it hosts all four years.
Contingent on landing the rodeo, the Lancaster County Board approved $3 million from lodging taxes for upgrades to an outdoor arena, a new 3,400-person covered grandstand and campsite upgrades.
The Ag Society has been exploring ways to pay for the third expansion phase – an estimated $60 to $70 million project that would include a coliseum with fixed, raised seats, and another multipurpose building Dickerson has said would attract more national events.
She's been doing her research, including hiring a company to do a telephone survey, which showed most people like the event center and that nearly 70 percent of the county's residents visit each year.
Event center staff estimates that the facility brings in 500,000 visitors a year who stay an average of 2½ days. The annual economic benefit to the city is $40 million a year, Dickerson said.
Rod Dowd, Ag Society board president, said he appreciates the work Dickerson has done to build relationships with city, county and state officials, including the convention and visitors bureau, which helped land the rodeo event.
While Dickerson's expertise is business and marketing, she was prepared for the agricultural nature of her new job.
She grew up on an acreage near York and her mom, who worked for the city public works department, designed the giant balloon-shaped water tower that beckons drivers on Interstate 80. Her dad was an extension agent and crop consultant. Her grandpa was an animal science professor on East Campus, and she grew up active in 4-H. 
Still, she was drawn to marketing and after earning a business degree from the University of Nebraska-Lincoln landed a job in the Black & Decker sales and marketing department. For the next eight years, she went back and forth from Baltimore to Northern California.
When she left the company she headed abroad for a two-year stint in the Peace Corps, teaching marketing and English in eastern Russia.
When she returned to the United States, she began working on her MBA from the University of California. On top of that, she signed up for two Spanish  immersion programs in Costa Rica and Ecuador, experiences that would turn out to offer her more than a second language.
During a tour of the Galapagos Islands, she met Walter Cordova, the captain of the tourist yacht she was on and the man who would become her husband.
They had a long-distance relationship while Dickerson returned to the U.S., finished her master's degree and began working for Hewlett-Packard. After a year's leave of absence from her job spent in Ecuador, she came back with a husband, a baby, and his two children.
"No one but me spoke English or drove a car," she said.
They settled in San Diego for nine years -- until they moved to Lincoln.
She liked the idea of being back here, she said, where they bought her grandparents' house, and the "small big town" made her feel at home.
Before long, she bid goodbye to the tech giant and took on a decidedly Nebraska challenge.
Work began right away, updating, maintaining and cleaning the existing facility.
She bought her employees uniforms and designed a new logo for marketing purposes. She and her team worked hard to turn events around quickly and make sure those who came here had a good experience. She figured if the groups coming to the event center were pleased with the facilities and the management of their events, word would spread.
"If you can get one big event a year that's what will help us be a national-level event center," she said. "We are on that path."