Carbon black is everywhere.
It reinforces the tires on motorists' cars and colors the ink in writers' pens. It's in dark-hued plastic silverware and eyeliner. Cellphone batteries and rubber soles and printer toner contain carbon black, as do many other rubber products and almost anything that's black in color.
Eight tons of the powdery substance also fill large black containers stacked inside a nondescript metal building just off West O Street, the work of entrepreneurs determined to harness the clean-energy capability of hydrogen and reinvent the carbon black market.
Over the past three decades, the production of carbon black has shifted overseas, and today the United States produces just 20 percent of the world's supply.
Fifteen aging plants operate in the U.S., and the traditional method of manufacturing the substance creates a substantial amount of air pollution.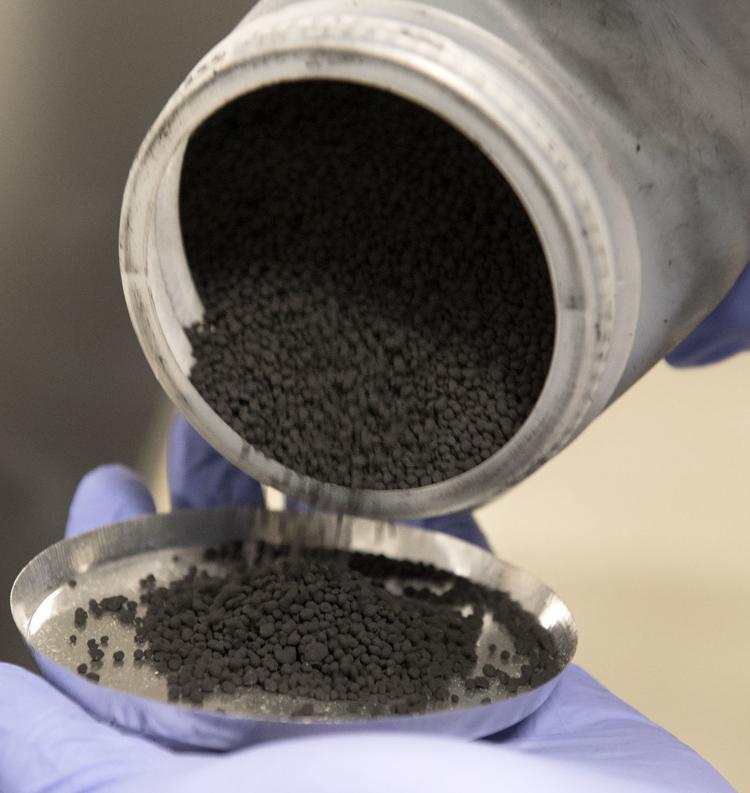 Monolith, a business begun by two mechanical engineers in California that announced it would relocate its headquarters to Nebraska in 2016, plans to change that.
Rob Hanson and Pete Johnson both earned their master's degrees in mechanical engineering from Stanford University and met at a solar company in Silicon Valley where they both worked. When the small company was sold to a bigger one, they decided to venture out on their own.
"We're more startup guys," Hanson said. "We wanted to do something in energy with a clean environmental impact."
They looked for a year, and finally came across carbon black — something neither had ever heard of, Hanson said.
They learned the substance used in so many products was manufactured primarily by burning heavy oil.
"We asked the question, could you make it starting with natural gas?" Hanson said.
The answer was yes. Others had worked on the technology, but it hadn't been fully developed. They acquired some early research and development work done by a Norwegian company and partnered with a university in France, and brought on a third partner, Bill Brady, who'd worked in the carbon black industry for years.
In 2012, they opened a demonstration plant in the San Francisco Bay area — the first carbon black operation built in the United States in 30 years. They chose the location because of the technical talent in Silicon Valley, Hanson said.
But the fact that the plant operated without problems 60 yards from the bay, 100 yards from a national wildlife refuge and within a few hundred yards of a Google campus helped make the argument for its clean-energy capabilities.
Once the $70 million investment in California proved successful and cost-competitive, Hanson led the effort to find a location for their first commercial plant.
They investigated 18 locations in 17 states and Canada, said Steve Baillargeon, director of commercial development. Monolith needed a locale that offered low and stable electricity costs, access to an abundant supply of natural gas and a good rail infrastructure. Nebraska had all those. So did Alberta, Canada, and Louisiana.
"The thing that pushed it over the edge (for Nebraska) was the partnerships," Hanson said. "NPPD is such a solid, strong partner. And just the people and the culture and the view that yeah, we can build a company here."
They opened a corporate office in downtown Lincoln, entered into an agreement with the Nebraska Public Power District and last year opened the laboratory just off West O Street.
You have free articles remaining.
"We consider it a very valuable partnership," said John Swanson, NPPD's general strategies manager.
Monolith has begun construction of a plant at NPPD's Sheldon Station near Hallam, and NPPD officials are converting one of their two coal-fired units to burn hydrogen coming from the Monolith plant.
"This is a unique thing, mostly because hydrogen is one of those sought-after substances but it's expensive to produce," Swanson said. "The bottom line is when you burn hydrogen instead of coal there's no carbon in the hydrogen, so you will substantially reduce your carbon dioxide emissions."
Meanwhile, 14 of the California employees have relocated to Nebraska, and Monolith has hired another 20 here, said Kristi Oltman, a senior recruiter. Monolith plans to hire another 50 people for highly skilled, high-paying jobs in Nebraska for the first phase of the project.
Of the company's $125 million investment in expansion, $80 million to $100 million will take place in Nebraska, Hanson said.
Monolith officials hope to have the Hallam plant up and running later this year, increasing production from the 1,000 tons of carbon black produced each year at the demonstration plant in California to 14,000 tons a year, or 38 tons a day.
In the second phase, Monolith will expand the plant and hire another 50 people, Baillargeon said, so that by 2022, it will produce 220,000 tons of carbon black a year and provide enough hydrogen to power one of NPPD's units.
Monolith executives estimate their plant will reduce carbon emissions by 1 million tons a year — the environmental equivalent of taking more than 200,000 cars off the road.
"So it's meaningful," said Baillargeon. "It's very meaningful."
Inside the lab at 2610 W. L St., past the black containers full of carbon black powder, scientists continue to analyze and improve carbon black's many attributes and ready the powdery substance for sale.
The lab's world-class instrumentation is used to study the bulk property of the carbon black, which is turned into high-density pellets that are easier to ship and for customers to handle, said Ned Hardman, a chemist and Monolith's vice president of product development.
The lab also analyzes the chemical makeup of carbon black to tailor it to customers' needs, and it tests how the different forms of carbon black work in rubber.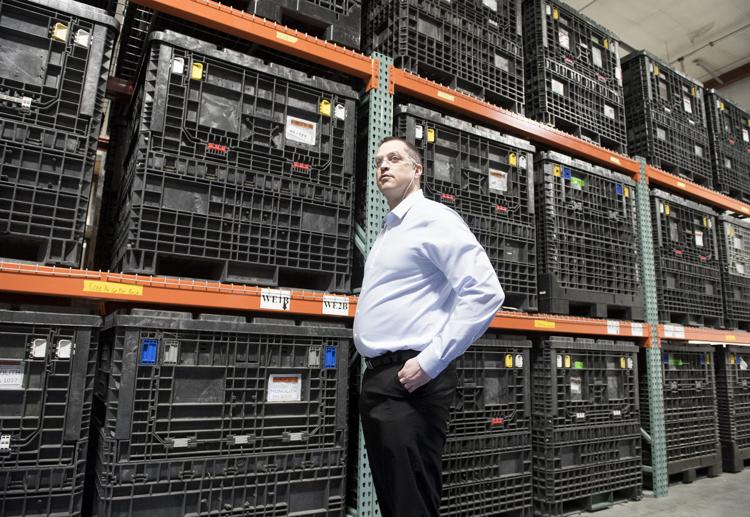 The three main uses of carbon black are to reinforce rubber, as a conductor and as a pigment, Hardman said.
About 85 percent of carbon black is used in rubber products and 65 percent specifically in tires. Tires use several different grades of carbon black for different purposes, Hardman said, and the makeup of the carbon black differs for all of them.
The company's expansion plans follow what Hanson said is a resurgence of tire and auto manufacturing in the United States.
"This is a growing market that we hope to be a big part of," he said.
But Monolith is also focused on hydrogen production and its uses beyond powering electrical plants.
"People ask me are you a carbon black company or a hydrogen company?" Hanson said. "The answer is we're both. Carbon black is our focus now, but over the long term, they are both very, very important to us as a business."