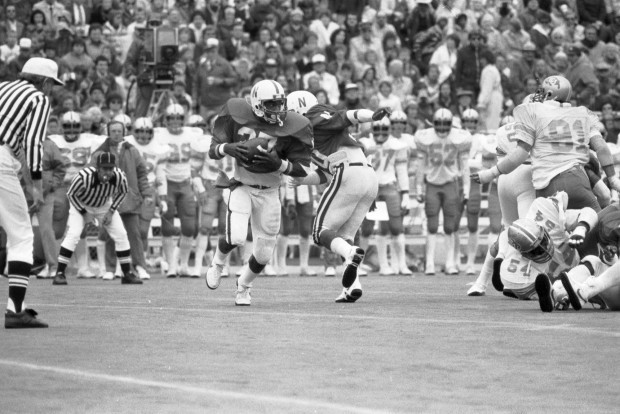 The outcome: Huskers 69, Colorado 19
The story: It seemed anyone's game early in the third quarter when Nebraska snapped the football leading by just two, 54 yards from the goal line.
That's when "The Triplets" unloaded a heap of misery on Bill McCartney's Colorado Buffaloes. Turner Gill handed it to Mike Rozier, heading toward the west sideline, who then handed it to Irving Fryar, heading east.
The reverse worked to perfection. When Fryar turned the corner he saw just one Buffalo between him and the end zone, and teammate Ricky Simmons had him blocked.
Jet speed to the end zone from there. The party was just getting started.
Fryar's run set off a 48-point onslaught in the third quarter that left Colorado dazed and confused by game's end, a 69-19 final score.
Fryar and Rozier would each score twice during the avalanche.
Setting all political correctness aside, one dazed Colorado cornerback said he felt like an atomic bomb had been dropped.
And McCartney was apparently a bit confused after the game, telling reporters: "I don't feel like we were outplayed. Obviously the score suggests that we were. We might have been outcoached. They couldn't stop us. I don't think there was any question we moved the football. We should have moved it better, really. In my mind, they still haven't stopped us."
Understand, this was soon after McCartney had designated Nebraska as Colorado's chief rival, literally making it the red-letter game on CU's schedule.
"They were scared at halftime, whether they'll admit it or not now," McCartney said in the postgame.
It's true Colorado did produce 398 yards of offense that day in Lincoln. Problem for the Buffs was Nebraska gained 609 yards and 37 first downs. Nebraska ran for 527 yards.
If McCartney was galled at how quickly the game got out of hand, he was probably just as perturbed with the ho-hum manner Husker players displayed in the postgame.
Far removed from talk of a rivalry or being scared, Nebraska players simply shrugged at the 50-point whipping. "It was just another day at the office," said fullback Mark Schellen.
And Fryar: "That's the way it's supposed to be."