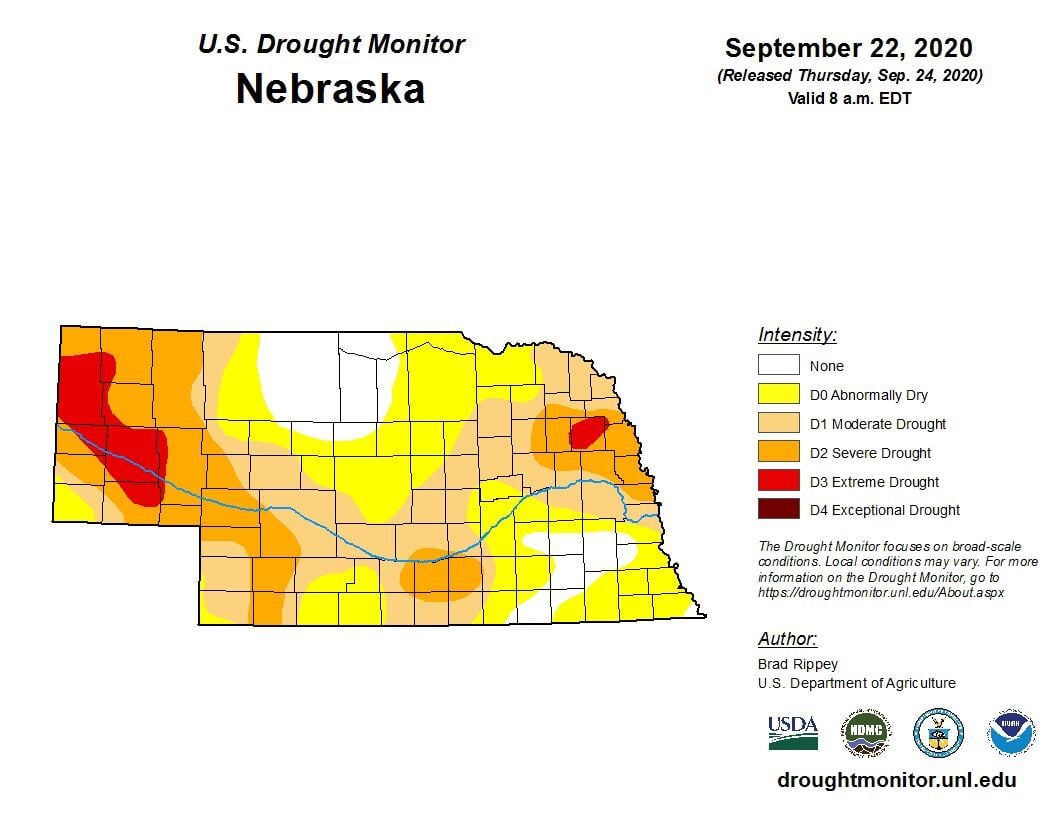 After a one-week reprieve, drought conditions strengthened their hold on Nebraska last week.
According to the latest U.S. Drought Monitor released Thursday morning by the University of Nebraska-Lincoln, the state now has its highest percentage of drought conditions this year.
About 57% of the state is in some level of drought, and 29% is in severe drought or worse. Also, the portion of the state in extreme drought rose to more than 6%. Nebraska has not seen those levels of drought since June 2014.
Some timely rains after Labor Day had caused drought conditions to recede somewhat last week, but most areas of the state have seen little or any precipitation over the past week.
The Panhandle is the hardest-hit area, with more than half a dozen counties touched by extreme drought, including nearly all of Morrill County and most of Sioux County. Most of Cuming County in northeast Nebraska also is in extreme drought.
According to the National Weather Service, Sidney's June-August rain total this year was more than 6 inches below average, while Alliance, Chadron and Scottsbluff all were more than 4 inches below average.
August rain totals for the state as a whole were the lowest ever recorded.
Despite going 12 straight days without any rain, Lincoln is not experiencing any drought conditions. In fact, Lancaster County is one of the areas least affected, with no drought conditions present and only a small portion of the northern part of the county experiencing abnormally dry conditions.
The coming forecast does not look promising, with dry conditions and potentially record heat in some areas. North Platte on Wednesday broke a 99-year-old record with a high of 95 degrees, and many areas of the state could be looking at near-record heat in the coming days.
Chadron, Scottsbluff and Sidney were all areas forecast to see record or near-record temperatures on Thursday.
The forecast for Lincoln is highs of 91 degrees both Friday and Saturday, which would be close to the record highs for those dates of 93 and 95. While temperatures are forecast to fall into the 70s by Sunday and the 60s later next week, there is no rain in the seven-day forecast.
The 14-day forecast from the weather service does not look any better. It shows a strong chance that Nebraska will see drier-than-normal conditions.
State climatologist Martha Shulski said the good news for Nebraska is that because of heavy rains last year, this year started off with "pretty good" soil moisture reserves.
However, she said, a hot and dry summer has depleted those reserves, and now 53% of the state is in the short to very short category for subsoil moisture levels.
Whether this year's drought conditions will have long-term effects will be determined by winter and early spring conditions, Shulski said. There is a La Nina weather pattern this year and wetter-than-normal conditions are likely in the northern U.S. and drier-than-normal conditions are likely in the south.
"Not a lot of guidance for us right in the middle, unfortunately," she said. "Our precipitation trends for fall and winter, therefore, will be dependent on storm track."
Shulski did say that longer-term forecasts show chances for a wetter-than-normal spring in Nebraska.
"In essence, this situation is something we will have to monitor as we go into winter and spring, which is typically our drier time of year, climatologically speaking. Then late spring is our wet season," she said. "Long-term impacts will depend on how much recharge we will get over the next few months."
Photos: 2012 drought ravaged Nebraska
Be the first to know
Get local news delivered to your inbox!