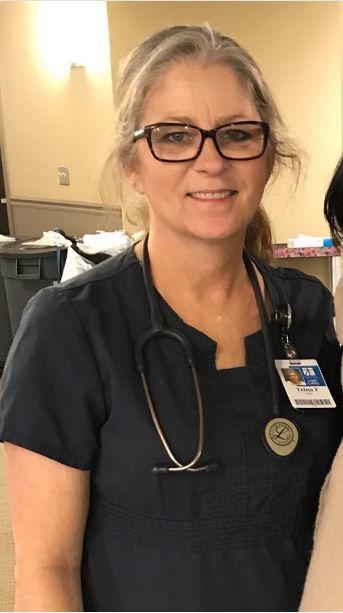 In the nursing world, Trina Frear is a bit of a late bloomer. She waited until after her children had grown before following her childhood dream. She signed up for her first CNA course at Madonna in the '90s. A natural caregiver, she continued her education at Southeast Community College, graduated with an LPN and began her career at Tabitha.
Being able to see the experience from the eyes of her patients is what makes a good nurse even better. According to Trina, when great nurses work together, even greater things can happen. She knows the teamwork that they have going at Tabitha is what makes everything happen.
Trina is grateful for the impact that nursing has had on her life and the way she experiences the world around her. Her education and experience have given her the ability to help friends and family with their health and the instinct to lend a hand when called upon in public.
When new nurses join the team, Trina is eager to show them what she knows and answer any questions they may have. 
She shares, "I tell them that our work is difficult. There aren't always happy endings, and it can be emotional. But it's okay to feel that way. It's what makes us good at what we do."