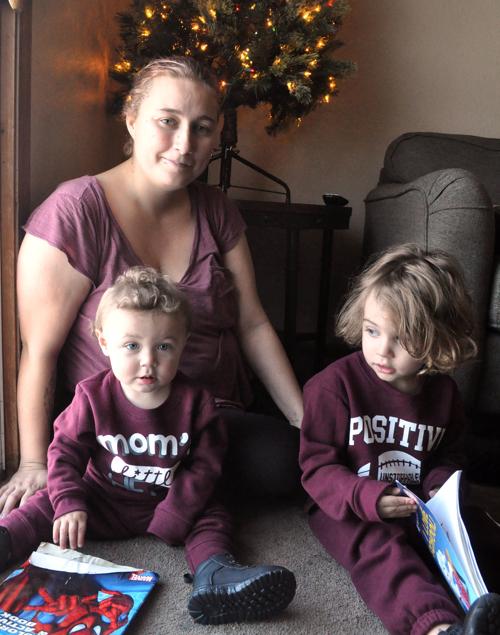 Since 1983, the Journal Star has asked local human services agencies to share stories of real people with real needs as part of its Thanks for Giving project — and readers have stepped up every year.
Take a moment and think about neighbors who may be struggling to cover basic needs as we head for the holidays. Then contact the agencies listed below if you can help.
Cedars Home for Children
Kaylee works part-time and is pursuing her GED. She and her two sons, John and Caden, ages 3 and 1, were homeless, but have moved into a two-bedroom apartment thanks to Cedars' Bridges program. Her long-range goal is to become a sign-language instructor. The boys need clothing (3T-4T, 12-18 months) and diapers (size 6) and would enjoy a few toys. They're big fans of Paw Patrol and Elmo. Kaylee relies on the bus to get around and could use a women's bicycle, as well as gift cards for groceries or household items. Contact Tina Reeves at 402-904-3261 or treeves@cedarskids.org.
Penelope is a mother of four who is gaining parenting support through Cedars. Daughter Trina, 11, would enjoy some adult coloring books and a set of colored pencils. She has recently started exploring pastels and other art media and would appreciate a wooden art set that includes those items. James, 9, loves sports and would really like an adult-sized basketball, soccer ball or football, and a Nerf basketball hoop for his room. Clara, 3, loves to build with Legos and could use a new Duplo set. Clara also loves Paw Patrol. Benji was born last this spring and needs a high chair and warm onesies and sleepers (size 6-9 months). Penelope could also use a diaper bag filled with wipes, diapers (size 3) and baby lotion, and as a busy mom, would appreciate any Bath and Body Works items and a $25 gift card to Target to update her work wardrobe. Contact Tina Reeves at 402-904-3261 or treeves@cedarskids.org.
Hayden and Hampton are brothers cared for by Cedars foster parents Melanie and Grant. Even in winter, the boys enjoy spending as much time outside as possible. Hayden, 7, would like a Razor scooter. Hampton, 9, asks for a bicycle, 20-24 inch, and helmet. Both boys watch superhero movies and would enjoy new DVDs. Melanie and Grant also want winter clothes and coats for the boys (sizes 7 and 8-10) and want movie theater gift cards to treat the boys to a movie and snacks. Contact Tina Reeves at 402-904-3261 or treeves@cedarskids.org.
Cedars recently helped 3-year-old triplets, Rome (boy), Renata (girl) and Ronaldo (boy), move in with their grandparents after their home became unsafe. The triplets have a sister, Sophia, 8, who also lives with them. The triplets are outgrowing their strollers and could use some ride-on toys with handles so their grandparents can push them around. Their grandmother, a retired teacher, would like educational toys to address developmental delays. The kids also need winter clothes (size 3T-4T) and coats. Sophie is an intelligent young lady who helps her siblings. Her grandparents would love for her to have nail polish, craft kits or a Rainbow Loom with rubber bands. The grandparents are retired and would benefit from a $25 Super Saver or gas gift card. Contact Tina Reeves at 402-904-3261 or treeves@cedarskids.org.
The Bridge
Jason, 24, is in treatment for alcohol addiction after losing his job and becoming homeless. He is working on his recovery but cannot afford his medication for diabetes. A donation of $50 will pay for a month's supply. Contact Mairead Safranek, 402-477-3951 or msafranek@thebridgenebraska.org.
Joe, 29, was encouraged to seek treatment for his heroin addiction. During his 16 weeks in residential treatment at The Bridge, Joe will miss Christmas with his family. Can you help Joe provide his children (boy, 4, and girl, 8) with Christmas presents? Contact Mairead Safranek, 402-477-3951 or msafranek@thebridgenebraska.org.
Ron, 19, is progressing in long-term treatment for alcohol addiction but doesn't have a way to get to his new job. Can you help buy a bus pass for Ron by donating $25? Contact Mairead Safranek, 402-477-3951 or msafranek@thebridgenebraska.org.
Voices of Hope
Mary, 33, has left a 12-year abusive relationship with little child support. She and her three children (ages 4, 9 and 12) are struggling with the basics, let alone some of the items that make family time special. They need gas cards for Mary to get to work and to her kids' schools. Gift cards for food, supplies and phone minutes would help, too, as well gift certificates for family fun, such as movies. Contact Sue at 402-476-2110 or suea@voicesofhopelincoln.org.
Majah and her children (daughters, 6, 8 and 14 and son, 12) recently left an abusive relationship. She has an apartment for her and the children, but she needs a full-size bed with mattress, frame and box spring, bedding, dishes, eating utensils, pots and pans, bathroom rugs and towels, and gift cards for food, gas and children's clothes. Contact Sue at 402-476-2110 or suea@voicesofhopelincoln.org.
Linda fled an abusive relationship, leaving only with what she could pack in her car. She is relocating to Lincoln with her two children (boy, 9, and girl, 6). She has just started a new job, but it will be 4-6 weeks until her first check and she needs to set up her apartment with towels, twin sheets for a boy and girl, blankets, cleaning and laundry supplies, gas and food cards. Contact Sue at 402-476-2110 or suea@voicesofhopelincoln.org.
Police took Cindy and her two children to Voices of Help. She has no car seats for a 6-month girl and 3-year-old boy. They're staying with a friend for several weeks but then will be moving into an apartment. They need coats (mom XXL, girl 9-12 months and boy 3T), mittens and hats, children's warm pajamas, gas, utility and food gift cards. Contact Sue at 402-476-2110 or suea@voicesofhopelincoln.org)
Linda, 48, is a survivor of childhood violence. She has needed multiple back surgeries and has difficulty walking. She is a single mom with a 14-year-old disabled child. It is difficult for her to buy and lift groceries. Grocery cards for stores that deliver would be helpful. Linda's daughter loves art and craft activities. Contact Sue at 402-476-2110 or suea@voicesofhopelincoln.org.
Northeast Family Center
Claire is a single mom with five daughters -- ages 9, 8, 6 (twins) and 3. She works 40 hours per week, but her pay is just a little more than minimum wage and it is difficult to cover rent and utilities, let alone keep five growing children in clothes. Her car does not have heat and she doesn't have enough money to pay for the repairs. Please help with money for her car and gift cards so she can buy food and clothing for her family. Contact Curt at 402-471-3700.
Lutheran Family Services
Jaycee, 29, fiancé Jordan, and her two children (5, 10) live at the People's City Mission after losing their home due to a workplace injury. Jordan will be undergoing surgery soon and hopefully will be able to go back to work. They are struggling to find a place of their own and would appreciate financial assistance or gift cards to Walmart or Target as they are preparing to move into their own apartment. Contact Jessica DeBuhr at 402-580-6142 or jdebuhr@lfsneb.org.
Kathy, 57, struggles with depression, faces many physical health concerns and has difficulty taking care of everyday needs. She is on disability, living on her own. Kathy would love assistance in cleaning her apartment or financial assistance to hire someone to clean it and gift cards she could use to purchase groceries. Contact Jessica DeBuhr at 402-580-6142 or jdebuhr@lfsneb.org.
Molly, 46, is starting over, living with friends as a domestic violence survivor. Molly left with her dog (Carmen), who is her only support, and Carmen needs a veterinarian to treat her allergies, an odor and extremely dry skin. Molly struggles with depression and has no income since she is new to town. She would appreciate gift cards or financial assistance. Contact Jessica DeBuhr at 402-580-6142 or jdebuhr@lfsneb.org.
Nancy, 40, faces daily challenges caused by physical limitations leading to family members adopting her children. Nancy survives on a disability income and seeks a new, one-bedroom apartment she can afford. Nancy is learning how to live without her children and is turning the focus on herself. She would be grateful for financial assistance or gift cards. Contact Jessica DeBuhr at 402-580-6142 or jdebuhr@lfsneb.org.
The Rivera family includes a single mom, 26, to two children (ages 7, 4) who lost their apartment after her work hours were cut. They are living at the People's City Mission until they can save money for a new place. They would like help to get back on their feet. They need cash donations for a deposit on a new apartment, pants or sweatpants (boys size 8, girls 5), snow boots for mom (size 7½-8), a couch or sofa, a used bunk bed structure for the kids or twin beds and a double for mom, gift cards to Kohl's and for gas. Gift ideas include something unicorn-related for the girl and Minecraft for the boy. Contact Cassandra Munger at 402-650-8722 or cmunger@lfsneb.org.
The Cane family includes a single dad, 35, raising four kids (girls 12, 7 and 4 and son, 9) while holding down a full-time job. They do not qualify for SNAP or heating and cooling assistance, but rent is over $1,000 a month. The family could use cash donations for bills and utilities, winter coats (women's M and kids 5/6), winter clothing (women's S), boys clothes (size 12) and girls clothes (size 10 and kids 5/6). Dad would like gift cards to Target or grocery stores, cologne and a watch. Contact Cassandra Munger at 402-650-8722 or cmunger@lfsneb.org.
Matt Talbot Kitchen & Outreach
Louie, 60, has been homeless at times over the last 5 years following his wife's death. He will be moving into a place of his own soon and would appreciate an air mattress, chair, small TV, slow cooker, dishes, pots and pans, a can opener and other kitchen items. Gift cards welcomed. Contact Amanda at 402-875-5782 or Amanda.owen-doerr@mtko.org.
Christmas is a wonderful time of the year, but for families served by Matt Talbot, it can be stressful. With children out of school, it means more meals to plan for at home, more gas used to take them places and coming up with things to keep them busy. Families can use gift cards for gas, groceries and movies, discount stores and entertainment options such as Lost in Fun or Urban Air. Contact Rosie Newell at 402-817-0612 or rosie.newell@mtko.org.
Matt Talbot's Substance Abuse Program oversees sober living homes for four men and five women who struggle with substance use and homelessness. Participants receive their own new pillow and set of sheets along with towels, personal care items, paper towels and cleaning supplies and houses are furnished with beds, dressers, nightstands, couches, rugs, dishes, silverware, appliances, vacuum, mops and brooms. Over time, everything needs to be replaced. If you can donate an item or a gift card to Menards or Walmart, contact Clarence Grendahl at 402-817-0614 or Clarence.grendahl@mtko.org.
CenterPointe
Shelly, 20, and Patrick, 25, are expecting their first child, a boy, in January. She has been clean from meth for a year and clean from marijuana for 7 months. Shelly could use anything and everything for a new baby, and a winter coat (size M) for herself. She could also use pots, pans and baking dishes. Pat could use jeans (size 32/34) and shirts (L/XL). Contact Shala at 402-475-5161 ext. 337 or development@centerpointe.org
Marie, 39, is a single mom with three teenage children, two boys (S, men's size 9 shoe; L, men's size 9½ shoe) and a girl (size 14 pants, XL shirts, women's 9½ shoe), in need of shoes, winter coats and clothing. Marie is struggling to pay rent and utilities due to losing her job. Contact Deb at 402-475-5161 ext. 341 or development@centerpointe.org.
Sarah, 60, daughter Sabrina, 19, Sabrina's son, 8 months, and the child's father, Lucas, 19, who lives with them, are a very close and loving family despite the daily hardships. They are trying to save money to move to a safer home. Sarah is on disability and recently lost her father, who was a big support. They frequently run low on basic items like dish soap, gas for their car, socks, laundry soap, deodorant and cash for utilities. The baby boy needs diapers (size 3-4 Pampers), wipes, warm clothes (size 9-12 months), warm slippers, fun toys and age-appropriate books. Sabrina needs warm clothing and asked for gift cards to stores like Kohl's or Target. Gift cards to grocery stores or gas stations would help. Contact Sadie at 402-475-5161 ext. 352 or development@centerpointe.org.
Fresh Start Home
Amanda, 24, came to Fresh Start from incarceration, arriving with her belongings in a shoe box. She recently received her two-year sober coin and has a full-time job. She's paying her way, but she'd love movie passes, gas cards or a Walmart gift card. Contact Audrey at 402-475-7777.
LeAnn, 56, has struggled with alcoholism and homelessness for over 20 years. She recently received her one-year sober coin and works full time. She needs headphones, perfume, a wall mirror, slippers (size S), gas cards and a Walmart gift card. Contact Audrey at 402-475-7777.
Trisha, 36, fled a domestic violence situation, leaving everything behind. Trisha needs socks with arch support, house shoes (men's size 7), sweat pants (men's XL), a hoodie (men's 2XL), and white T-shirts (men's 2XL). Contact Audrey at 402-475-7777.
Tabitha Meals on Wheels
Marie is a retired teacher who lives alone and is unable to easily get or prepare meals. Her limited income and mobility leave her feeling lonely. Just $6.25 a day provides her with the nutrition and connection she needs when a friendly Tabitha Meals on Wheels volunteer knocks on her door. Contact Michaela Johanns Young at 402-484-9756 or Michaela.Young@Tabitha.org or go to Tabitha.org/Give (select Tabitha Meals on Wheels).