The Lincoln Stars spent four days on the road last week, traversing more than 1,000 miles of Midwestern highway to play hockey in Madison, Wisconsin, and Sioux Falls, South Dakota. On paper, the result was one win and one loss, but sometimes the game is about more than that. This is a story about those times.
It's a story about the lives of those teenagers on the bus, the ones who drop everything and move thousands of miles to play in the United States Hockey League. It's a story about the struggles of being away from home, and about the quest to fit in with a new family.
And, in the end, it's a story about why they do it.
Inside this bus, Cam Lee can forget about everything on the outside.
The Lincoln Stars defenseman can forget that he's only 17 years old but 2,000 miles away from his family in Halifax, Nova Scotia.
He can forget that his 49-year-old father, Tom — the man who taught him how to skate, the man who taught him how to hip check and defend an odd-man rush — is in his sixth year of treatment for non-Hodgkin's lymphoma.
He can forget how badly he wants to be by his dad's side, watching hockey, helping him through the fight of his life.
"It goes away when I'm joking around with the guys and just having fun," he says.
Like here on this eight-hour bus ride to Wisconsin, when he and his teammates pass the miles watching "Draft Day" and "Home Alone 2" and laughing as defenseman Dylan Woolf gyrates to his version of "Party in the USA" by Miley Cyrus.
He can let loose with his teammates because they're no different, living in Lincoln with host families (billets), going through the same cramped bus rides and feeling just as homesick. There's floppy-haired forward Ludvig Hoff from Norway; funny-talking Walt Hopponen from Finland; quiet Dominick Sacco from Brooklyn, and 19 more.
"You meet these random people — your teammates, your billets — and at first it's a shock," Sacco says. "But over time you get a lot more comfortable, and they're not strangers anymore. They turn into family."
They're a team on the ice, but they're just as close off it. They hang out in the basement of Hoff's host family's house, playing NHL 15 on the Xbox. They catch rides with each other to and from practice.
The United States Hockey League has brought the game to 17 small cities from Kearney to Youngstown, Ohio. Its players represent 36 states, 12 countries and countless situations. Some are taking high school classes, others are taking online college courses. But for those hours together on this bus, they share a commonality that can't be matched.
They all have the same dream as they ride this bus, with endless snow-covered fields rolling past outside. In the dream, they see themselves skating into another season, into another level, into an arena with more than 20,000 screaming fans. They see themselves as the next Sidney Crosby, hopping on charter flights to Chicago and New York and Los Angeles instead of this bus to Madison and Sioux Falls.
Guys in this league understand that where they play isn't up to them, and they know the jersey they wear today might be different from the one they wear tomorrow. The USHL exists as a place for players to develop, but it's also a business.
For Stars general manager Jon Hull, the line can blur between doing what's best for the team and what's best for a player. The league is a stepping stone for his players to get where they want to go, and that weighs on him when making roster decisions — he's made three trades in January, each time altering a teenager's life and career. But he also has to put the Stars in a position to win.
"We want all our players to go on and have a great experience here and also play at a higher level at some point," Hull said. "But at the same time, you want to also have team success. That's hard sometimes."
The business side can be especially hard on some players. On a Dec. 31 road trip to Waterloo, Iowa, the team bus made a dual-purpose stop at Spaghetti Works in downtown Des Moines. The Stars were stopping for lunch, yes, but they were also picking up their newest player, Chris Gambardella, who had been with the Des Moines Buccaneers. The forward from Staten Island, New York, had been traded to Lincoln that morning.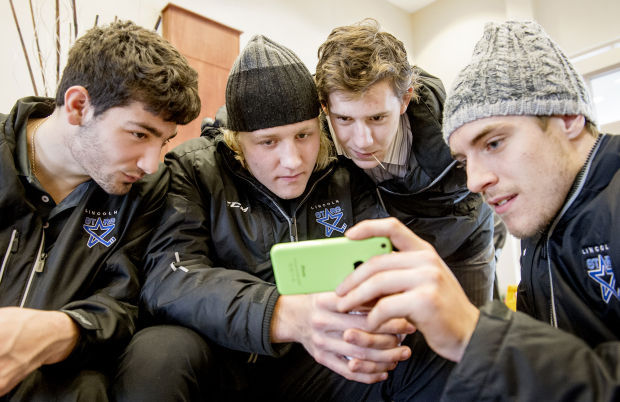 Sitting in the lobby of the Holiday Inn in Madison, Lincoln Stars players (from left to right) Chris Gambardella, Dylan Woolf, Cam Lee look at videos on the smartphone of teammate Tye Ausmus on Wednesday, Jan. 21, 2015. FRANCIS GARDLER/Lincoln Journal Star
Some Stars were caught off-guard by the stranger sitting at their table, but they knew it could be them changing teams and cities and families before it's even lunch time.
"We all know that it's a possibility, but you just have to control what you can control on the ice," says Grant Jozefek, a forward who was traded from Muskegon, Michigan, three weeks before the season. "We've all seen guys come and go, and that's just the way this sport is."
So Gambardella spent the rest of the day shaking hands and learning names. He didn't play that night, but watched from a corner of the rink, wondering where he might fit in with his new team.
There were more pressing matters at the time, though.
"I'm homeless right now," he said.
They start getting restless at about the five-hour mark. Some buses come with seats that convert into bunk beds, but not this one. Not enough room for 6-foot-5 defenseman Connor Frantti to stretch out or take a nap when he only has two small seats to work with.
And there are only so many movies they can watch before they lose interest in the overhead TV screens; only so many sandwiches and granola bars and fruit snacks they can eat before a steak at Texas Roadhouse is the only thing that will quiet a growling stomach.
But even in times like this, when the bus feels like a jail cell on wheels and there's still three hours to go, a family is being stitched together. That's why you don't hear any complaints.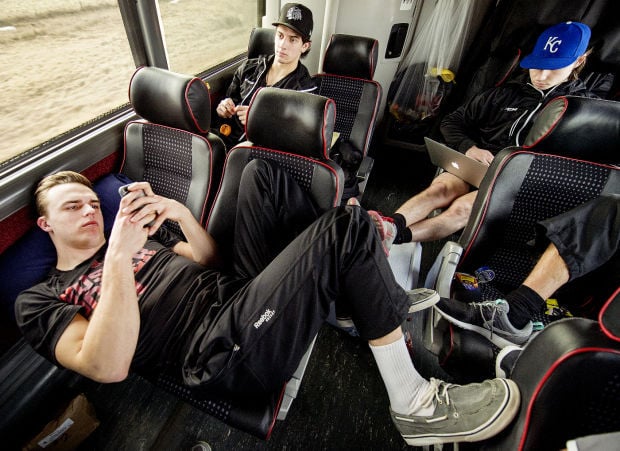 As mile upon mile of Iowa countryside pass outside his window, Lincoln Stars defenseman Connor Frantti (left) looks at his smartphone as he fits his 6-foot, five inch frame inside a pair of seats on the team's charter bus for an eight-hour ride to Madison, Wisc. to take on the Capitols on Tuesday, Jan. 20, 2015, at LaBahn Arena. He's joined in the back of the bus by teammates Biagio Lerario (center) and Patrick Polino. In addition to smartphones and computers, the players also brought DVDs - such as Draft Day and Home Alone 2 - to play on the bus' entertainment system. RANCIS GARDLER/LINCOLN JOURNAL STAR
"The road trips allow us to mesh together so quickly," goalie Cam Hackett said during the New Year's Eve trip to Waterloo. "Because you're bunking up with guys and you're sharing this tiny space. It's hard to explain unless you've actually been through it. You're on a bus with 20 of your brothers for 10 hours or whatever it is, and that's the best part of junior hockey. There's nothing else like it."
On the bus, it's just them and a game to play — or a game to put behind them — and that time is especially valuable to guys like Gambardella, who knows how fast it can all change. A few hours swapping stories makes it easy for a player to realize he's not the only transplant who's been sent through the machine and dropped on a different team all in one day.
"These road trips and this group of guys get you through stuff like that," Hackett said.
They can get a guy through a lot more than that, too.
Cam Lee thinks about an IV pole when he thinks about what his father is going through.
A little more than a year ago, while in Lake Placid, New York, where he was playing prep school hockey, he called home to check on his dad. His mother told him things weren't going well, which wasn't all that surprising — Tom had gone through a painful bone-marrow transplant. But a detail mixed in with all the other not-so-good news still sticks with Cam.
Tom, an assistant hockey coach at Saint Mary's University in Halifax, couldn't coach during the transplant recovery, so he watched his team's games on a computer from his hospital bed. Leslie told her son that Tom, hallucinating from the chemotherapy, started talking to the IV pole about hockey.
"That's when it was like, 'I have to come home,' and I just felt like I should be there," Cam said. "All I wanted was to go there and help him with his hockey stuff, because I knew he was doing it. But I couldn't …"
He couldn't, because his father didn't want that. Tom thought it would be selfish if his illness stole his son's opportunities. So Cam stayed in New York, but did make it home for Christmas in 2013, just as Tom was getting out of the hospital from a 100-day stint.
But even then, the visit was rough. Tom did more sleeping than anything else, taking three-hour naps at least once a day, and the 6-foot-1, 210-pound frame of a former football player had shrunk by about 45 pounds.
"You could just tell by looking at him that he was sick," Cam said. "So it was hard just to see him that way."
Cam returned to New York for school, but spent almost every day with Tom last summer. By that time, Tom was cleared to get back on the ice. But the father had to take 30 pills a day to have enough energy to skate with his son.
And by September, long before either was ready, Cam was Lincoln-bound.
He reaches into his wallet and pulls out a little white card before every game. It has a short poem titled "Lee" on it. It's about fathers and sons, and about carrying on the family name. It could apply to most 17-year-olds, but those 105 words on a little white card mean more to Cam.
"I think about him before every game and every practice, and I think about everything he taught me."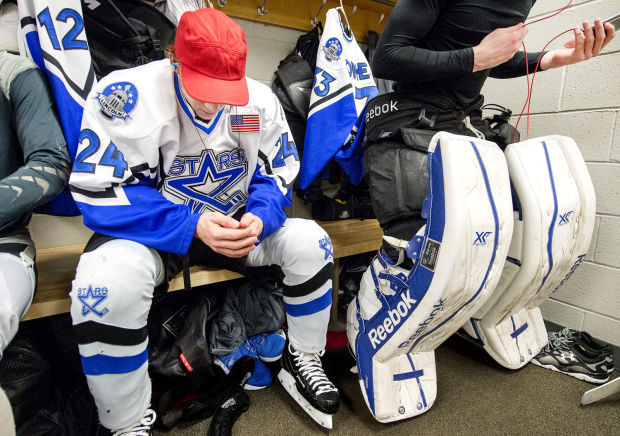 As his teammates around him prepare for the game against the Madison Capitols, Lincoln Stars defenseman Cam Lee (24) donned a red cap and pulled out a poem from his jacket, cupped it in his hands and silently read it to himself on Wednesday, Jan. 21, 2015, at LaBahn Arena. FRANCIS GARDLER/LINCOLN JOURNAL STAR
He put a green cancer-ribbon sticker on the back of his helmet to serve as a reminder, and he writes "TOM STRONG" on the handle of his hockey stick before every game.
"Every time I make a good play or score a goal or something, I just kind of think to myself that I hope he's watching," Cam says. "Because every game, I'm playing for him."
At its most basic level, the goal of the USHL is to get kids into college, and it's successful. Many feel the league assembles the most-talented group of players in the country and isn't far behind Canada's major junior leagues.
"If a player has success in the USHL, you can really feel confident about what you're seeing," said Penn State coach Guy Gadowsky, who has 15 former USHL players on his roster, including former Lincoln forward Eric Scheid. "We're going to try to get the best athletes from wherever they are, but the USHL certainly seems to have a bunch of them."
So while the Stars play, unpaid, in front of 3,000 fans on a given night at the Ice Box, the handful of scouts taking notes in the north end of the rink are the only people in the building who can make a difference. For guys like Sacco, in his fourth out of five USHL seasons and still without a scholarship, the thought of impressing those scouts is unavoidable.
"There's unbelievable pressure," Sacco says. "You never know who's there; who's watching. But in the end, all you can do is just work as hard as you can, and you work until you can't anymore. And when you can't anymore, then you move on."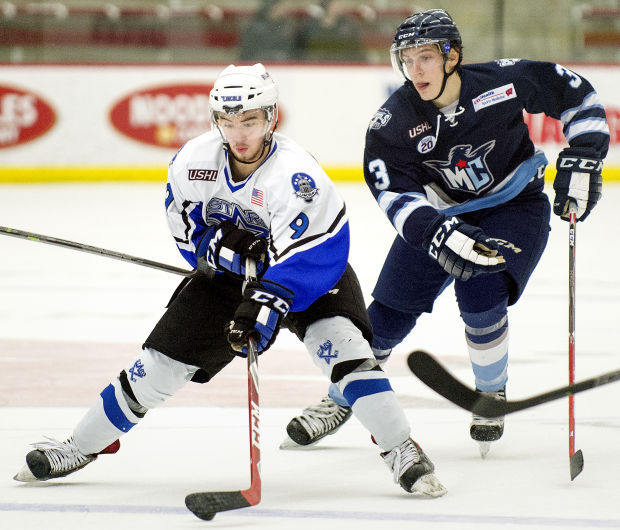 Lincoln Stars forward Dominick Sacco (9) crosses the blue line with Madison forward Bobby Fosdick in pursuit in the third period on Wednesday, Jan. 21, 2015, at LaBahn Arena. FRANCIS GARDLER/LINCOLN JOURNAL STAR
The numbers say Sacco shouldn't be worried. About 95 percent of USHL players will eventually earn an NCAA Division I scholarship, according to the league, and 701 USHL alumni are playing at the highest collegiate level.
"Even if players don't end up in the (National Hockey League), we still feel good about what we're doing," said Doug Christiansen, the USHL's director of player development and recruitment. "Our players are still going to get their degrees, and they can do anything they want to do with that degree if they don't find themselves in a position to go pro after college."
But many do. There are 247 former USHL players in the NHL — 35 percent of the league. Perhaps the most well-known former Stars in that group are David Backes (2002-03), a captain for the St. Louis Blues since 2010, and Brandon Bollig (2005-08), who played for the Chicago Blackhawks when they won the Stanley Cup in 2013.
Bollig, traded to the Calgary Flames before the start of the 2014-15 season, says his time in the USHL helped more than anything to prepare him for the game's highest level.
"You really get the feel for the travel and the being away from home and all of that at an earlier age than most," Bollig says. "You learn how to juggle."
USHL players see Backes and Bollig and think of themselves a few years down the road — making $4.75 million (Backes) and seeing fans wearing jerseys with their names on the back.
It all explains why they go through the things they go through. Moving away from home at 16 years old is hard. But it is, in most cases, a necessary step.
"There's a reason for this," Sacco says. "If you don't fully believe that you're capable or have the ability to play college hockey or play pro hockey, then it's not for you. But if you really want to achieve something like that, you gotta do what you gotta do.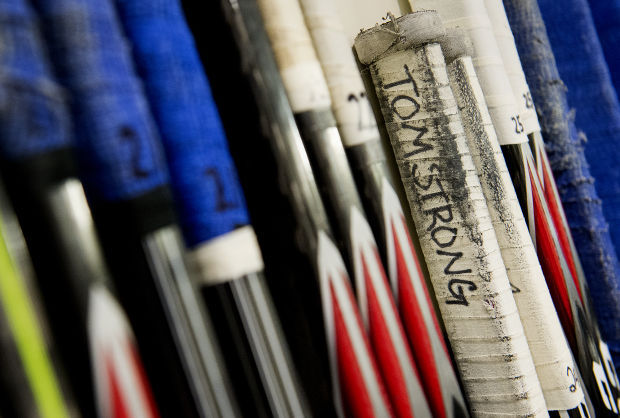 Before each Lincoln Stars game defensman Cam Lee of Nova Scotia, Canada writes "TomStrong" on the end of his sticks in honor of his 49-year-old father Tom who has non-Hodgkins lymphoma. The Stars took on the Sioux Falls Stampede on Friday, Jan. 23, 2015, at the Denny Sanford Premier Center. FRANCIS GARDLER/Lincoln Journal Star
When the movies end and the laughter fades to silence, Cam Lee sometimes feels trapped in the same bus that was once his escape. It's moments like these, with most of his teammates already asleep, a 3-2 overtime win at Madison behind them and an overnight trip to Sioux Falls ahead, when thoughts of his father creep back into his mind.
He wonders whether Tom's bone-marrow transplant will work. Doctors gave the operation a 65 percent chance of success, but they won't know until he's able to get off the anti-rejection medication.
"It's scary to think about it," Cam says. "He's battled through it for a long time now and I know he's a strong guy. So I think he'll get through it. But it's just … it always goes through your mind that something might go wrong."
Cam usually bottles those emotions — they don't jibe with the sport's tough-guy image, where teens play in front of beer-fueled fans who encourage fights and big hits — but every now and then, he doubts the purpose of it all.
"I always kind of feel bad that I'm not there for him. But he didn't want that. He didn't want me to sit around and miss out on this."
So he doesn't, and he'll play in the USHL again next season before moving on to skate for Providence College in Rhode Island the year after that.
The four-day road trip is almost done, just a few more hours to Lincoln. Time to get over the 3-1 loss at Sioux Falls, and almost time for Cam to sleep in his own bed again, where he can dream about a strong father finally watching a son — not an IV pole — as the puck drops in front of thousands.
---
USHL hockey by the numbers
16-to-20: Age range of junior hockey players in the United States and Canada. Players in the United States Hockey League are considered amateur and therefore eligible to compete at the college level after their time in the league.
24: Percentage of current NHL players who played in the NCAA at one point.
35: Percentage of current NHL players who played in the USHL at one point.
84: Percentage of Division I hockey players who go on to earn their degrees, according to the NCAA. By comparison, football players in the Football Bowl Subdivision have a 75 percent graduation rate, while Division I basketball players have a 74 percent graduation rate.
95: Percentage of USHL players who earn a Division I hockey scholarship while playing in the league.