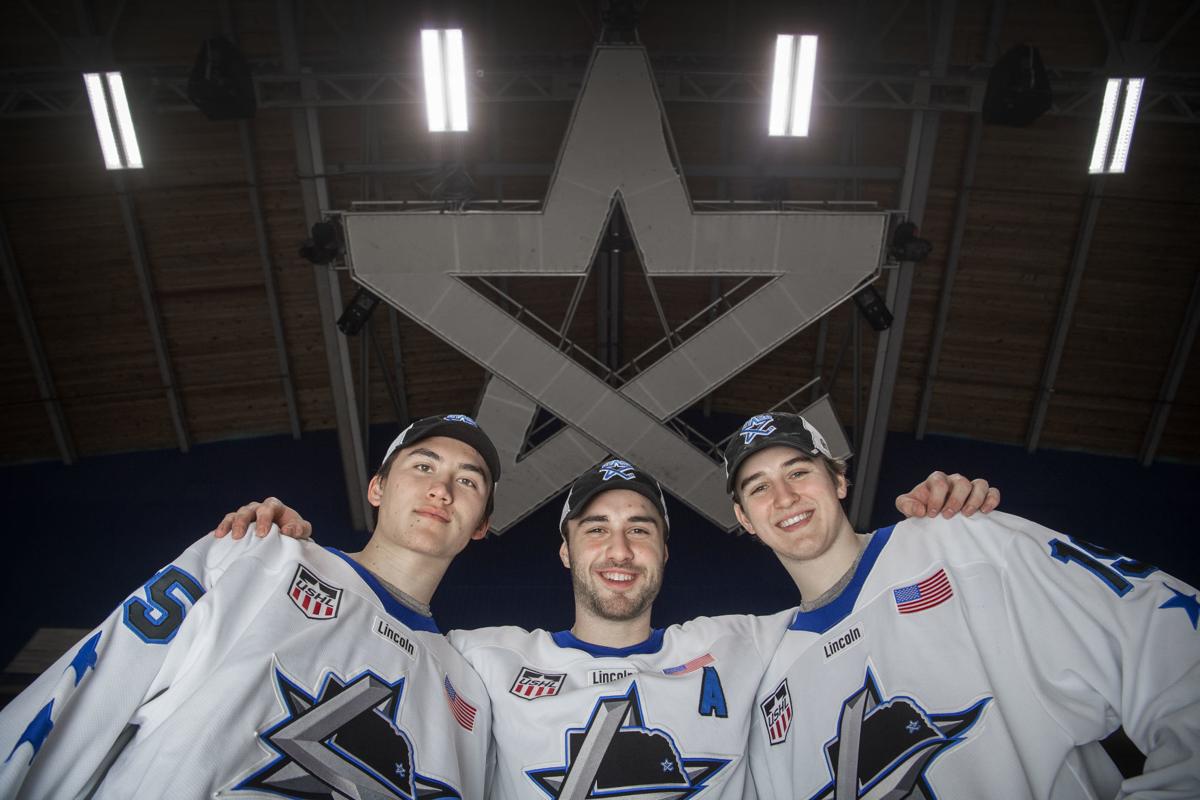 Travis Treloar became the 17th Lincoln player to make a college commitment this past week, but his choice may not sit well with his linemates in the future.
Treloar made a commitment to Ohio State, while fellow Stars first-liners Christian Sarlo and Josh Groll are committed to fellow Big Ten schools Penn State and Michigan, respectively.
"I just think it's funny how it kind of works out," Sarlo said. "Obviously Groll was the first one with Michigan and Penn State popped up for me. When Trav was telling me about Ohio State, I wasn't the biggest fan. I didn't want him to play against me, but it's funny how we have our view on hockey and those schools all kind of fit what we are trying to achieve."
The future Big Ten players have spent a lot of time together over the past three seasons, with Sarlo and Treloar playing together on three different teams.
Sarlo was Treloar's team captain on the North Jersey Avalanche before the duo joined Groll for one season with the Chicago Steel, then all three made the move to the Stars.
The chemistry from Lincoln's top line has been impeccable thus far, earning the top three spots in scoring for the Stars. Treloar, Sarlo and Groll have combined for 116 points (46 goals, 70 assists).
Now the three will end up in the same conference at the collegiate level.
"As the guys have already said, the (Big Ten) hockey is great," Groll said. "The colleges and facilities are amazing, but another big thing for me was the academic side. Being able to go to school and get a good education out of it is a really big benefit. You get a full college experience in a lot of the Big Ten schools, so aside from all the great competition and everything, academics was another thing that drew me to (Michigan)."
For Treloar, it proved to be a little longer process before settling on a decision.
"To be honest, when I was there it felt like the right spot," Treloar said of Ohio State. "I gave it a couple days to think about it, but to be honest when I was there I pictured myself going there and just talked with the coaching staff. They are definitely a team I want to play for, and I'm super-honored and proud to be a part of that program."
And just like they have all season long, the three have kept their focus away from the future and on the task at hand for the Stars. All three want to leave a legacy of a Clark Cup championship.
"At this point it's a mindset of taking it game-by-game," Groll said. "The (Western Conference) standings are so tight at this point in the season in our conference that almost every game is a playoff game. The boys are really dialed in and we've been working hard this week so far in practice. I think we'll be ready for this weekend and we just want to take it one-by-one. We don't want to get too far ahead, and just move up the standings as we go through."
Lincoln hosts the Sioux City Musketeers on Friday and Saturday at the Ice Box. Both games start at 7 p.m.
Be the first to know
Get local news delivered to your inbox!