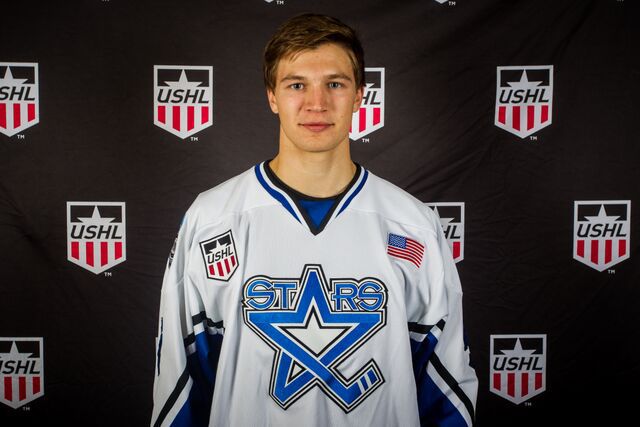 There is no language barrier between Samuli Niinisaari and his Lincoln Stars coaches and teammates — he lets his game do most of his talking.
The Hamina, Finland, native is in his first season in the USHL after playing in the Jr. A SM-liiga Finnish league and serving as captain for the KooKoo U20 team in the 2017-18 season.
"In Sammy's case his, English is fantastic," Stars coach Cody Chupp said. "He spent a year in Canada (2015-16) going to school, so when he got here English was not an issue.
"A lot of times what you experience with European players is they play a different style game. Understanding the North American game, time and space, when you get over here is the hardest hurdle to overcome."
Niinisaari does not just understand the language, but the game plan Chupp and the rest of the staff want to see from the players. The Stars defenseman has worked his way onto the power-play unit that helped Lincoln to a successful 2-for-5 performance last Saturday in the Stars' 7-4 victory at Waterloo.
"I really like it so far here," Niinisaari said. "Everything from the staff to the players, everything has been great. We have a great group which helps out with games, of course."
The Stars seven goals were a season high, and the two power-play goals served as a bright spot for a unit that has converted on just 15.3 percent of it's chances and ranks 15th in the USHL.
The 20-year old Niinisaari helped capitalize on one of those chances, assisting on Lincoln's first power-play goal against Waterloo.
You have free articles remaining.
"He's been able to find some consistency as of late and been a steady presence for us," Chupp said. "(Niinisaari) has worked himself into a little bit of power-play time for us, but what he is doing 5-on-5 for us leading up to his opportunity on the power play was simple and consistent.
"That's the biggest thing we ask of him is to make sure you are the driving force of consistency."
Over the course of the Stars' last four games, Lincoln has gone 4-for-19 on the man advantage.
"It was a huge for sure," Niinisaari said about the Stars performance against the Black Hawks. "It was huge for us.
Lincoln looks to continue its success at home with back-to-back games Thursday and Friday at the Ice Box against the Des Moines Buccaneers.
Briefly
Lincoln added another goalie to the roster in signing Slovakian netminder Samuel Hlavaj.
The 6-foot-2 Hlavaj recently competed at the World Junior Championships in Victoria, British Columbia. He finished with 32 saves against the United States in the tournament opener.
"He's a calm and confident goaltender," Chupp said. "Getting to watch his games and the World Junior Championship, he was just that. In practice what I've noticed he gets himself to right, he gets there early and pucks hit him. He makes the simple saves look simple."