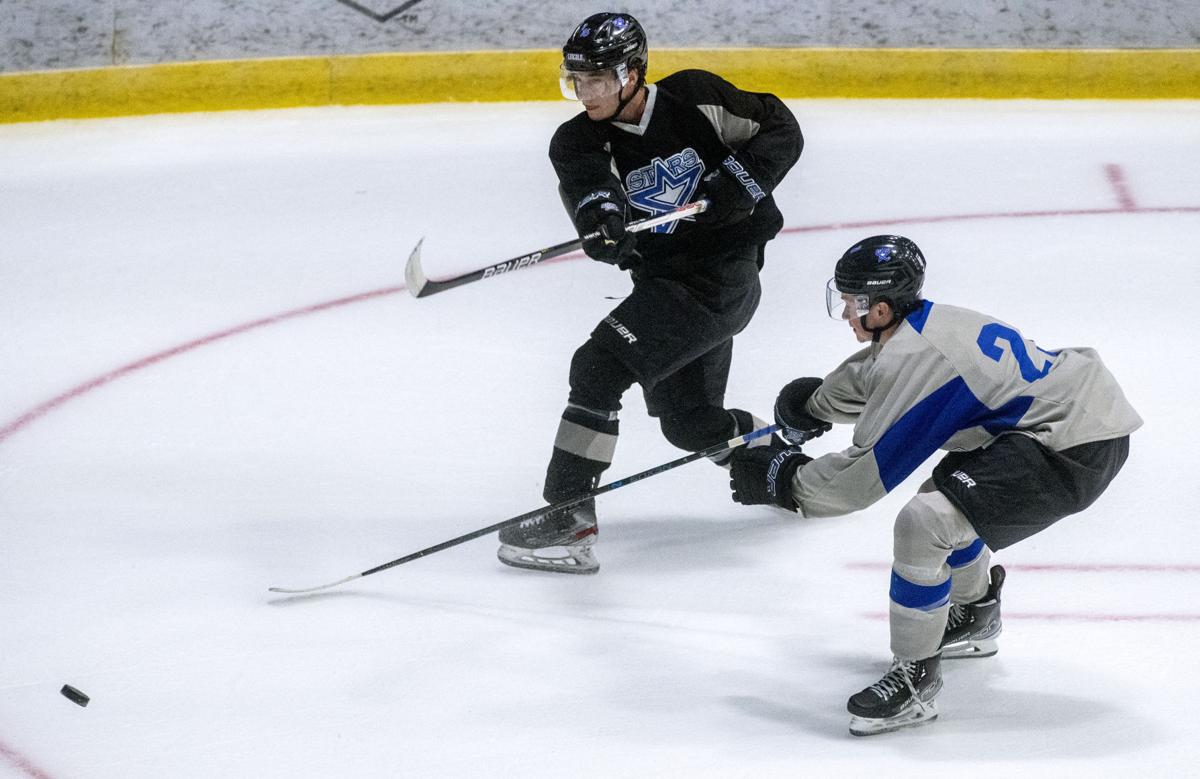 Rocky Russo arrived in Lincoln in July as the eighth coach in Stars hockey history. The first thing he wanted to do with his new team was establish a winning culture and an aggressive style of play.
Five months and 14 games into his tenure, those two building blocks have led the Stars to second place in the USHL's Western Conference and a five-game winning streak.
"When we started the year, our focus was creating good habits, building a good culture and letting the process take hold and the results take care of themselves," Russo said. "What you are seeing so far is the guys that bought into how we are trying to play and the urgency and intensity of how we want to play with."
Last weekend's pair of comeback wins against Des Moines showed the building of that culture.
Two goals in 30-second spans in each game, and an overtime winner on Friday, meant the Stars took home all four points. According to Russo, that is something that might not have happened a month ago.
"We have dealt with some adversity throughout the first few months," he said. "There is a belief on the bench that we can come back in that situation. … Once we did it Friday, (nobody) panicked Saturday."
The biggest influences on the team?
The three captains, Dalton Norris, Aidan Thompson and Joaquim Lemay, have led the group and are among the points leaders.
Russo said Norris is a great leader by example and that he doesn't push people to do anything that he cannot do. Lemay and Thompson have piggybacked off that, and it has led to a united locker room.
"Those three guys really set the tone, but we have a lot of maturity in the (locker) room," Russo said. "You got a lot of guys that have high aspirations for themselves and our team and their careers.
"I think everyone is pulling in the same direction. And when you have a team of that nature, you are going to end up with a lot of success."
Their biggest message thus far is if the Stars want to reach their goals of playing for a Clark Cup, it takes wins and competing every night.
"We have just preached right now points matter just as much now as they do later in the season," Thompson, who is tied for the most assists in the league, said. "We have just been preaching that every game matters the same, and the guys have stepped up and battled for every point we can get."
The Stars look to continue their winning streak this weekend at the Ice Box against Fargo on Friday.
Briefly
Lincoln was scheduled to host rival Omaha on Saturday, but that game was postponed, according to a USHL statement, after Lancer players voted to boycott three weekend games.
The boycott comes after multiple coaches resigned in protest of the front office's treatment of coach Chadd Cassidy and budget constraints, the Omaha World-Herald reported. Cassidy and the team parted ways earlier in the week.
The Lancers announced the hiring of Gary Graham on Thursday, the team's second interim coach in as many days.