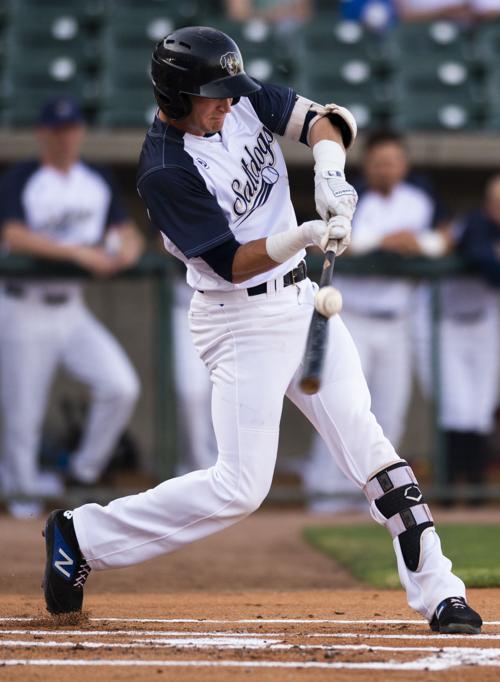 The month of June has been red hot for Forrestt Allday.
After smacking four hits in the Lincoln Saltdogs' first two games of the season in a rain-shortened series at Kansas City, Allday missed a short time in late May due to a lower-body injury. Appearing in just 12 of the Saltdogs' 19 games this season, Allday has found a groove going 13-for-23 (.565 batting average) in the month of June.
Allday went 3-for-5 Wednesday in Lincoln's 5-4 loss to Houston at Haymarket Park. The Friendswood, Texas, native was rocking a .515 season batting average heading into Thursday's series finale.
Primarily stuck in a designated hitter role until fully healthy, Allday is 9-for-16 over the past four games with two doubles, a home run and eight RBIs.
"It's different with every guy that is up there," Allday said. "But just the main thing is getting a good pitch to hit and putting a good swing on it.
"I've done it before (been a designated hitter), but I haven't done it consistently as much. It's something to add to what I can do on the field."
Whether there are runners on base or nobody on, Allday takes the same approach every at-bat.
"I like (Allday) up as many times as he can get up," Lincoln manager Brett Jodie said. "There is no reason to move (leadoff hitter Justin) Byrd, because Byrd has been doing really well, too, putting up some good ABs (at-bats). What I really like about Byrd as well is he doesn't force the issue. He takes what the pitcher gives him and that's huge for a leadoff guy. He trusts the guys behind him and Allday is the same way. (Allday) grinds out at-bats and I love when the guys feel like something positive is going to happen."
Quick hits
Left stranded: Lincoln has left a combined 36 runners on base over its past three games, including 21 runners in the first two games of a nine-game homestand. The Saltdogs have scored a combined 23 runs in those three games. Lincoln stranded 10 runners in Wednesday's 5-4 loss to Houston.
"You can look at a lot of factors," Jodie said. "(Wednesday) we hit a lot of at-them balls. A lot of balls that were squared up off the bat and you're feeling good and then they are right at guys. Even the last one of the game (Wednesday) I thought it was going to get down and it just kept pushing. That happens sometimes. and that's just the way the game is."
'Altmann'ator: Lincoln's Josh Altmann's 10-game hitting streak came to an end June 4 in Sioux City, but he has since started a new one. Altmann was on a three-game hitting streak heading into Thursday's contest against Houston. He has eight hits in that span, including a 4-for-6 performance June 6 at Sioux City that kindled a new hit streak.