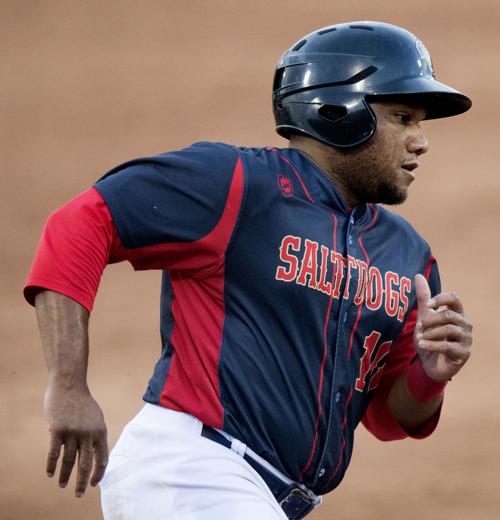 It was supposed to be a celebration and record-breaking year for Curt Smith and the Lincoln Saltdogs in the 2020 American Association season.
Now that none of that is happening after the coronavirus shut down the Saltdogs' 20th season, it begs the question whether Lincoln fans will see Smith in a Saltdogs uniform ever again as he prepares to try to make the 2021 Olympics for the Netherlands to put one more stamp on his baseball career.
Smith, who has climbed the charts in the Saltdogs' record book in numerous categories in his seven-year tenure, collected his 700th career hit in 2019, second in franchise history behind Bryan Warner. Heading into the 2019 season, Smith was second-all time in games played (483), second in games started (481), third-all time in runs scored (385), third in doubles (107), second in home runs (72) and second in RBIs (332).
He added 55 runs, 23 doubles, 14 home runs and 58 RBIs in the 2019 campaign to set up what could have been a big 2020 season.
Warner tops the Saltdogs charts in games played (610), games started (607), runs scored (425), home runs (90) and RBIs (480).
"The season getting canceled was a huge disappointment," Smith said. "I was really, really excited to play this year. We had a new manager (James Frisbee) and a bunch of new players. It was going to be an exciting season. … It would be kind of cool to break some of these records. Having your name to lead the book on the Saltdogs for years to come until someone else breaks the record would be cool. Right now with this situation, it's so unpredictable I'm not sure what is going to happen."
Smith has been a catalyst for the Saltdogs since his return to the club in 2013. He, along with former Saltdogs Randolph Oduber and Dashenko Ricardo, are preparing to achieve the dream of playing in the Olympics for the Netherlands.
"It would be awesome, especially coming towards the end of my career," Smith said. "Going to a big event like that would be unbelievable and a once-in-a-lifetime experience that I would like to be a part of of."
Though Smith does not know what the future holds for him with the Saltdogs and baseball, he'll have special memories of playing in Lincoln.
"They are my family," Smith said. "I consider them my family. Every time I show up on the field I feel like I'm at home. They treat me well, and they treat every player well. It's just an amazing organization to be a part of."
Smith, who lives in Lincoln, is experiencing a summer quite different from all those he's seen since being drafted in the 39th round of the MLB Draft in 2008 by the St. Louis Cardinals. He's looking for a summer job instead of staring down pitchers, and has a new teammate nearly 32 years younger than he is — his daughter.
"She's keeping me busy," Smith said. "I have a 2-year old daughter, so I'm hanging out with her in my free time. I'm actually job searching, because I know there is no chance of playing this year. I'm in the process of finding a job to keep busy and making some money."