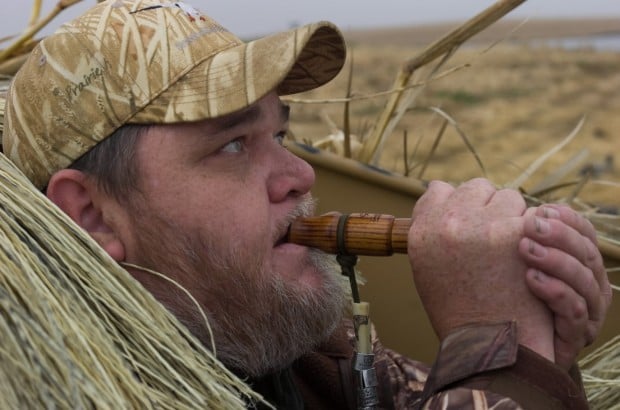 ADAMS -- Ron Wieneke shushes the blind chatter.
He stares into the gray sky, not looking, but straining to collect affirmation with his ears.
"Snow geese," he says to his father, Dan, who sits on the other side of the blind.
Within seconds, they appear, migrating high in a classic V formation, squawking and shouting as they struggle against an aggressive cross wind.
Wieneke places an Osage orange cylinder to his mouth and starts in with a Canada goose honk. He calls with the urgency and volume needed to cut the wind and reach the heavens.
In seconds, the V passes overhead. Wieneke ramps up the intensity and suddenly, a single snow peels from the formation and angles back to the pond. Others follow.
Twenty-five years ago, when he was just 18, Wieneke made his first waterfowl call. He used that design to build Woods Game Calls into a business that hit nearly $1 million in gross revenue at its peak in the late 1990s.
He also used his own calls to win goose and duck calling titles, including an invitational contest in 1998 that won him $10,000 - at the time, the biggest duck-calling purse ever.
He's big, bearded, brash, loud, funny, profane and sharply opinionated.
Yet those who know Wieneke well say he has a brilliant, innovative mind. And he not only imagines the better mousetrap, he figures out how to build it, inventing the custom lathes and other machinery to make calls, lay-out blinds and other waterfowl hunting products.
He sold direct through his own catalog and through major outdoor product retailers. For a time, his business was as big as his personality.
But by his own admission, he's no businessman. He's a duck and goose hunter, not a marketer.
"I've never seen my own website," he says. "All I know how to do is make stuff."
So when the waterfowl industry, once proudly made in the U.S.A., rode a jet stream of free trade to China more than a decade ago, Wieneke missed the flight. Over night, he says, he could no longer compete.
"Now a days, you can't swing a dead cat without hitting a so-called call maker," he says. "If you can't start with a block of wood and turn it into a call, you're not a call maker. You're a call assembler."
So he still makes calls and a retractable call holding device called the Layout Lanyard at his shop near Adams, albeit on a much smaller scale. He sells them on the web.
For several years after the crash, Wieneke made his living as a guide with high-volume commercial hunting operations in Minnesota and Texas. But more recently, he has stayed closer to home, mostly guiding in the spring snow goose season.
He's offering fall hunts this year, at least as long as his pond stays open.
He's still living the dream, which was always to make a living as a waterfowl hunter.
He thinks about that first call he made as an 18-year-old and laughs over how the next 50 didn't quack.
"If the first one wouldn't have worked, I probably would have gotten a real job."
High above the blind, the snow geese toss about in the wind like kites broken free from their strings. Wieneke's calling sounds like a small flock of Canadas as he tries to pull them back.
The single still wants down, but the flock won't let him.
"It's a juvenile," he says. "The adults are scolding him."
It's the closest he and his father will come to shooting a bird on this day.
But even when you don't blast a cap in a duck blind, it doesn't feel like a real job.
Waterfowl calling with Ron Wieneke
Be the first to know
Get local news delivered to your inbox!