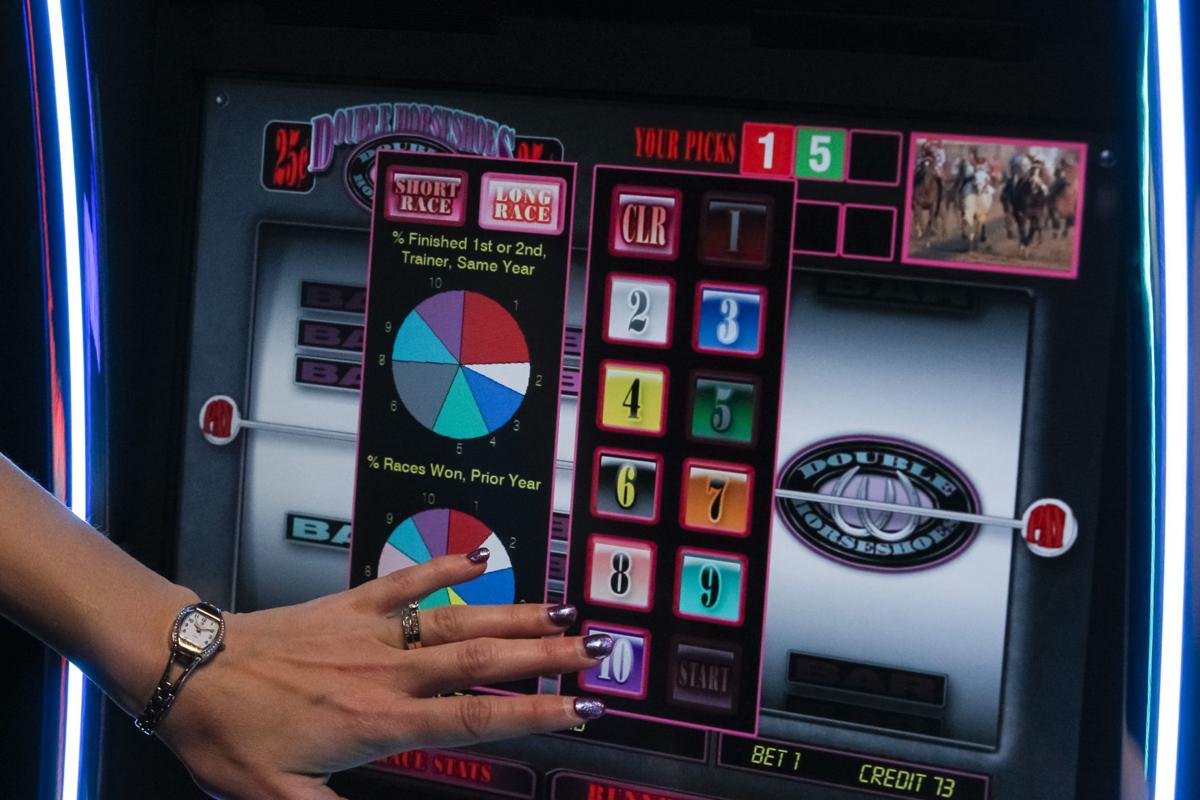 GRAND ISLAND — The Nebraska State Racing Commission will again consider approving Fonner Park's request to add wagering on historical horse races, even as Nebraska Attorney General Doug Peterson challenges its legality. 
The five-member commission Wednesday heard testimony from proponents and opponents of the slot machine-like terminals made by a Maryland company. 
In an October meeting, the commission approved the Grand Island track's request to add the terminals, which allow bettors to place wagers on unidentified horses from previously-run races nationwide. 
But Peterson blew the whistle on the move, saying the commission violated open-meetings laws and further lacked the authority to approve a new form of gambling. 
Fonner Park officials and horse racing advocates see the terminals as a way for the industry to adapt, draw more fans, and maintain the viability of the state's horse racing tracks, which have suffered through decades of decline. They want the commission to approve the terminals and adopt regulations governing them that were developed in Kentucky. 
"You have the full authority to approve the request being made to you today," said Dan Waters, Fonner Park's attorney. 
The historical horse racing terminals used in Kentucky, Wyoming, Oregon and Alabama would meet Nebraska's requirement for pari-mutuel betting, proponents say, because wagers on races replayed from a database of more than 30,000 races are pooled and payouts made to winners. 
But opponents sharply disagree. They say the terminals are not conducting pari-mutuel betting as defined in Nebraska law, and even if they are, it's not a decision for the racing commission. 
"The Commission has no authority to allow what the Legislature has refused to permit," Peterson said in his opinion dated Nov. 15. 
As the commission reconvened Wednesday, Assistant Attorney General Laura Nigro warned commissioners that they wouldn't be defended by the state should they face a lawsuit after approving historical horse racing on their own. 
Nebraska lawmakers in 2012 passed a bill to allow betting on historical horse races, but then-Gov. Dave Heineman vetoed the measure.
Two years later, lawmakers approved a constitutional amendment to put the question of allowing wagers on historical horse races before voters. 
But the issue never made it on the ballot. The Nebraska Supreme Court blocked it, ruling the proposal asked voters to decide on two unrelated measures. 
For several years, there was little talk of historical horse racing in Nebraska until the vote at the commission's Oct. 29 meeting, a decision Peterson's office slammed in a 13-page opinion.
The commission didn't have the necessary quorum for part of the meeting, as one commissioner left early and two others were participating by telephone. And they failed to give proper public notice on the historical horse racing request because it was vaguely labeled as a request for "an additional pari-mutuel wager" on agendas, Peterson said. 
With a quorum in place and an agenda item specifically mentioning historical horse racing, commissioners took up the issue again Wednesday, but with legal questions still hanging.
Unlike betting on live or simulcast races, those wagering on historical horse races aren't betting on the same race, Peterson said. 
That runs afoul of the definition of pari-mutuel betting in state law, he wrote in his opinion.
And Nigro pointed to the commission's regulation of simulcast and live horse racing as evidence it doesn't have the legal ability to expand its purview to betting on historical races.  
Tim Yelton and Cabot Haggin, of Amtote International, demonstrated a PariMAX terminal game called "Wheel Derby," showing previous races on video that looked "live" to Commissioner Helen Abbott Feller.
An auditor with the Thoroughbred Racing Protective Bureau testified the terminals and the database they draw from have withstood outside scrutiny.  
Slot machines have a computer chip and random-number generator with expectations of paying out at a certain percentage, but the PariMAX terminals do not, company officials said. 
"If you're a good handicapper, you could win 100 percent of the time," Yelton said. 
Pat Loontjer of Gambling with the Good Life said she and a friend went to Kentucky to see the machines in action. 
She watched people there play on the PariMAX terminals, but few seemed interested in the horse racing component, she said. 
Instead, they were focused on the instant games featured on the devices that she believes are loopholes to "bring in slots." 
She and Nate Grasz, policy director for Nebraska Family Alliance, described the historical horse racing terminals, also known as instant-racing machines, as the "crack cocaine" of gambling and said they will increase addiction. 
"It does nothing but cause destruction," Loontjer said. 
But from Horseman's Park in Omaha, General Manager Mike Newlin sees the PariMAX terminals as a last hope to keep the track afloat as casino gambling draws bettors to Iowa, a state now primed to legalize sports betting. 
Should that happen, Newlin said, "Omaha is going to be in big trouble."
If approved for Fonner Park, the use of historical horse racing terminals would almost certainly expand to tracks in Omaha, as well as Lincoln, Columbus and possibly South Sioux City.
More than three-quarters of the 50 people in attendance at Wednesday's meeting stood up when a Grand Island woman asked for people who love horse racing or have an interest in the sport to make their presence known to the commission. 
Several breeders testified the industry's revenue problem required innovation so the tracks can continue to keep the sport's 84-year run alive in the state. 
But Commissioner Jeffrey Galyen said this decision will not be made based on the morality of the issue or the inequities of the industry.
"We're duty-bound to follow the law," he said. 
Ultimately, the commission rescinded its Oct. 29 vote, and took the question under advisement. 
The commission's decision will be announced at its next meeting, in February or March.
Be the first to know
Get local news delivered to your inbox!