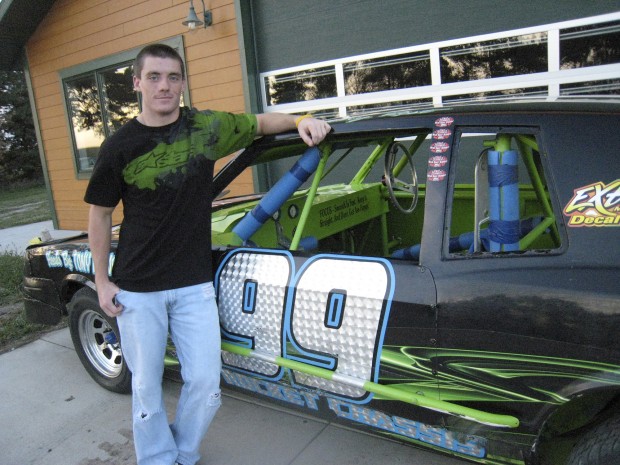 BEAVER CROSSING -- When Tony Rost was in a recent crash that flattened a tire on his hobby stock racer, about 10 people surrounded his 1985 Monte Carlo to help him return quickly to the track.
"The racing community is like a family," the Centennial High School senior said. "Before this year, I hadn't met any of them and now consider them my good friends."
Tony, who turned 18 on Friday, grew up watching his dad, Bill, race and has been on the track himself since he was a freshman.
In grade school, Tony Rost got some early experience running go-carts at Waverly.
Now, both his dad and mom, Ardyth, help him with his racing.
Father and son have spent countless hours scouting for potential racers (their first was a '95 Pontiac Grand Am they bought on eBay from Tennessee), fixing and replacing parts, painting, adding graphics and figuring out what works in a race and what doesn't.
"My mom plays a crucial role by filming the races so I can learn from my mistakes," Tony said.
This past season, he raced in International Motor Contest Association hobby stock races, most of them at Doniphan but a few at the Butler County Motorplex and one at the Junction Motor Speedway in McCool Junction.
Tony achieved national status as one of the top 10 rookies in his class and finished fourth in points overall for the season. He was named rookie of the year at Doniphan's Mid-Nebraska Speedway.
You have free articles remaining.
But he doesn't dwell on his rank. He's more comfortable talking about other aspects of the sport, such as interrelated parts: "You can change one spring and totally change how the car handles."
A center and safety on the Centennial football team, Tony equates the prep work in racing to football practice.
"You have to be determined and dedicated if you want to be successful racing," he said. "Same with football; you have to put in all your hours during the week if you want to be successful on the weekends.
"(Racing is) definitely a building experience. You try to build and get better each week."
His classmate John DeWaard helps change tires and do whatever else needs to be done at the track.
"He's really focused when he gets in the car," John said. "I guess, from there, you can tell it's 'game on' for him."
Next year, Tony will move up to Northern Sportmods, which covers nine states. He said it was a significant step in his racing career.
Tony, who plans to attend Kansas State University and major in nuclear engineering, said the sport can be addictive.
"It's five times harder than it looks and 10 times more fun than it looks."