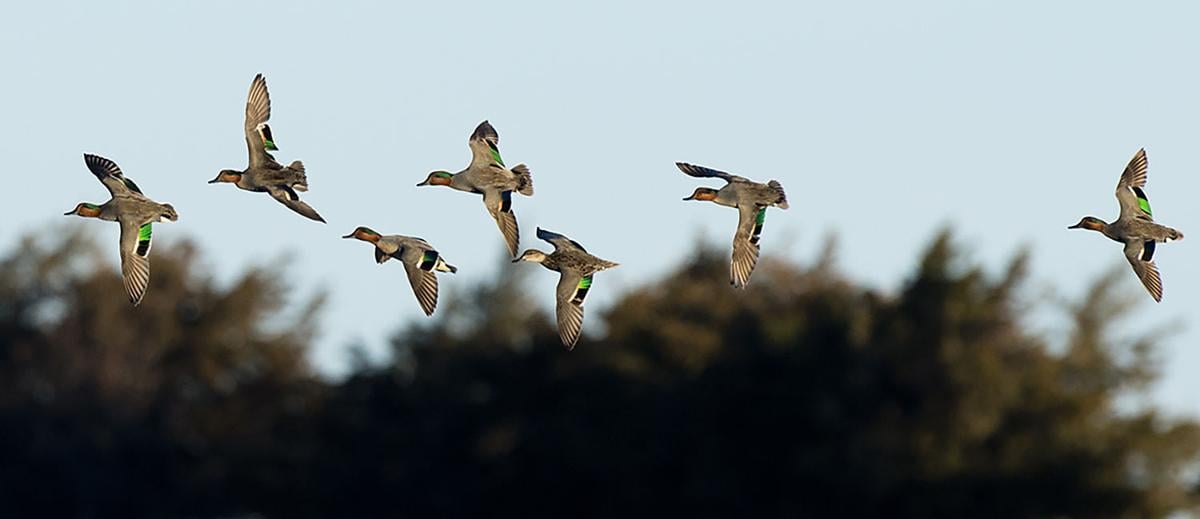 The flock of ducks was coming at us head-on and fast. My partner hit the teal call, and I heard his lab whine, eagerly anticipating a retrieve, as we readied for the shot.
With this flock, we might be able to fill our limits of teal and head for breakfast. They came straight in to our decoys, and then flared at our movement when we stood to shoot. At that instant, we recognized what species of ducks they were.
Duck identification is one of the biggest challenges for those new to duck hunting, and even for some who have done it for a while. That challenge becomes even greater during the September teal season, when even the drakes of all species are still in their mottled colors. It is also a bigger challenge because there is no room for error — only blue- and green-winged and cinnamon teal are legal to take, unlike the regular duck season, when at least one of every duck species is legal.
But duck identification is critical to keeping an early teal season in northern Nebraska. Similar to the process that allowed the southern portion of Nebraska to be open to September teal hunting, the experimental period of the September teal season in northern Nebraska has been extended another year. During this experimental season, the Nebraska Game and Parks Commission will monitor hunters' nontarget attempt rates as well as harvest of species other than teal during the early season in northern Nebraska.
If the U.S. Fish and Wildlife Service determines Nebraska's rate of nontarget attempts to be unacceptable, Nebraska will lose its early teal season in northern Nebraska, and most likely, never get it back.
Hunters in the southern portion passed the test and the season became operational in 2005. The early teal season in southern Nebraska and regular duck season are not in question. Whatever the results, hunters still will be allowed to harvest teal during those seasons.
Because the ducks were coming head-on, we instinctively hesitated before calling the shot. Before I could shout out what the ducks were, my partner beat me to it — "Shovelers!" The announcement prompted us to stop swinging our shotguns, and the flock sped off. We looked at each other and knew that it was a close call, but also felt subtle pride that we made the correct (and lawful) decision in holding off until the last second before shooting.
The shovelers' distinctive bills and larger size were the primary cues we used to recognize them. Shovelers are probably the toughest duck to distinguish from teal, even sometimes flying with flocks of teal. When I'm teal hunting, I really focus on the ducks' bills, as well as their size, to make sure I'm not aiming at a shoveler.
The other ducks that present a big problem for teal hunters are wood ducks. They tend to fly early, like teal. However, they are slightly larger than teal (and shovelers), tend to have white bellies and have a distinct bill — which in the case of male wood ducks is quite colorful. If a wood duck passes close enough, you can also see it lacks the powder blue wing patch on blue-winged and cinnamon teal, as well as the iridescent green signifying a green-winged teal.
As in our hunt, a big factor in proper identification is having patience and focus. Hunting with a partner helps as you both can spot and identify ducks and save each other from mistakes. The future of this season rests with the teal hunters themselves. If hunters fail to identify ducks and take shots at other species, they will not have a teal season in northern Nebraska past 2017.
Dr. Mark Vrtiska is the Waterfowl Program Manager with the Nebraska Game and Parks Commission stationed in Lincoln.