Jack Sock would be grinding on the clay courts in Europe, putting the final touches on his tennis game before the French Open. Under normal circumstances, anyway.
But nothing is normal these days because of the global COVID-19 pandemic that's shut down professional tennis until at least July 31.
So instead of Paris, the Lincoln native is back in his hometown for the first time since the fall of 2017, visiting his father, Larry, getting some golf in with the Nebraska Golf Hall of Fame inductee as well as his older brother, Eric, and fellow tennis pro and Omaha native Jackson Withrow.
The downtime "allows me to do some things I usually don't have a chance to," Sock said after he joined Withrow and Eric Sock (a former Husker player) in helping Joel Reckewey with a small private clinic Wednesday morning at the two-court tennis complex named after him at The Resort at Firethorn.
"It's always good to get back to Lincoln, play a little golf and spend some time here," added Sock, who now lives in Charlotte, North Carolina, after years in Overland Park, Kansas.
The 27-year-old Sock is anxiously awaiting a return to the ATP Tour to continue rebuilding his world ranking and résumé after a two-year slump that saw him plummet from No. 8 after the 2017 season to completely out of the ratings with zero ranking points at the end of 2019.
Sock reached the finals of the Indian Wells Challenger in California in early March, the warmup tournament to the Masters Series event there in which he had a wild card into the main draw, before it was canceled.
Going 10-29 in singles the past two years combined, Sock's five victories at the Indian Wells Challenger should serve as a springboard once the pro circuit resumes. A week earlier, Sock won his first ATP main tour match in more  than a year when he beat Radu Albot in the first round at the Delray Beach Open in Florida.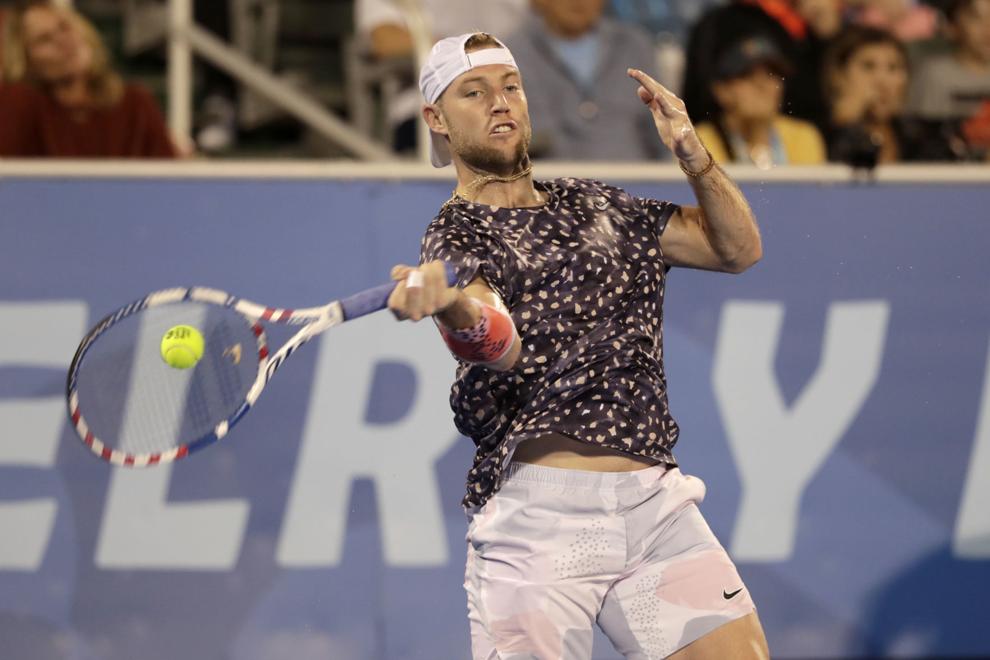 "My confidence is definitely back and I'm very happy to have those results before all of this happened," said Sock, who has climbed to No. 389 in the rankings. "I think I'll be very confident in my game and the way I can play."
At the end of 2017, Sock won the Paris Masters Series title, which vaulted him into the ATP Finals, where he reached the semifinals. Those results left him at No. 8 in the world rankings, but also put a huge target on his back for opponents.
A short offseason between 2017 and '18 knocked Sock off his regular training regimen, and that in turn affected his on-court results.
"When you're No. 8 in the world, then you start losing some matches, I think it was the first time in my career my confidence went down, and from there it was a downward spiral," said Sock, who has four ATP singles titles in his career. "I started questioning myself a little bit, and when you do that against that level of competition, you're not going to have the best results."
It's also difficult to get good results when you're injured. Sock missed six months in 2019 after suffering a torn ligament in his right thumb while training at the Australian Open. He was also dealing with a disc issue in his back late last year.
"That was pretty unfortunate because if you're out for any extended period of time, you can't defend those points and the ranking just goes down," Sock said.
While 2018 was the beginning of Sock's singles slide, he continued to add his doubles legacy. Sock and Mike Bryan combined to win the Wimbledon, U.S. Open and ATP Finals championships two years ago. Sock, who owns 14 men's doubles titles in his career and three Grand Slam crowns, combined with Withrow to take the Delray Beach championship that year.
Sock and Withrow reached the quarterfinals last year at the U.S. Open after taking out the Bryan brothers in the third round.
"In 2018, that was my happiness on the court, that's what kept me going," Sock said. "To play with one of the greatest doubles players of all time in Mike Bryan was super-fun. Without that, who knows where my mind would be at with tennis right now."
The return of pro tennis still has an uncertain date, but Sock knows what he'll be doing in December. He's set to marry Laura Little, the current Miss North Carolina, on Dec. 12. His brother and Withrow are set to be co-best men; his groomsmen include tennis stars and good friends John Isner and Nick Kyrgios.
Sock spent the lockdown time in Charlotte helping his fiancee with wedding plans, working out, "and binge-watching shows like 'Outer Banks' and 'Tiger King,'" he said.
"They just opened the courts up in Charlotte so I've been out a few times with my coach (Alex Bogomolov) and starting to play," Sock said. "I'm staying in shape, but I want to be careful not to beat up my body a ton before everything starts again."