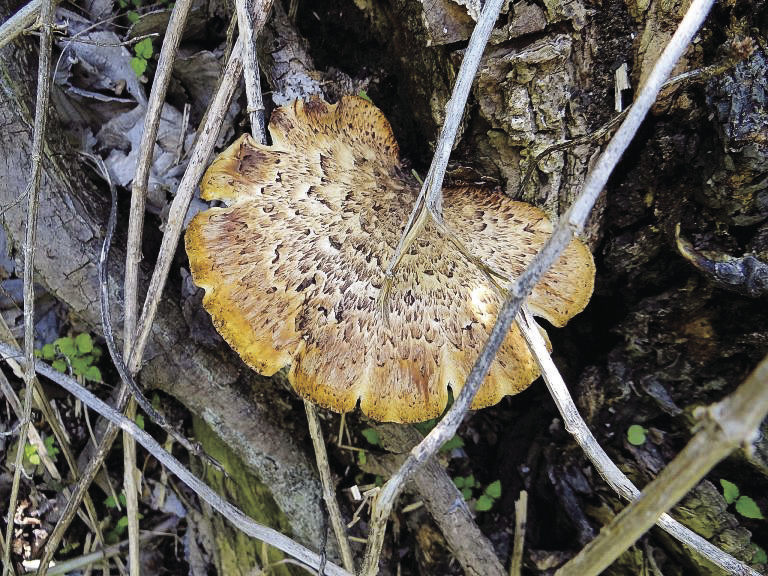 Along with morel mushrooms, there is another edible wild fungi growing in your moist woodlands that you should consider harvesting and making for dinner — the dryad's saddle.
The dryad's saddle — or pheasant back's mushroom — is a widespread edible wild fungi that is easy to spot beginning in late April and continuing into May.
Found east of the Rocky Mountains and potentially throughout Nebraska, it has a scaly yellowish-brown upper surface. It grows singly or in layers, on living or dead deciduous wood, especially elms.
This mushroom is attached primarily to dead hardwood trees, logs or stumps at one point with a thick stem. Generally, the fruit body is 3 to 12 inches across and up to 4 inches thick. The body can be yellow to brown. This mushroom is made up of tubes packed together closely. The stalk is thick and short -- up to 2 inches long. The fruit body will produce a white spore print if laid onto a sheet of paper.
You have free articles remaining.
The dryad's saddle plays an important role in woodland ecosystems by decomposing wood but is occasionally a parasite on living trees. Though the land may offer an abundance of pheasant's back, as foragers, we must take care great care to not overharvest this edible species.
The dryad's saddle is considered a good wild edible, most notably when the mushroom is young and tender. If it is too large, it will become leathery, chewy and somewhat woody to the taste. It should have a deep brown color, hue and markings. Avoid specimens that look white or cream-colored, as these are normally older.
Additionally, if the pores on the underside of the cap are easily scraped off in the field by gently using a pocket knife or fingernail, it's a keeper for the cooker. If the pores stay in place and appear to be stuck to the cap, use it in a soup broth or possibly a stew. Avid foragers recommend collecting before the mushroom gets much bigger than the circumference of a coffee cup (3 to 4 inches).
Harvested accordingly, the dryad's saddle has a fascinating smell and taste, like a combination of fresh cucumber and watermelon rind.
To prepare for cooking, gently rinse the pheasant's back caps under cold running water. With a dampened paper towel or soft kitchen towel, the pores of the underside of the mushrooms must be carefully wiped. They can also be removed by scraping with the side of a paring knife, if desired, but you don't have to do that. Next, drain and pat dry the remainder.
For cooking purposes, cut off the tender edges of the dryad's saddle, slice them into small pieces and pan-fry or saute them in butter and minced garlic. The dryad's saddles can also be baked in a 375-degree Fahrenheit oven for up to 45 minutes with just some olive oil drizzled over them, and a bit of salt and pepper. They will be crisp and delicious.
Greg Wagner is a public information officer in the Nebraska Game and Parks Commission's Communications Division. Contact him at greg.wagner@nebraska.gov.