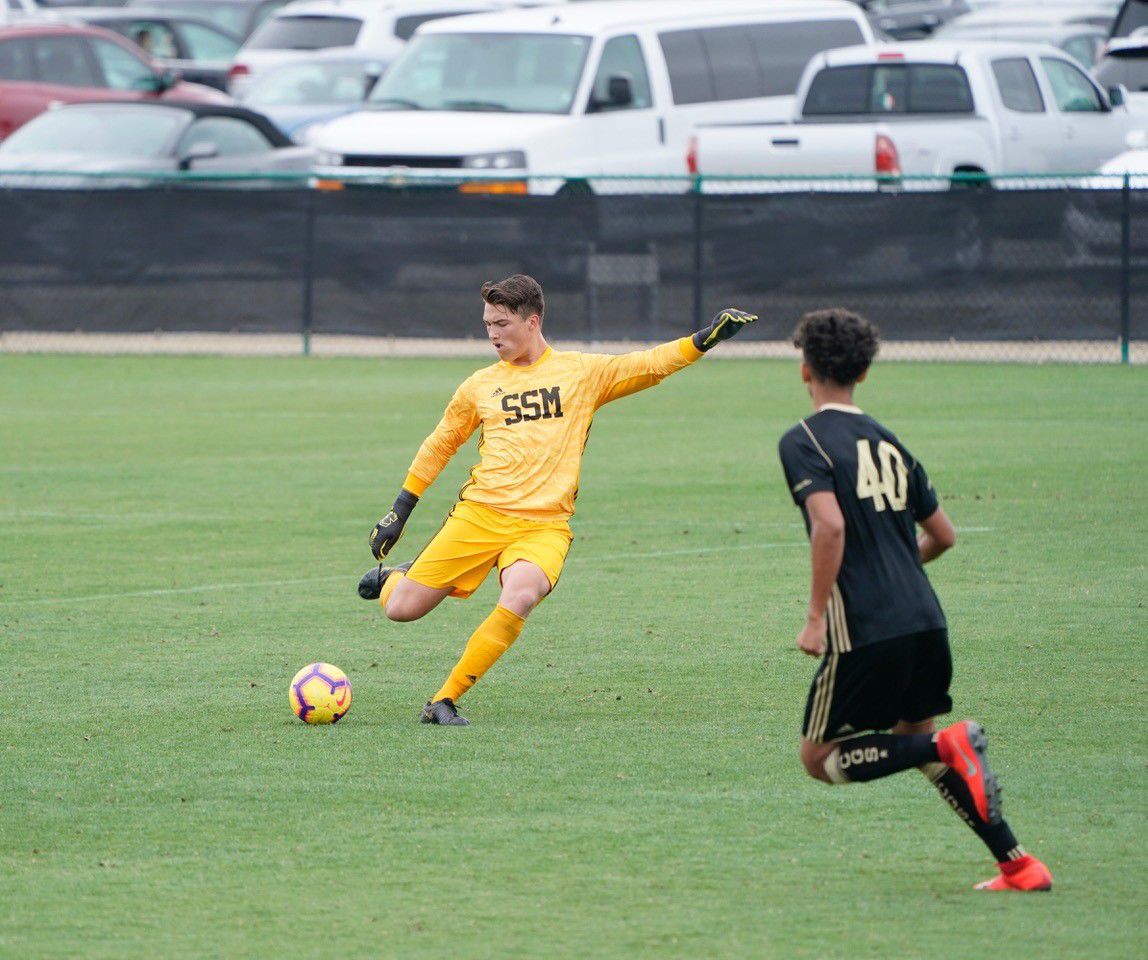 Mitchell Budler's time during the pandemic doesn't look much different from the way he has spent countless hours since age 3. 
He's standing in front of a goal, defending its nylon from a black-and-white-spotted ball.
Budler, 17, soon hopes to be blocking shots from the feet of rising international stars. But for now, the ball-firing contraption at his family's acreage just outside of Lincoln will have to do.
"I have a little soccer field here and a bunch of equipment, and my brother is really helpful in training," Budler said. "I usually go outside and train with my brother or do a strength session in the basement."
Budler is on the path to crack the roster of a U.S. youth national team, attending meetings and camps that could lead to a spot on the U.S. men's U-18 team. Budler is included in an estimated group of 50 athletes vying for a spot to wear the American flag on its uniform, traveling to competitions around the globe — and gaining plenty of exposure from high-level coaches while doing it. 
He's using the layoff to his advantage, too, rehabbing a back and shoulder injury while sharpening his fitness. Not to mention training with a state-of-the-art machine that can fire soccer balls up to 80 mph.
Budler is from Lincoln, but it's been awhile since he lived full-time in the Capital City. He lives in Philadelphia but is staying in Lincoln because of the coronavirus pandemic. He didn't go to any of the high schools in the city. Instead, he's well-traveled, attending full-time soccer academies such as Sporting KC Academy in Kansas City, Missouri, and the prestigious Shattuck-St. Mary's in Faribault, Minnesota.
SSM is known across the country for its history developing young talents into professionals in soccer and hockey. Sidney Crosby is one of several notable alumni.
But the coveted opportunity wasn't without sacrifice, Budler said. For starters, his mother joined him in Minnesota — she later became SSM's soccer photographer — while his dad stayed in Nebraska to work.
"It's tremendous what they've (parents) done," Budler said. "They've done more than I could ever ask for. And I think it's just been extremely supportive. I couldn't have asked for better parents."
He also had to leave some of the "normal" behaviors behind in Nebraska. 
"I used to do pretty normal things, like go to Memorial Stadium every Saturday," Budler said. "I was just a normal kid, basically, but right when I got into competitive soccer, it kind of just changed everything.
"My parents saw it as a really good future and thought I could make it far."
Budler is a member of Philadelphia Union's USL team, which is the youth league directly affiliated with the MLS, the American professional soccer league Budler hopes to join sometime down the road. 
He has some noteworthy college prospects, too. He has offers from Duke, Stanford and Princeton, plus in-state Creighton.