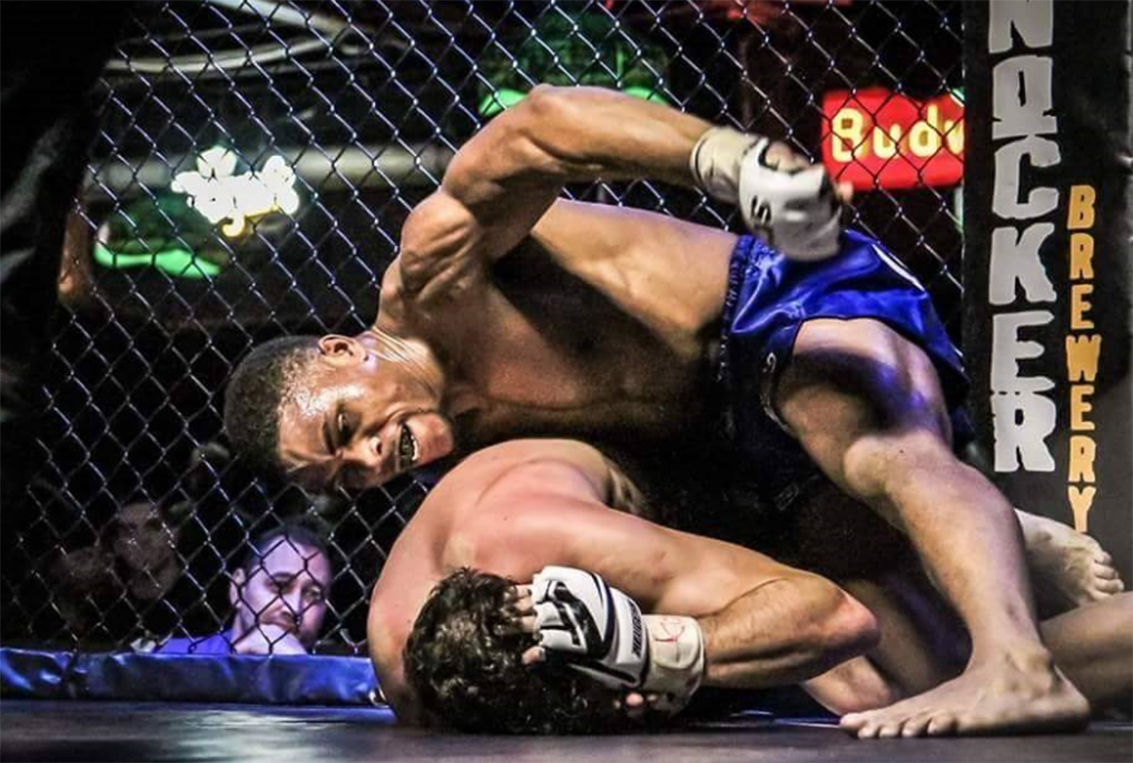 Austin Jones has always envisioned fighting in Lincoln, listening to his fans behind him cheering his name.
The former Nebraska running back was used to 90,000 people cheering as he entered Memorial Stadium.
After switching from football to mixed martial arts, Jones will finally have his chance to make his dream a reality.
The 5-foot-10, 170-pound Jones, fighting out of Aurora, Colorado, will be competing at Pinnacle Bank Arena during Season's Beatings hosted by Dynasty Combat Sports on Saturday.
He's used the building as a metaphor to his MMA career. When he left Lincoln, Pinnacle Bank Arena was under construction, just like his career, but he knew both could be something special given time to build a foundation.
"It's kind of crazy; dreams falling into reality," Jones said. "I know they are going to put on a big show at Pinnacle Bank Arena, and a lot of my old teammates are wanting to come check me out.
"It is definitely a dream turning into a reality."
Jones will be one of four professional fights scheduled on the card, along with 12 amateur bouts.
After going 6-1 as an amateur, Jones turned pro and currently holds a 2-3 record after winning his first two professional bouts.
You have free articles remaining.
The ex-Husker will be fighting Mike Messer, who is making his pro debut.
Also on the pro card is Bellevue's Seth Bass against Scottsbluff's Chris Saucedo, Omaha's Corey Roberts against Hastings' Chad Obermiller, and rising star Ryan MacDonald against Cody Land.
What Jones knows about his opponent comes from the little film he has seen, but he expects the city of Lincoln to give him a "home" advantage.
"I've only seen some video of him on YouTube," Jones said. "(Messer) has heart, he is tough, but my biggest opponent is myself and what I am doing.
"I sort of have a chip on my shoulder competing at Memorial Stadium and now getting to compete at Pinnacle."
Some of Jones' biggest fans and ex-teammates may make the trip back to watch him fight.
Former teammates including Kyler Reed, Brandon Kinnie, Terrance Moore, maybe even Prince Amukamara and Marcus Mendoza, have all said they want to see Jones perform in the cage Saturday.
"I'm absolutely excited," Jones said. "Friends want to come see me fight, I tell them a date and sometimes it doesn't always work out.
"You just want to put on a good show. The more you can do for fans, the better your support will be. When the fight gets tough, or isn't going your way, the extra support of fans gives that extra motivation your way."
The undercards start at 7:30 p.m. Saturday.