For several years Michaela Franklin had a goal of becoming a head volleyball coach at a major college program, but at 34 years old she could possibly have waited for a more successful program to take over than Clemson.
While it's an elite athletic department with the resources that allowed the Tigers to win the national championship in football last season, the volleyball program has won only six matches during each of the past two seasons.
Franklin probably wasn't going to have her first head coaching job at a major-conference school come at a well-established program, but she's just fine with the project she has in taking over a Tigers program that has a 2-38 record in conference matches over the past two seasons.
"I think anyone who knows me knows how I'm wired," Franklin said by phone last week. "I love to go into places and put my mark on places. Any of my stops has been in that similar situation. Marquette, when we went there, we had to go in there and turn it around. Green Bay I had to go in and put my mark there. Obviously most recently going into Iowa, and turning that program around. I like to go somewhere and be one of the reasons the puzzle comes together, versus just being a piece of it."
The chance to make Clemson a winning program again was appealing to Franklin.
"As a competitor, I love the challenge," Franklin said. "We talk a lot to our team about how in those moments of challenges or adversity, that's when you get to figure out who you are and learn what you're really made of, because it's tough. It's not easy."
In a meeting with Kansas State coach Suzie Fritz after her playing career ended, Franklin told Fritz she wanted to be a coach, and Fritz thought she'd be great at it. Franklin graduated in December, and a few months later had her first job as the No. 2 assistant at Northern Illinois.
The start to her coaching career traces back to Lincoln, though. Her dad, Andra, played football at Nebraska, and several of her family members played volleyball in high school and college.
"I went to Elliott (Elementary), so my mom (Becky Franklin) did a really good job of figuring out ways to get me into YMCA leagues, and keep me busy that way," Franklin said. "And then I played club for Nebraska Juniors. I started playing for them my sophomore year of high school, and it was my passion and my love. I played volleyball, basketball and track at Lincoln High, and volleyball was always my passion."
At Lincoln High, Franklin played volleyball for Kristi Nelson-Hitz.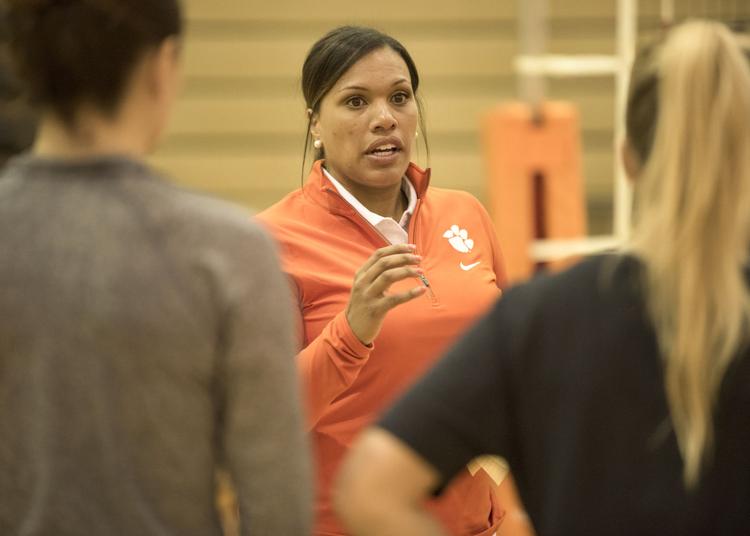 "I think the other thing that my mom did a really good job of is Kristi Nelson-Hitz was the head coach at Lincoln High, so I remember going to camps and just being around and seeing her from a very early age," Franklin said. "That was back in the day where it was Gwen Egbert was coaching, and Sandi Genrich and Jake Moore and all these, to me, big volleyball legends in the state. People usually always ask me, how and when did you know you wanted to coach? Well, after my mom and my grandma, they were the next biggest influences in my life were my coaches. They were who I admired and wanted to be like. I know that's why I've gotten into the profession that I've gotten into."
After Northern Illinois, Franklin was an assistant at Marquette for four seasons, and then the head coach at Green Bay for just one season. She'd planned to be there longer, but then took the chance to rejoin Bond Shymansky when he became head coach at Iowa.
"My goal has always been to be a head coach at a Power Five conference, and so I felt like, 'OK, I did the head coaching thing, and I love it,'" Franklin said. "'I know it's for me, and now let me see what elite volleyball is like and be sure that's what I'm really after,' and obviously my experience solidified that, and here we are."
In the stretch of just one week Franklin interviewed for the Clemson job, was hired, hit the road recruiting and then returned to Clemson to meet the team for the first time.
Since taking the job she added two transfer players to the roster and received commitments from four high school players.
Franklin says volleyball is growing in South Carolina, with several new club programs.
"I think what you find a lot of times in the South is you find a lot of athletes that are just jumping out of the gym," Franklin said. "Maybe they've come to the game a little later, but, man, they can jump and are just naturally athletic. Kind of my philosophy with that on recruiting is I can train you to be a volleyball player, but I can't train you to be an athlete."
Franklin is the second coach with ties to Lincoln who will be a head volleyball coach at a school in the ACC. Cortland native and former Husker assistant Dani Busboom Kelly will be in her first year as head coach at Louisville.
Franklin played in Lincoln when Nebraska and K-State were both in the Big 12 Conference, and coached in Lincoln while with Iowa. She said eventually she would bring her Clemson team to Lincoln to play the Huskers, if the Tigers are invited. She remembers the good feeling she received when she returned to Lincoln with K-State and Iowa.
"You know how Nebraskans are, they're proud, and happy to see their kids do well," Franklin said. "I'm sure that's the welcome I would receive, as well as our team. It would be a good experience for our team playing at the Devaney Sports Center."