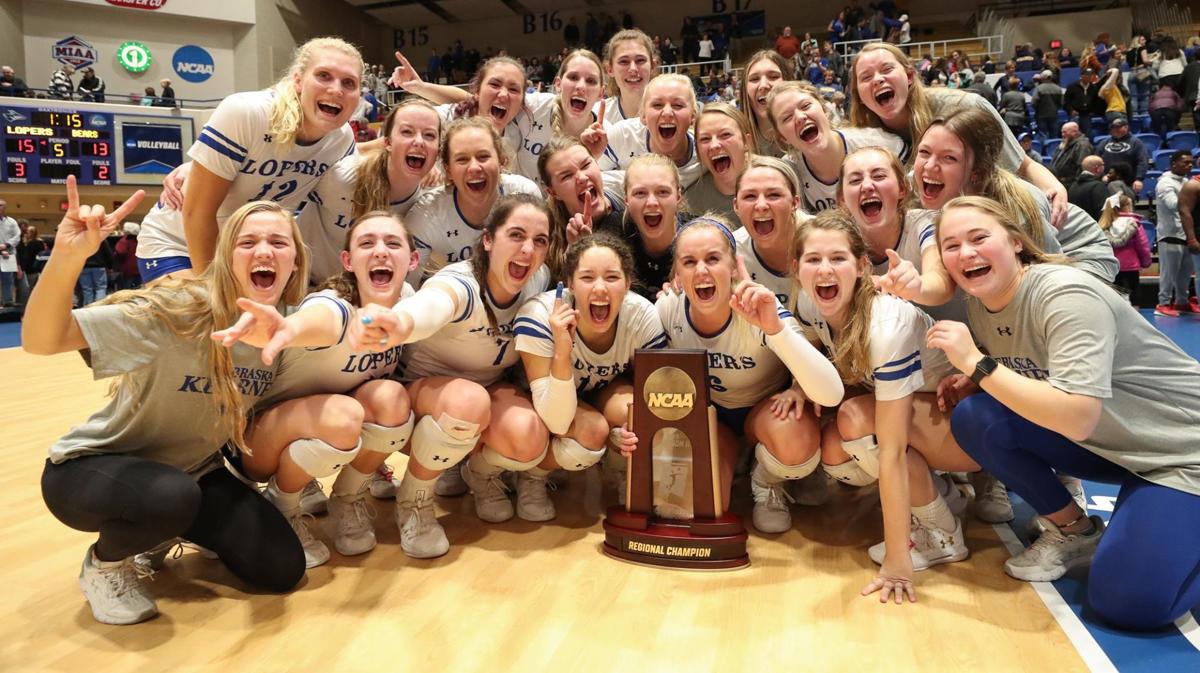 Rick Squiers, who has coached volleyball at Nebraska-Kearney for 21 years, has a go-to message when his teams are in a bind on their home court.
"I sometimes try to remind teams that I've seen some amazing things in our building, which I have over the years," Squiers says.
The No. 2 Lopers took "amazing" to another level during Saturday's NCAA Division II regional final against third-ranked and perennial power Concordia-St. Paul.
UNK trailed Concordia-St. Paul 2-1 in the match, and 20-11 in the fourth set. From the outside, it appeared that the Golden Bears were well on their way to the Elite Eight.
But the Lopers had an improbable and stunning run left in the tank (two, actually). They took 14 of the next 17 rallies to win the fourth set 25-23, and rallied again in the fifth set, after trailing 9-4, to win in five sets.
Incredible. Stunning. Unbelievable.
In Squiers' words, crazy.
"I think afterwards I remember telling them that is the craziest thing I have ever seen in here," Squiers said. "We now have a new standard that we can test (and) point to whenever we're in trouble."
The Loper community is still buzzing about the comeback. Squiers said he continues to receive text messages and emails from alumni and fans.
So how did UNK pull it off?
"I really think at some point probably in the fourth set when it didn't look like we were going to win, they just quit worrying about winning," Squiers said. "They just wanted to play volleyball and maybe try to make it close, leave the floor playing well."
Julianne Jackson, a senior captain and a co-MIAA player of the year, said she didn't pay attention to the scoreboard. 
"Honestly, I knew we were down by quite a bit but I didn't absolutely know the score until after the game," she said. "I didn't realize how strange it was that we came back until later.
"We just wanted to work a lot harder because we were not playing our best and no matter what was going to happen, we didn't want to play like that in our last game. We were just telling each other one point at a time, every touch, making it a little better."
The fourth-set rally included senior Emma Benton serving up four points to pull the Lopers to within 20-16. 
"When you get close, then you start believing again," Squiers said. "That kind of happened."
Concordia-St. Paul, which has won nine national titles since 2008, was up 22-18 when Jackson stuffed a shot at the net, and Mary Katherine Wolfe served four straight points to give UNK a 23-22 lead.
The comeback forced a fifth set, and once again the Lopers were on their heels, trailing 9-4. They pulled to within 13-11, caught a break when the Bears launched a shot out of bounds, and won on a block from Jackson.
"Our team as whole is so cohesive and bought into our program and what we want to do this season, and that goes back to the spring and the summer," Jackson said when asked what team qualities shined in the comeback. "The season starts in August, but that's not where all the work gets put in. This team has been one that has been willing to put in the work from Jan. 1 all the way to now."
Not only did the win punch a ticket to the national quarterfinals, it washed away some recent finishes for the Lopers, which included a first-round exit in last year's NCAA Tournament on their home floor.
For the current players, it was a chance to extend the season and play more big matches. "But I'm also happy for our alumni," Squiers said. "A number of them were eliminated by Concordia-St. Paul or didn't get past the first round, so a lot of them have reached out."
Now UNK (36-0) turns its attention to the Elite Eight in Denver. The Lopers will play Gannon (30-6) at 3:30 p.m. Thursday. The semifinals are Friday and the national final is Saturday.
Squiers said the challenge is putting last week's improbable comeback on the shelf until after the season and focusing on what's ahead of them.
"I don't know if anybody expects anything of us, so that doesn't add pressure from outside, but I think we expect a lot of ourselves, so that's our own added pressure," Jackson said.