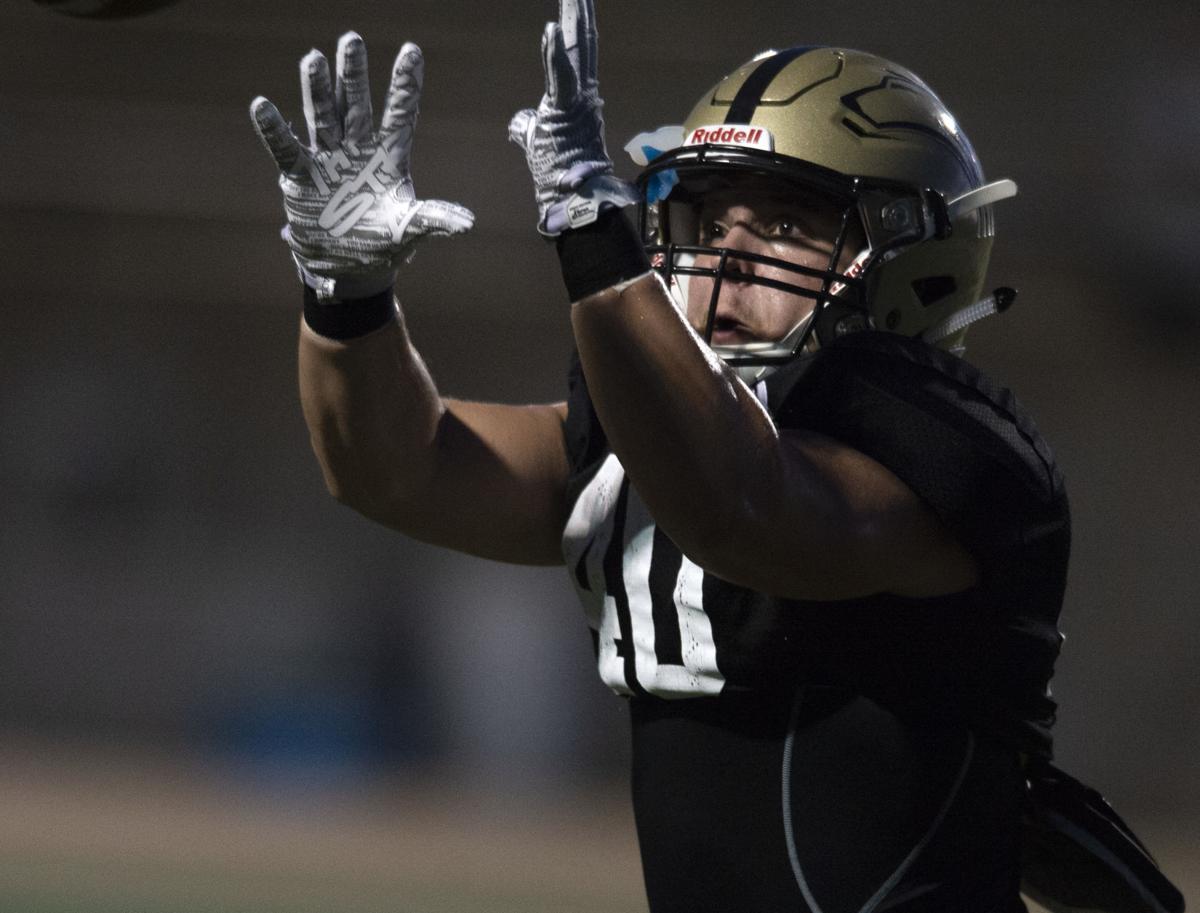 There may not be any games because of the COVID-19 pandemic, but Nebraska Wesleyan is still getting in plenty of football this fall.
The Prairie Wolves have been practicing four times a week since last month with five full-contact scrimmages Saturday mornings. The fourth will be this coming Saturday before wrapping up Oct. 24.
Most of the summer, it appeared the American Rivers Conference might be the only NCAA Division III conference to play football this fall. But on Aug. 11, the ARC announced it would postpone the season until spring because the protocols and guidelines set by the NCAA made it cost-prohibitive and logistically impossible to move forward.
The 25 practices and scrimmages have filled a huge void for both players and coaches, and they're appreciative of any time they get together on the field at Abel Stadium.
"You know what, it's been awesome," said NWU coach Brian Keller, now in his 25th year as Prairie Wolves head coach. "This has been so much fun out here right now.
"The guys come here with so much energy and intensity. We're putting in a lot of new things offensively and defensively we might not have been able to otherwise," Keller added. "The learning is there, the mental part is there, we haven't seen one lapse yet. It's really been a pleasure."
Keller said the freshmen might be benefiting from the current situation as much as if the season were being played as normal.
"The freshmen can adjust to college without worrying so much about the football end of it," Keller said. "The older guys like the repetition and the extra developmental time that they know is really important."
Keller is also using the fall to teach some NWU history to his team. The scrimmage last Saturday matched up teams bearing the names of two Wesleyan giants of the past — the Guy Chamberlins against the Cliff Squires. The previous week was a lesson about previous mascots as the Plainsmen faced off against the Sunflowers.
A pair of seniors who figured to be major contributors this season as returning starters — wide receiver Kevin Tims and linebacker Jacob Garnas — agreed with Keller's assessment of fall camp.
"Every (NCAA Division III) program is going through this, so I think we just see it as a positive," said Tims, who had 39 receptions for 403 yards and five touchdowns last season. He served as backup quarterback last year, but won't be needed in that role now that a pair of former all-state quarterbacks — sophomore Carter Terry (Northwest) and freshman Evan Johnson (Adams Central) — occupy the top spots on the depth chart.
"We have some great new guys who have come in, and this gives us a chance to see what they can do and get their feet under them," Tims added. "This has been great for finding that chemistry for the spring."
The ARC is allowing conference members to play up to five games in the spring, but a schedule has not been released. The limit to preserve a year of eligibility is five games.
Garnas, a 6-foot, 220-pound all-conference linebacker who had a team-high 107 tackles last season, likes the prospect of playing 15 football games in 2021.
"That's the plan right now as long as my body holds up and classwise it works out," Garnas said. "I have one class that I'm trying to hold back so that I can take it in the fall semester next year. Hopefully that happens and I'm able to come back."