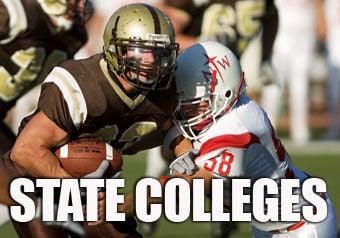 Saturday's games
Nebraska Wesleyan (3-1, 1-1 ARC) at No. 11 Wartburg (5-0, 3-0 ARC), Walston-Hoover Stadium, Waverly, Iowa, 1:30 p.m.: NWU will be facing a high-powered Knights offense that averages 50 points per game (fifth nationally in NCAA Division III). Duo quarterbacks Jace Moore and Noah Dodd have thrown for more than 1,200 yards and 15 touchdowns this season, while wide receiver Kolin Schulte caught 11 passes for 190 yards and three TDs last week in a 48-27 win over Buena Vista. The Prairie Wolves hope to match that with quarterback Jonathan Curti, who is sixth in the country in TD passes (17) and eighth in yards per game passing (333).
You have free articles remaining.
Jamestown (1-5, 1-3 GPAC) at Doane (3-3, 3-1 GPAC), Al Papik Field, 1 p.m.: Jamestown pulled out a 13-10, four-overtime upset over Concordia last Saturday in an absolute quagmire to post its first win of the season. The Jimmies average just 12 points per game. The offense is led by running back Allen Jevning (289 yards rushing) and quarterback Jordan Mann (460 yards passing). The Tigers appear to be picking up momentum heading into a three-game stretch against Dordt, No. 7 Northwestern and No. 1 Morningside.
Dakota Wesleyan (1-5, 0-4 GPAC) at Concordia (2-3, 2-2 GPAC), Bulldog Stadium, 1 p.m.: Just when the Bulldogs appeared to be picking up steam, they got stymied in the Mud Bowl last week at Jamestown. It will be a fast track Saturday in Seward, and Concordia will look to reignite its offensive attack led by the Texas trio of quarterback Jake Kemp (886 yards passing), running back Ryan Durdon (325 rushing) and wide receiver Cayden Beran (28 catches, 406 yards). Dakota Wesleyan's defense surrenders 38 points and 424 yards per game.
Other Saturday games: Midland (1-4, 0-3 GPAC) at Hastings (2-3, 1-3 GPAC), 1 p.m.; Nebraska-Kearney (3-2) at Lincoln University (0-5), Jefferson City, Missouri, 2 p.m.; Wayne State (2-3) at NCAA Division II No. 23 Minnesota-Duluth (4-1), 1:05 p.m.; Adams State (3-2) at Chadron State (1-4), noon MDT. Peru State (0-6) has a bye week.