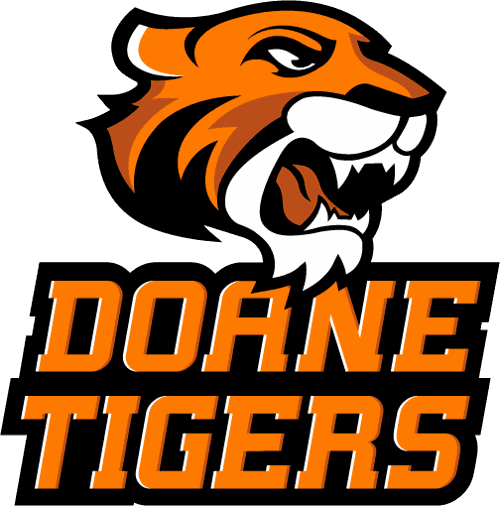 CRETE — Doane's plan was to kick a game-winning, walk-off field goal to finally dispatch upset-minded Jamestown (North Dakota).
Jamaine Derogene totally blew up that strategy, much to the delight of the Tigers.
The junior running back scored on an 8-yard touchdown run around right end with 8 seconds left to give Doane a 28-21, come-from-behind win before a homecoming crowd of 1,500 at Al Papik Field.
Back-to-back pass plays of 15 and 16 yards from quarterback Drake Davidson to wide receiver Izaiah Celestine put the Tigers at the Jamestown 14-yard line with under a minute left.
After an incomplete pass on first down, Doane coach Chris Bessler decided it was time to get the ball centered for kicker Bryce Cooney to win it.
Derogene decided it was time to put it in the end zone. He went up the middle for 6 yards, then broke his 8-yarder for the game-winner on the next play.
Those were his two longest runs of the game against a stout Jamestown defensive front that surrendered just 18 yards rushing, sacked Davidson four times and had six other tackles for loss.
"A field goal was the original plan, but I kind of changed that," said Derogene, who finished with 30 yards on 11 carries. "I saw a big lane open up on that last one (run), and I went for it."
Much to the satisfaction of Bessler.
"I was looking for that running game a little earlier in the game," Bessler said, smiling after his team outscored the Jimmies 21-7 in the fourth quarter. "Better late than never, I guess."
Things didn't look good for the Tigers (4-3, 4-1 Great Plains Athletic Conference) at several points during the game Saturday.
You have free articles remaining.
Jamestown (1-6, 1-4 GPAC), who came to Nebraska a day early to avoid the blizzard that hammered central North Dakota on Friday, showed no ill effects from their extra time on the road in the first half.
The Jimmies, who edged Concordia 13-10 in four overtimes last week at home in a muddy mess, put together scoring drives of 91 and 68 yards that ate up almost 12 minutes, to take a 14-0 lead with 9:47 left in the first half. Doane narrowed the deficit to 14-7 just before intermission on a 24-yard TD pass from Davidson to Levi Sudbeck.
Davidson avoided the rush before finding the senior from Pierce. The drive was aided by a Jamestown pass interference penalty and a personal foul for roughing the quarterback.
After a scoreless third quarter, Doane tied it at 14 on an 11-yard TD pass from Davidson to Celestine. Davidson finished 21-of-38 for 268 yards and three TD passes, while Celestine continued his big-play ability for the Tigers by catching six passes for 109 yards and returning three punts for 81. A 35-yard punt return by Celestine set up his TD catch.
"Izaiah made some huge plays in the passing and return game that really made a difference for us," Bessler said.
Jamestown took its final lead when Jordan Mann found a wide-open Barry Williams down the sideline for a 55-yard TD pass and a 21-14 advantage with 6:13 left.
The Tigers, however, answered less than two minutes later. After a 33-yard connection between Davidson and Celestine and a 9-yarder to Adam Wasserman, Davidson again scrambled to avoid the rush and hit Sudbeck with a 14-yard scoring pass to tie it with 4:48 left.
"Jamestown was doing some things up front that were hard to read and made it tough to run the ball or get time to throw," Davidson said. "Levi did a great job on the scramble drill on both of those touchdowns. He found the open space and I was able to get it to him."
Doane held Jamestown to a three-and-out on its next possession with Wyatt Bodfield sacking Mann for a 5-yard loss, giving the Tigers a chance for their game-winning, 52-yard march.
The Tigers gave up just 107 yards of offense in the second half with 55 of those coming on the scoring pass from Mann to Williams. A pair of former Wilber-Clatonia standouts -- linebacker Connor O'Toole and tackle Riley Homolka -- led the way. O'Toole had a team-high 10 tackles and Homolka, a former first-team Super-Stater, registered eight stops, four tackles for loss and a pair of sacks to go along with a forced fumble.
"The defense played extremely well in the second half, except for the one play, we had a mental breakdown and didn't cover a guy," Bessler said. "It wasn't pretty today, but I told our guys that good teams find a way to win, and we made enough plays down the stretch to pull it out."
Jamestown defensive back Troy Stuard suffered an apparent neck injury on the fourth-quarter pass play to Wasserman. Stuard, who had four solo tackles in the game, was moving his extremities, but was immobilized and carted off the field to an ambulance. His condition wasn't known immediately after the game.