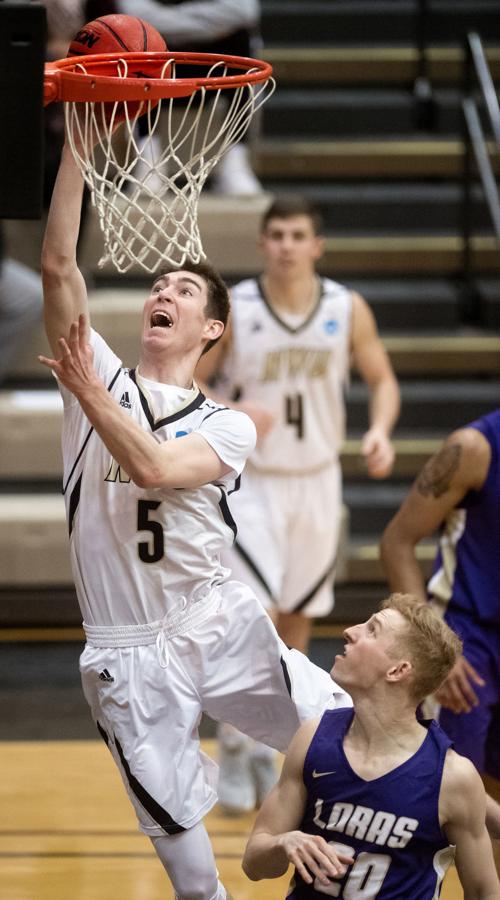 A year ago, the Nebraska Wesleyan Prairie Wolves were the unranked road warriors of the NCAA Division III men's basketball tournament, just happy to be part of the 64-team field after a miracle comeback from an 18-point deficit in the conference tournament finals gave NWU an automatic bid.
It's a totally different scenario this season. The defending national champion Wolves have been ranked No. 1 for all but one week this winter, a big reason why NWU (26-1) is opening tournament play at home, the first NCAA games at Snyder Arena since 1998.
Their march to another title begins with a 7:30 p.m. Friday game against Eureka.
With only one senior on NWU's team last season, the expectation has been there all year to become the first team to win back-to-back crowns since Washington University did it in 2008 and '09.
The cast is the same, and there's hope that the outcome of March Madness will be identical as well.
"Being No. 1, we won't sneak up on anybody this year like we did last year," said Jack Hiller, a 6-foot-6 junior and a three-year starter. "There's definitely pressure, but since we have a lot of the same guys who have been through this before, it won't bother us."
So far, this NWU team has stayed right in stride with last year's squad by winning both the American Rivers Conference regular-season title and taking the conference tournament crown as well with a 97-79 win over Loras on Saturday.
But another 6-0 run through the NCAAs? NWU coach Dale Wellman is what you would describe as cautiously optimistic.
"It takes a certain amount of luck," Wellman said. "You want to peak at the right time, you have to stay healthy and you need some help from other good teams to get the right matchup. All it takes is a bad game or a bad half to end your season.
"There's pressure on our guys, but I think they've handled it well all season. I think they enjoy it," the coach added. "We'll get everybody's best shot, just like we have all year."
You have free articles remaining.
Both Hiller and fellow 6-4 junior Nate Schimonitz made key plays a year ago to bring home the national title. In the 78-72 win over Wisconsin-Oshkosh in the finals, Hiller's three-pointer from the right wing off an assist from Schimonitz broke a 72-72 tie with about two minutes left.
Schimonitz then made it a two-possession game with a spinning hoop inside the lane with 32 seconds left.
In the Sweet 16, Schimonitz hit a driving layup with 3.1 seconds left to give NWU a 79-78 win at No. 8 Wisconsin-Platteville, the last two of a team-high 27 points.
"That should give us confidence if we get in those situations again," Schimonitz said.
Both have struggled this season with injuries. Schimonitz, who averages a team-leading 16.2 points per game along with Ryan Garver, missed two games because of a hamstring injury in January and was sidelined by a sinus infection for the conference semifinals last Thursday.
Schimonitz did not practice Monday because his hamstring continues to be an issue.
Hiller missed nine games in December and early January because of a broken foot. Hiller seems to have rediscovered his outside shooting touch, hitting almost 45 percent of his three-point attempts and averaging 12.4 points per game.
But now he has a right shoulder injury suffered in Saturday's game, an ailment that also sidelined him at practice Monday.
"At this time of year, every team has players with aches and pains, and our guys have been able to play through them," Wellman said.
Ticket information
Ticket prices for the NCAA Tournament games are $10 for adults and $5 for students and senior citizens. Children under 3 are free. Tickets are only available at the game, with doors opening at Snyder Arena at 4:30 p.m., one hour before the St. Thomas vs. Wisconsin-La Crosse first-round game Friday.