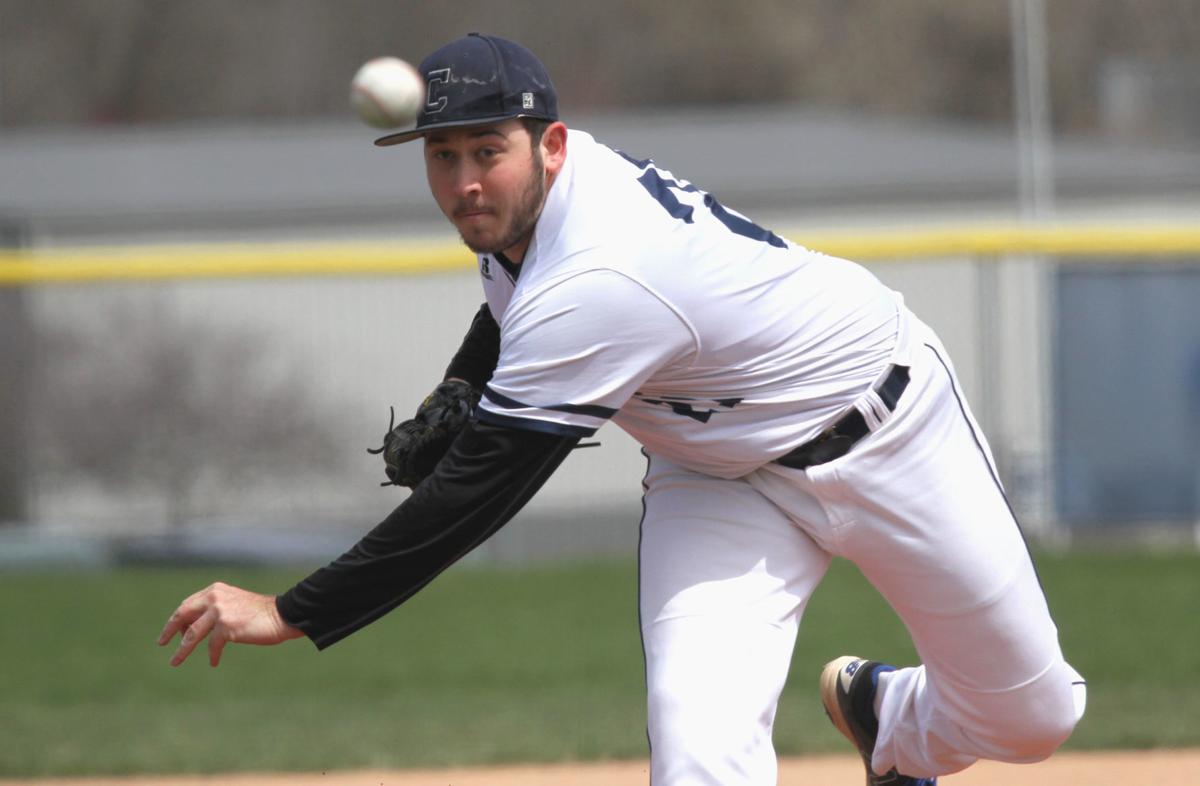 Note: Seniors around the country had their collegiate careers stopped abruptly because of the COVID-19 pandemic. The Journal Star wants to highlight athletes and their accomplishments in the hopes of giving them the closest thing to a senior send-off in a series called "Senior Day." If you know of any seniors — those with local ties and competing in winter and spring sports — the Journal Star should consider highlighting, send a note to Sports Editor Clark Grell at cgrell@journalstar.com.
Jason Munsch looked to right field from the pitching mound at Briar Cliff, and as his Concordia teammate Nick Boys squeezed the final out, Munsch and the Bulldogs could finally breathe again.
Munsch's last pitch was a fastball down and away, and when the batted ball settled in Boys' mitt, Munsch had completed a no-hitter. It was a pitch that hours earlier last Friday, Munsch did not think he would be throwing.
The Great Plains Athletic Conference had already announced the suspension of its baseball season as of Monday because of the spread of COVID-19, and every player knew the possibility of the season could come to a halt at any moment Friday.
"Up to (game time) I had a really negative attitude," Munsch said. "I just wasn't looking forward to it. I was really nervous. I didn't sleep well the previous night and I didn't think we were going to be able to play."
The NAIA has since canceled all spring sports for the remainder of the season, but news reached the Bulldogs last Friday on the way to Briar Cliff that the game was still on, and the reigning NAIA national pitcher of the week was ready to go.
"We were on the bus and got the notification we were going to be able to play," Munsch said.  "It was almost like a switch in the head. It felt really good. It was like, 'All right, this is going to be our last game, let's make it the best one we could do.'"
And after Munsch's final pitch, there was no over-celebrating, no sense of jubilation — just a hug.
It took Munsch hours after his final pitch to realize this was for real. That could have been his final pitch in a Concordia uniform.
"There is a family Facebook page for Concordia baseball and someone posted a video of the last pitch that I had," Munsch said. "At the end we did a big group hug, and that is sort of when it clicked for me. I was like, 'Man, this is probably how my college (career) ended.'
"It was less about the no-hitter and more about being with such a great family atmosphere with my teammates and just everyone loving everyone."
For the season, Munsch recorded 59 strikeouts over 26 innings with a spotless 0.00 ERA — and he ate one peanut butter and jelly sandwich in four starts.
"After I finished my fifth inning, I was joking around with (graduate assistant coach) Ben Carr," Munsch said. "I said before the game if I had a no-hitter going after five (innings) I was going to eat a peanut butter and jelly sandwich. I was going to make it and eat it while my team was hitting.
"It didn't really click until (Carr) came up to me after five innings and said, 'Are you going eat a peanut butter and jelly sandwich?'"
Though the NAIA has granted all full-time students two semesters worth of eligibility, it is up to the MLB Draft on whether Munsch has thrown his final pitch as a Bulldog.
"The big hope is I can enter the draft for the MLB and find a future in baseball," Munsch said. "Being able to say my last pitch in my college career gave me a no-hitter, but the guys that I play with are such amazing people.
"It's one of those ones where I would love to pitch one more year for these guys. Especially for the coach. Coach (Ryan) Dupic is an incredible person for as long as I've known him. Just being able to come back and represent the team; I would be happy with it either way."
Concerned about COVID-19?
Sign up now to get the most recent coronavirus headlines and other important local and national news sent to your email inbox daily.