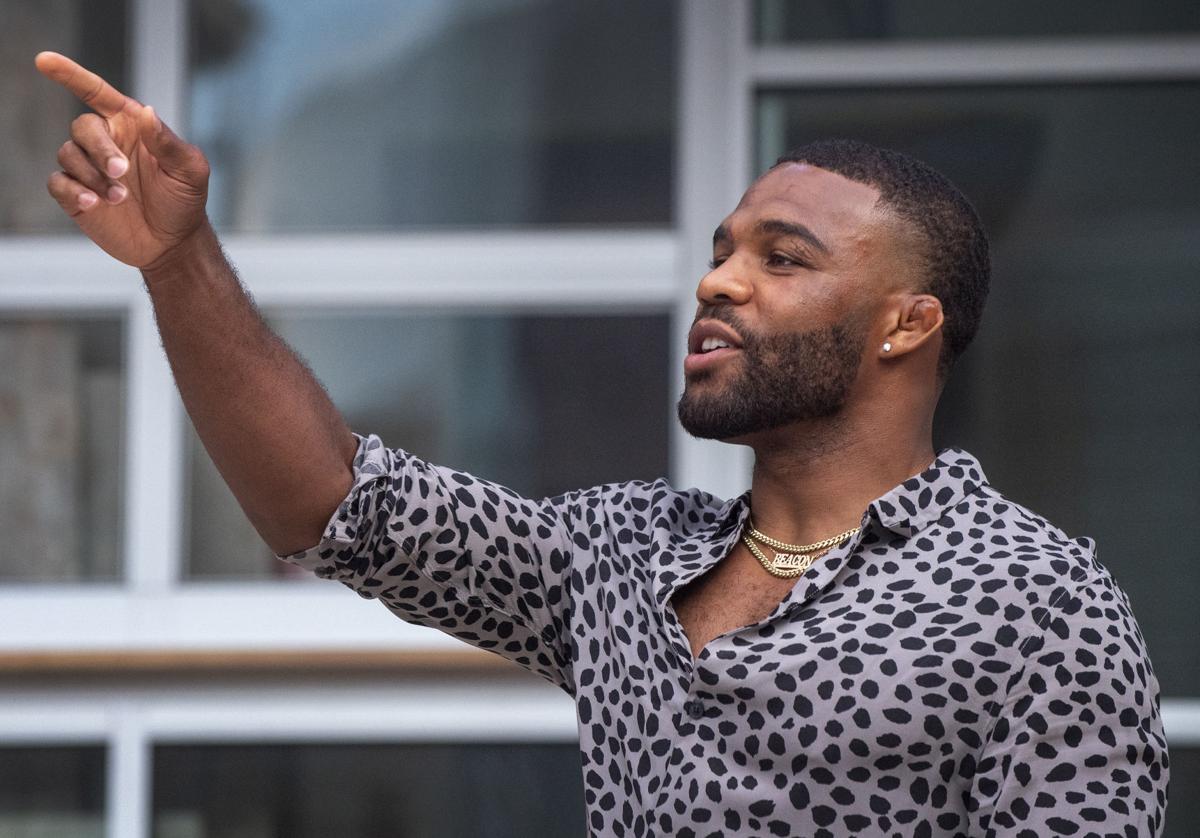 The hay will be in the barn, as the wrestling world says, this Saturday and Sunday at Pinnacle Bank Arena for the Team USA Senior World Team Trials.
The trials will determine which wrestlers represent Team USA at the Senior World Championships in Oslo, Norway, on Oct. 2-10. There will be 10 weight classes and three disciplines (men's and women's freestyle, along with Greco-Roman) on display.
Four former Huskers will compete, with current Husker heavyweight Christian Lance being added to the mix this weekend. James Green, at 70 kilograms, and Jordan Burroughs, 79 kg, each earned the top seed in their respective weight class. Tyler Berger joins Green in the 70 kg bracket as the sixth seed. TJ Dudley is rated eighth in the 92 kg weight class. Lance will compete in the 125 kg bracket.
Burroughs, seeking his 10th appearance on either the Team USA Olympic or World squads, was forced to move up a weight class after Kyle Dake captured an Olympic bronze medal at the 2020 Tokyo Games. Green has made the World Team every year since 2015. Only six classes (61, 65, 70, 79, 92 and 125 kg) will be up for grabs in men's freestyle wrestling after Team USA captured five Olympic medals.
Team USA Olympic medalists can choose an automatic bid to the Senior World Championships in their weight class.
Olympic medalists and automatic bids in men's freestyle: Thomas Gilman, bronze, 57 kg; Kyle Dake, bronze, 74 kg; David Taylor, gold, 86 kg; Kyle Snyder, silver, 97 kg; and Gable Steveson, gold, 125 kg. Steveson turned down his automatic bid as Senior World member, and announced his signing to the WWE earlier Thursday.
"Wrestling has become so popular, being the third biggest viewership on the Big Ten Network, behind football and men's basketball, that viewership is just off the charts right now," Nebraska wrestling coach Mark Manning said. "The popularity of (Team USA) took five wrestlers to the Olympics and all five of them medaled. The popularity of women's wrestling is really growing at a great rate. … We hosted Final X here, which has been the World Team Trials in the past. It's been a hit and people love Lincoln, Nebraska."
Team USA women's freestyle had four Tokyo medalists, with pioneers of the sport, Tamyra Mensah Stock (gold, 68 kg), Sarah Hildebrandt (bronze, 50 kg) and Adeline Gray (silver, 76 kg) all taking automatic bids. Helen Maroulis also earned an automatic bid with a bronze finish at 57 kilograms.
Mensah Stock, Hildebrandt and Gray were past participants in Lincoln, when the 2017 Team USA Freestyle World Trials were hosted at the Devaney Sports Center.
"This is going to be a high-level event," Manning said. "I'd say get a ticket after the football game (Nebraska vs. Buffalo) and come over."
With an event this big, it'd be a perfect recruiting tool for Manning and the Huskers, but he just wants to soak in the atmosphere of Pinnacle Bank Arena this weekend.
"We have dates for guys coming in October, but I think a lot of people realize that in the last 10 years, James and Jordan have been on World teams and Olympic teams," Manning said. "James has been a five-time World Team member and two-time World Team medalist. Which is unheard of in our sport; it's tough to make one team, let alone five. And Jordan has been on nine consecutive Olympic or World teams. It's a great opportunity to see Jordan and James, and TJ Dudley and Tyler Berger and Christian Lance wrestle.
"For us, it's just another opportunity to get our sport exposed to fans here locally."
Burroughs and Green have been on this stage many times, but for Dudley, Berger and Lance, it will be a first at this magnitude.
"Their preparation is kind of what we say, 'The hay is in the barn,'" Manning said. "They've prepared for it and now they just need to go out and compete; 95% preparation and 5% competition. It's go-time now, it's competition time and you have to put your preparation into work. Lay it on the line.
"I just want to see those five guys wrestle their best and go out and compete hard. If they do that, they'll have lots of success."
Preliminaries start at 10 a.m. Saturday at Pinnacle Bank Arena, with semifinals and consolations beginning at 5:30 p.m.