Broken & Rebuilt: The resurrection of Jordan Burroughs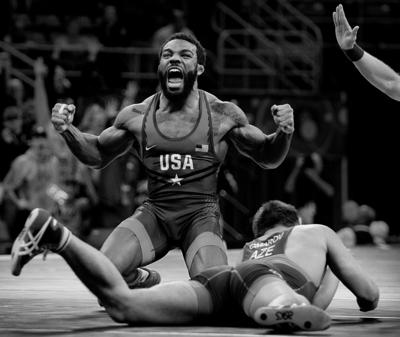 Editor's note: The Journal Star went behind the scenes with Jordan Burroughs for three months leading up to this year's Freestyle World Cup in Iowa City, Iowa.
Jordan Burroughs is on the first set of a workout he calls quadzilla, and it looks as hard as it sounds. Three lunges on each leg carrying a 95-pound barbell, three lunge jumps with the same weight, three lunge jumps with no weight and three squat jumps to finish.
It's designed for explosiveness rather than muscle building — if Burroughs builds too much bulk, he won't make weight, and he's already 17 pounds over on this January day.
He lets out a grunt as he lifts off for the last two squat jumps, then puts his hands on his knees. Sweat falls from his beard.
He's been in a relaxed mood this morning at the Hendricks Training Complex, strolling from the lobby to the locker room to the area where the Nebraska wrestling team practices, greeting everybody he sees like Ray Liotta at Copacabana in "Goodfellas."
"Get a good one in today, JB," a man yells to Burroughs as the former Husker heads downstairs to the weight room, walking past a display of Nebraska wrestling greats that includes his name.
Burroughs and trainer Brian Kmitta, who's been at Nebraska since 2009 and works with the NU track and volleyball teams, have worked together since Burroughs was training for the London Olympics in 2012. He won gold that year, and they've been close friends since.
It shows when Burroughs does single-leg jumps onto a padded box. It's about waist-high. The first set was no problem, but Kmitta has added 4 inches. They laugh when Burroughs misses the platform, stumbling to the floor.
"You don't know you're not gonna get it until you don't get it," Burroughs says, smiling.
Nebraska associate head coach Bryan Snyder is in the room, showing two wrestling recruits around. Unprompted, Burroughs introduces himself. Snyder jokes that maybe the extra 4 inches makes it too hard.
Burroughs jumps again. It isn't too hard.
There's no doubt among those in the room that Burroughs is still the same guy who won Olympic gold in 2012 and has four World Championship gold medals to his name.
He's still the king of this sport in their eyes, and will be for some time.
He just has to prove it to the rest of the world. Again.
The Russians. Those damn Russians.
"At some point, I'll find out what I did wrong and learn a lesson from this," a broken Burroughs said after falling to Aniuar Geduev 3-2 at the 2016 Summer Olympics in Rio de Janeiro.
The match unraveled in slow motion. The two wrestlers nearly came to blows 9 seconds in and had to be separated. A minute later, the ref stopped the match because of a cut on Burroughs' head.
The match trainer's initial attempt to stop the bleeding did little good, and the ref halted the match again 30 seconds later. Snyder, who was in the stands with Burroughs' wife, Lauren, sensed trouble.
"Tape his head!" he kept screaming.
Everyone who knew Burroughs knew he needed a wrap around his whole head if he got cut, otherwise it would just keep bleeding. Everyone but the trainer. He kept trying to cauterize the wound, but it wasn't working.
So the six-minute match turned into 12 30-second matches, a nightmare for Burroughs, who had made a living on the mat by always pushing the pace. He made his opponents work harder than they wanted to and often put up points late because of that.
"Every time we had to take a break, it was a relief for (Geduev)," Burroughs says after a practice session in early March.
He had beaten the Russian a year earlier on his way to a gold medal at the World Championships in Las Vegas, but that was then.
No home crowd now to give him an extra gear. Not enough time between stoppages to get his offense going. No way to stop the bleeding.
Burroughs gets more frustrated as the conversation continues.
"He gets to rest and the whole time I'm thinking, 'Crap, now he's going to be fresh when we start again.' And he's damn tough when he's fresh. He's hard to beat that way. So it was just different."
He stops himself. He knows he sounds like he's making excuses and doesn't want to take away from the man who won that day.
"I just blew it, man," he says. "I totally blew it.
"There are a couple moments in that match where I can pinpoint things I could have done differently or attempted to do something else, but I acted out of fear instead of confidence and it changed the dynamics of the match. You can't just think, 'Oh, I'm just gonna win late like I always do.' That's an awful strategy."
Lauren had never seen that in the five years she'd known him and the three years they'd been married. He slumped into her arms the moment she leaned over the railing.
"I tried so hard. I tried so hard. I wasted it. I'm sorry."
"You're not defined by a gold medal," she kept telling him.
They went to an apartment across the street. Lauren was saying words but Burroughs wasn't hearing them. He just stared at the wall.
"He was just so broken," she says. "Nothing can ever hurt him as much as that did. Nothing ever again."
Burroughs still had a chance to get through the consolation bracket and earn a bronze medal, but he was a shell of himself in an 11-1 loss to Uzbekistan's Bekzod Abdurakhmonov that eliminated him from the tournament.
It's the only time in his professional career he's lost twice on the same day. And the world was watching.
"I felt like it was a public execution," Burroughs says. "I was just completely humiliated and out there for the world's display, tarred and feathered. Everything had been perfect for so long. I had won at every level and I was gonna go in there and get my second gold, be on the cusp of history. And I got beat."
He didn't put on a pair of wrestling shoes for three months, too embarrassed to show his face to the wrestling community. He thought people would judge him or pity him, and he didn't want either. He didn't know if he wanted to wrestle again, because he didn't know if he could handle going through something like that again.
He put four years of his life into that moment, only to have it all blown apart in 20 minutes.
"It was hard to think about, because I had done everything right and it still didn't work," Burroughs says. "Up to that point I had always thought if you put in the work, you get the reward. But I realized that you can still do everything right and not be rewarded for it."
"But that doesn't mean you should stop trying."
He finally decided in November 2016 to get back on the mat. A training trip to Colorado Springs might help, he thought. After drilling with some guys on the U.S. team, he texted Lauren.
She told him what everybody who knew him had been thinking for three months.
"Duh! You never lost it. You just got beat one day."
Jordan Burroughs' record in six World Cups moved to a perfect 27-0 after winning all four of his matches at this weekend's United World Wrestling Freestyle World Cup at Carver-Hawkeye Arena.
It's like watching hockey with Wayne Gretzky.
A banner recognizing Burroughs' time at Nebraska hangs in the Devaney Sports Center rafters as he and Lauren watch the Husker wrestling team take on Indiana in late January.
He talks through the matches, always a move ahead.
Nebraska heavyweight Patrick Grayson finds himself down 3-1 with 30 seconds left.
"This is a situation where a lot of guys get discouraged when they really shouldn't," Burroughs says.
A three-time All-American, three-time Big 12 champion and two-time national champion while at Nebraska from 2006-11, he senses opportunity when others feel defeat.
Like last year in Lincoln. He was down 3-0 in a match to earn a spot on the 2017 Team USA World Seniors roster. He scored all his points in the final period, including a takedown with 36 seconds left. He got his spot, all right. An 8-4 win.
"You just have to break it down," Burroughs says as Grayson tries to break free from the grip of Indiana's Fletcher Miller. "He needs a point here for an escape and, boom, he's right back in the match. And he'll have, like, 20 seconds to go get a takedown. This is still very winnable and honestly should almost be automatic. Just gotta have some grit."
Burroughs is even more dialed-in when redshirt freshman Beau Breske steps onto the mat for his 174-pound match. Burroughs practices several times a week with the Nebraska team, and because Breske is a similar weight, the two often face off.
But Burroughs is squarely in his corner now.
"Stay low!" he shouts from a few rows up near the Nebraska bench.
"He can throw this guy, I know he can."
Breske clings to a 3-2 lead late in the match.
"He just has to believe he can do it and be aggressive. Aggression always wins."
Breske does get aggressive, lifting Indiana's Devin Skatzka and taking him to the mat, but Skatzka flips Breske when they land and ends up in control. Burroughs' man loses 8-3.
He is proud of Breske, but deflated.
"It's just the smallest things, man," Burroughs says. "Like not keeping your chest an inch closer to his legs when you pick him up and take him to the ground. That stuff doesn't seem like much at all, but it's enough to get you beat."
Watching the Huskers offers Burroughs a chance to be just like everybody else in the building, his mood ebbing and flowing with what's happening on the mat. He blends in, with black pants, gray sweatshirt and red beanie, chatting with Lauren and a group of friends between matches.
Before the dual, the Olympian had to convince the security guards, who didn't know who he was, that he's allowed to park in the back lot at Devaney.
"I mean, yeah, kind of, but not today."
Eventually, he parks without having to show his gold medal.
Photos: Three months with Jordan Burroughs
The Journal Star went behind the scenes with Jordan Burroughs for three months leading up to last weekend's Freestyle World Cup in Iowa City, Iowa. Photos by Francis Gardler, from Burroughs' training to his home life.
But when the dual is over, the fans find Jordan Burroughs. They want to say hello, shake his hand, take a photo.
A young boy in a purple singlet. A group of high school wrestlers. A teenage girl who looks like she just met Bruno Mars.
Burroughs is patient, getting everybody's name, asking where they're from and what got them into wrestling.
He poses for photos with fans for about 45 minutes. Eventually, it's just him standing alone in front of the bleachers.
"We shut this place down," he says with a laugh as he turns to Lauren. "I'm hungry."
It's 8:15 the next morning at the Burroughs house on Sheridan Boulevard. The two-story home was built in 1922, and the couple bought it in 2013 after it had been remodeled.
Neil Young, Johnny Cash and Whitney Houston albums sit on top of a record player on an old sewing table. A large painting of a buffalo, a reminder of the city where Lauren grew up in New York, hangs above a light-blue couch. Shelves full of books frame the fireplace.
"We were driving around looking at houses one day, and we stopped by and peered into the windows," Lauren remembers. "We both immediately said, 'Oh, my goodness, we want this place.'"
Beacon, their 3-year-old son, sits at the kitchen table finishing a bowl of cereal and yogurt. Burroughs is talking him through the schedule for the day — he'll go to his Montessori school until 1 p.m., then take a nap when he comes home. That last part is key, because Beacon doesn't like to sleep at school.
Beacon isn't thrilled about the plan, but dad pulls a pink Starburst from his pocket and brings a smile to the boy's face.
No matter what happens on the wrestling mat this year or next, or in 2020, Burroughs will still have this part of his life — the part where he gets to help his son get ready for school, and in a few years do the same for his 1-year-old daughter, Ora — and that's good enough for him.
"It's always been a battle for me between personal goals and wanting to be able to share the success I've had with my family," he says. "And I guess as I've gotten older I've kind of realized, you know, you can do all these cool things, but if you don't have people in your life to share it with, what's the point?"
A cutting board in the shape of Nebraska sits on the kitchen counter.
"I'm gonna miss this place a lot someday," he says.
Burroughs has grown to like Lincoln in the 11 years it's been his training base, but he still feels a strong connection to the East Coast — he grew up in Sicklerville, New Jersey — and he imagines that's where he'll end up when his wrestling career is over. He and Lauren have family there and want their kids to be closer to home as they get older.
On the 10-minute ride to school, Burroughs is even more calm and composed than usual, which rubs off on Beacon as he watches the movie "Home" on a small screen in the family's white Cadillac Escalade.
"I need you to be good today, OK buddy?" Burroughs says. "Be respectful to all the other kids and teachers. And remember that you don't have to nap there, you can nap when you get home, OK?"
Burroughs helps the boy put on his coat when they get to the school, and crouches down on one knee at the door to give him a few more words of assurance before he goes inside with a teacher.
Maybe someday he'll take his dad's gold medal to show-and-tell.
Burroughs will be 32 when the summer of 2020 rolls around.
He and everyone in his inner circle all say the same thing: So what?
If anything, he looks even better now than when he burst onto the freestyle scene in 2011 and went straight to the top. He's more developed physically. He rolled through the 2017 World Championships in Paris just like he rolled through the field in London six years ago.
Then last week in Iowa City, Iowa, he went 4-0 to help Team USA earn its first Freestyle World Cup since 2003. In the gold-medal match, he pinned Azerbaijan's Gasjimurad Omarov, something rarely seen at the sport's highest level. And he did it all despite injuring his nose in his first match of the tournament.
Nebraska coach Mark Manning, who has served as Burroughs' primary coach for 11 years, said it may have been broken, but that wasn't going to stop Burroughs from wrestling the next three matches. He's now 153-5 since college.
It all helps to prove to the wrestling community what he and Lauren knew in November 2016: He's still got it.
It's not by accident. He's drastically changed his diet from what it was in his early 20s, when he ate fast food regularly but was still able to recover instantly and wrestle all day. He and Lauren said goodbye to red meat last year.
His last burger was July 4.
"I miss a good burger," he says with a laugh. "That was always my go-to meal after a tournament. If I won, I would always come home and have a cheeseburger and a milkshake."
Burgers out. Salmon salads in. Milkshakes out. Smoothies in.
It pays off when it's time to make weight. When some members of the U.S. team came to Lincoln in early March for two days of live matches, Burroughs was required to be within 6 pounds of his wrestling weight. He went from 180 to 169 in three days and then dominated everyone they put in front of him.
"It's so easy with him," Kmitta says. "He's just in shape year-round, and that's what gives him longevity in the sport. What gets a lot of guys in trouble is they're always binging and purging, but with him he's never too far away from where he needs to be for a big tournament. He makes it his lifestyle."
So he does the second quadzilla set every time with no complaints. He knows he'll be better for it, and that the next time he's faced with adversity and the whole world is watching, he'll show them a different Jordan Burroughs from the one they all saw in Rio.
"I lived it with him," says Manning. "That September and October after Rio was so tough, but he came back and he was a different guy. It took a long time, but he buried that experience and we saw him resurrect himself. And now he's a better version of Jordan Burroughs than we've ever seen before. No doubt. It's so amazing to see how he's evolved."
What always separated Burroughs from the rest of the world was his refusal to believe he could be beaten. He was Muhammad Ali. He knew he was the best and he made sure everybody else knew it, too. On the eve of his gold-medal match in 2012, Burroughs sent out a tweet: "My next tweet will be a picture of me holding that gold medal."
He was invincible, then he wasn't.
But Rio was just a chapter. Not the last chapter.
He's rebuilt, confident as ever. He smiles as he leans back in a chair outside the wrestling room at Hendricks.
"I still think there's not a man in this world who weighs 163 pounds who can beat me in a wrestling match."