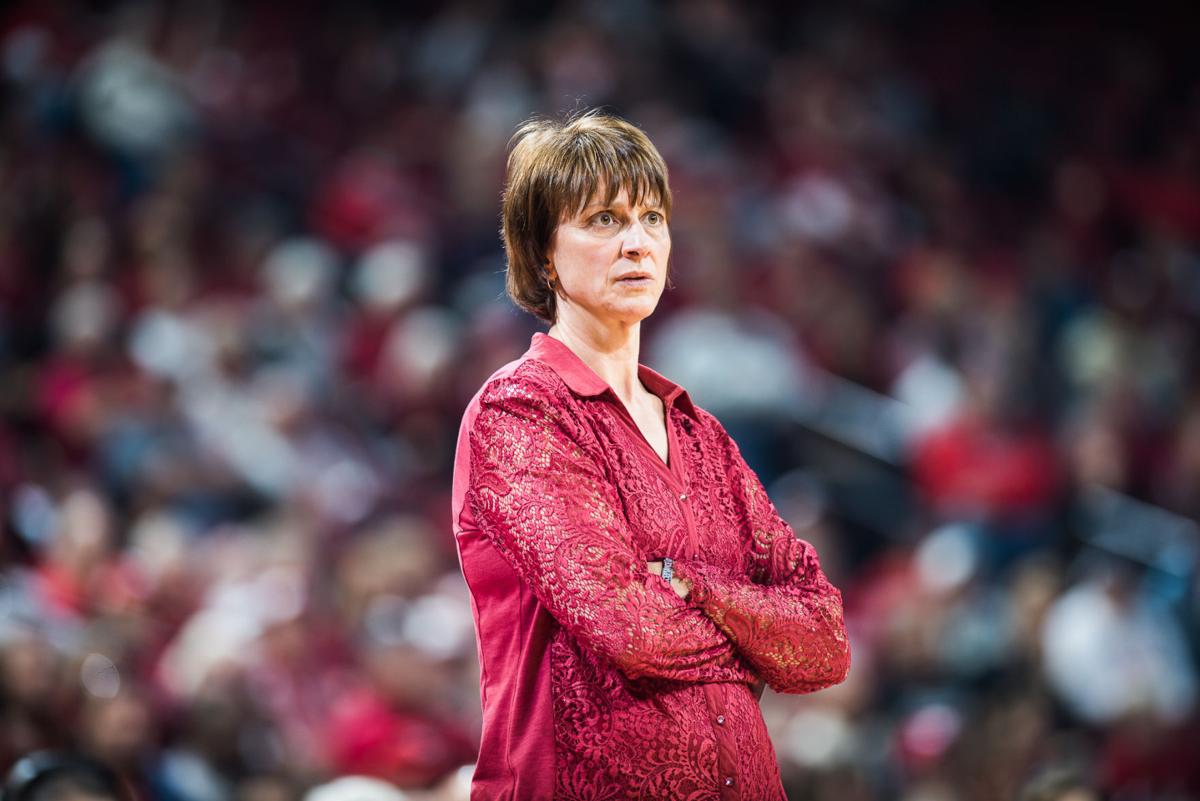 Nebraska women's basketball coach Connie Yori has resigned after a two-month long investigation by the Nebraska athletic department into allegations she mistreated players and fostered a negative, dysfunctional culture, multiple sources confirmed to the Journal Star.
Nebraska athletic director Shawn Eichorst, in a statement to the Journal Star on Tuesday, confirmed Yori is no longer Nebraska's coach, ending her 14-year tenure as the most successful coach in program history.
A source with knowledge of the situation, speaking on condition of anonymity, told the Journal Star more than 10 players from the 2015-16 team, along with some support staff members, approached Nebraska athletic department administrators in early February with concerns about Yori's treatment of players.
The athletic department immediately addressed those concerns and began an extensive investigation and review that included having an administrator present at every practice.
"We are aware of allegations involving our women's basketball program and since it is an employee personnel matter and involves our student's privacy, we cannot provide details," Eichorst told the Journal Star in an exclusive.
"Our primary mission, vision and goal at the University of Nebraska and all of our coaches is and always has been to provide our student-athletes with the resources and positive support they need to have an exceptional experience and be successful in academics, athletics and life. The health, safety and well-being of our student-athletes and staff is our top priority and we will continue to do our part to ensure just that."
Two sources also said a former director of basketball operations has come forward with a complaint against Yori for discrimination, and that Yori forced staff members to lie in vouching for her whereabouts as it relates to Yori's custody battle for their 11-year-old son. Yori and her husband, Kirk Helms, are in divorce proceedings.
The NCAA is not investigating Yori or the Nebraska program, a source said, and there is no evidence of NCAA rules violations.
As for the player mistreatment allegations, they included Yori bullying, intimidating and overtraining players while showing a general disregard for players' well-being, sources said. As part of a review of the women's basketball program, players met individually with Nebraska's compliance department, which isn't normal procedure, one source said.
Yori, reached by phone Tuesday, denied all allegations and said she was unaware of any complaints against her.
"I vehemently deny any wrongdoing in our program," Yori told the Journal Star. "I'm going to deny any wrongdoing in our program."
Nebraska executive associate athletic director Marc Boehm, who oversees men's and women's basketball, said it would be inappropriate for him to comment on personnel matters.
Players met with NU athletic administrators Tuesday afternoon at the Osborne Athletic Complex. Approached by a Journal Star reporter following the meeting, NU freshman forward Jessica Shepard said there was a meeting, but declined to go into further detail about the situation.
After the Journal Star first reported Yori's resignation and the allegations, Nebraska later released a statement with comments from Yori and Eichhorst.
"After fourteen years as the head coach of the women's basketball program, I have made the difficult decision to step down," Yori said. "As some of you may know, this has been a very challenging time for my family and in the best interest of all of us, this is the right decision. I want to thank the student-athletes, assistant coaches, staff and administrators, especially Shawn Eichorst, for his leadership and support during this difficult time in my life.
"Finally, thank you to the incredible Husker Nation for their passionate and unwavering support throughout my time in Lincoln. I will always be a proud Husker."
Said Eichorst: "Coach Yori achieved great success in the program during her tenure and we appreciate her many contributions to the university. We wish her and her family all the best and we are grateful for her dedicated service to Nebraska. We will begin a national search for a new head coach immediately and will not comment or speculate on the search or candidates until an announcement is made."
Yori finishes her Nebraska career with a 280-166 record. She led Nebraska to two of the program's three conference titles and seven NCAA Tournament appearances.
Yori's contract was extended two years to 2020 following last season. Her annual base salary is $732,913. It's uncertain at this point whether Yori will receive any severance pay or negotiate a buyout.
Nebraska, which ended 18-13 after a first-round loss in last month's Women's National Invitational Tournament, battled injuries all season -- a common theme in Yori's tenure -- and had only four available healthy guards by season's end.
Because of the injuries, Nebraska had 10 different players start at least two games this season, the most of any of Yori's teams.
Among the injured players in 2015-16 was senior guard Rachel Theriot, whose season ended following a Feb. 18 game at Ohio State. She had ankle surgery on Feb. 29 and hopes to pursue a professional career.
Theriot also missed the final 11 games of the 2014-15 season after having ankle surgery. She returned this season, and started the first 15 games before coming off the bench for consecutive games in January against Penn State and Rutgers. Yori did not explain the sudden demotion, saying only it was a coach's decision.
Theriot finished her career No. 3 at Nebraska and No. 10 in Big Ten history with 626 assists. She also ranked 16th in Husker history with 1,288 career points.
Theriot, reached by phone by the Journal Star last week, declined comment.
Shepard, the highest-profile recruit in Nebraska history, played in all 31 games in 2015-16, but she suffered a stress reaction in her foot prior to the Big Ten Tournament and was limited in the final two games of the season. She averaged 18.5 points and was named the Big Ten freshman of the year.
Several other Huskers battled previous or new injuries, including senior transfer Kyndal Clark (chronic knee pain), freshman Rachel Blackburn (knee and foot), sophomore Jasmine Cincore (foot), freshman Maddie Simon (broken arm in a fall outside of basketball) and junior Esther Ramacieri (knee and Achilles).
Simon also missed the WNIT game because of an ankle injury, and Yori said following the final game that Blackburn would need surgery.
Senior volleyball player Alicia Ostrander, on her first day of practice after joining the basketball team, suffered an Achilles tear that ended her career before it started.
Clark, reached Saturday, told the Journal Star she didn't know why Yori was being investigated.
In the 2014-15 season, Theriot missed Nebraska's final 11 games after suffering an ankle injury in practice. NU was 17-4 with Theriot, but just 4-7 without her in the lineup.
During one early-season game in 2014-15, Natalie Romeo, Anya Kalenta, Cincore and Chandler Smith each was sidelined with foot and/or leg injuries.
Player transfers and staff turnover has also been a troubling trend. Many have been the result, sources said, of Yori's poor treatment of players.
Following the 2013-14 season, Nebraska natives Hannah Tvrdy and Sadie Murren each transferred. Tvrdy went to Colorado State, where she played on an NCAA Tournament team this season, and Murren finished her career at Division II Wayne State.
Tom Tvrdy, father of Hannah and a local high school coach, was asked if he had heard of allegations of mistreatment.
"That kind of stuff has been around, let's just say that," he said. "Obviously my daughter was on the inside playing there.
"I guess the thing that stands out to me on at least three occasions since (Hannah) left (Yori) has texted Hannah just to check on how she's doing after she transferred, and to wish her well, which really was kind of my lasting impression of her."
Katie Simon left the program early into the 2013-14 season, back pain cut Adrianna Maurer's career short during the 2012-13 campaign and Courtney Aitken left (she later transferred to Nebraska-Kearney) following that same season.
Smith transferred after her freshman season and sat out the 2015-16 season at Gonzaga.
In December 2014, Kaylee Page left the program only a semester into her career, and Nebraska also released her younger sister, Lane, from her signed national letter of intent, per the family's request. In a statement explaining Nebraska parting ways with the Page sisters, Yori cited young people going through tough times "in their growth toward maturity," saying also the transition to college can be difficult for both athletes and their parents.
As for Yori's staff, associate head coach Sunny Smallwood left for the same position at Boise State, her alma mater.
Following the 2014-15 season, assistant coach Shimmy Gray-Miller left to be an assistant at Florida.
Jan Bethea, the program's director of operations, left following the 2014-15 season to pursue other opportunities. She has since returned to school in Florida to complete her doctorate degree.
When asked if she was mistreated while playing at Nebraska from 2009-2013, former standout Lindsey Moore told the Journal Star, "Absolutely not." Moore also said she didn't hear concerns from teammates of mistreatment.
"Obviously Coach Yori is a tough coach and can get pretty worked up about things; you see it on the sidelines," said Moore, who is an assistant coach at Midland. "I never felt personally attacked. There were times she yelled at me, but I never once figured she was yelling at me because of the person I am, or anything like that. It was because I needed to do things differently. They always say listen to what she's saying, not how she's saying it, and that's what I did."
Moore said she helped Yori's team in practices this past season.
"I was actually able to attend practices this last year as a practice player," Moore said. "Every once in a while I'd get asked to come down. They were down a few practice players, so I'd get asked to do that. Coach Yori was honestly the same coach that I had from 2009 to 20013. If anything I thought that she'd eased up on the players."
Said another former Husker Layne Reeves (2008-11), "I was never the star or the show or a player who put in big minutes and changed the look of the game, but I was treated fair, and with respect, and I loved my time there."
Former Nebraska athletic director Bill Byrne hired Yori on June 24, 2002. For the previous 10 seasons she was the head coach at Creighton, where she played college basketball. Yori won only eight games in her first season at NU, but by her fifth year she had the first of her seven 20-wins seasons.
The 2009-10 season marked the best season in program history. Nebraska reached as high as No. 3 in the national polls and won the Big 12 regular season championship with a 16-0 record.
That team entered the NCAA Tournament with a 30-1 record, earned the school's first No. 1 seed and later advanced to the program's first NCAA Sweet 16.
It was the biggest single-season turnaround in the nation in 2009-10. The school-record 32 wins were a 17-game improvement from the previous season, and Yori was named national coach of the year.
In 2013, the Huskers reached the NCAA Sweet 16 for a second time under Yori.
This season began with lower expectations, because Nebraska had lost four senior starters from 2014-15. But there was also hope that Nebraska could return to the NCAA Tournament for a fifth straight season with the help of Theriot, a standout freshman in Shepard and Romeo, a sophomore who emerged as one of the best three-pointer shooters in the nation.
But Nebraska finished tied for seventh place in the Big Ten Conference and wasn't in position to reach the NCAA Tournament during the last few weeks of the regular season. Nebraska lost to Rutgers in the first game of the Big Ten Tournament and lost in the first round of the WNIT at home to Northern Iowa, part of five losses in six games to end the season.