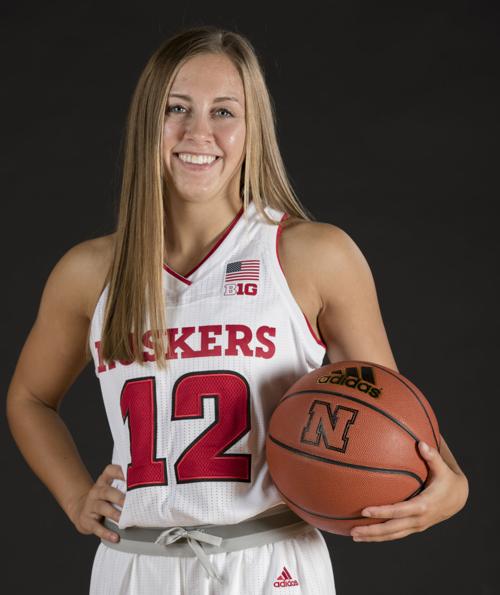 Emily Wood will be returning to her home state and playing in an arena where she has spent a good amount of time when the Nebraska women's basketball team plays Kansas in historic Allen Fieldhouse in Lawrence, Kansas, on Wednesday.
"I think it will be a really fun opportunity to play at KU," said the Husker senior guard from Salina, Kansas. "That's a pretty historic gym, and so just to get to play there and all the tradition that's there will be really neat."
The Husker roster includes three players from the state of Kansas, with sophomore forward Rachel Blackburn from Leavenworth and sophomore forward Grace Mitchell from Wellington joining Wood.
The Huskers will be facing a Kansas team that is 7-0 and has almost matched its win total from all of last season.
Wood's parents, Brian and Julie, each went to college at Kansas. Emily Wood said she's probably attended at least 10 men's basketball games at Allen Fieldhouse.
"I grew up going to camp and playing at Allen Fieldhouse, so I've been there quite a bit and watched some men's games there," Wood said. "My parents are both Jayhawks, so I've spent some time in Lawrence."
What Wood remembers most about attending men's games at Allen Fieldhouse is how the fans were all packed in close to each other.
Wood will be playing about two hours from home, which is the closest to home she's played during her college career.
"I've talked to quite a few friends that go to KU, and friends and family from my hometown that are going to make the trip," Wood said. "It should be really fun to get to play in front of them."
In high school, Wood played at Salina Central. As a senior she led the team to a school-record 23-2 record and runner-up state tournament finish in Class 5A. She averaged 16 points per game and made a school-record 91 three-pointers.
Wood is coming off the best performance of her college career with 12 points on 4-of-8 three-point shooting in a win against Arkansas Pine Bluff last week. The former walk-on also tied career highs with four rebounds and three steals while making her third start of the season. She's averaging 5.8 points per game and is making 56 percent of her three-point attempts.
Wednesday's game begins a stretch in which the Huskers will play three straight road games, including contests at Drake and San Jose State.
"We've got some road games coming up," Wood said. "We haven't been able to win on the road in the last couple of years, so it's really important for us to kind of take that next step and get some road wins."
Nebraska has a 5-3 record. But the Huskers also have some disappointing losses, including by 15 points against Creighton at home, and letting a late lead slip away in a 67-66 loss against Clemson.
For the Huskers to take the next step, Wood said the team needs to value every possession of the game.
"We have to control everything that we can control," Wood said. "So taking care of things like free throws, and taking care of the ball, and that kind of thing is really important for us."