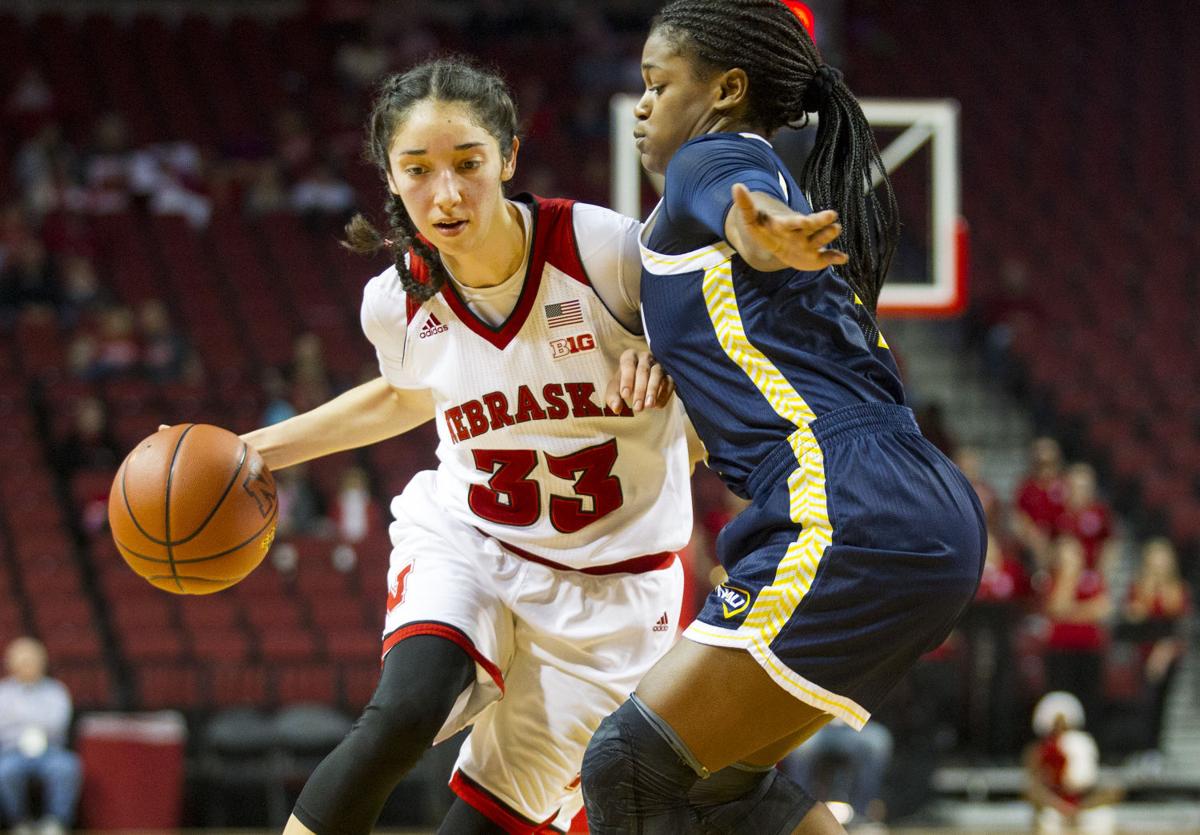 After a week off for final exams, the Nebraska women's basketball team came out a bit sluggish against Northern Arizona on Saturday afternoon at the Pinnacle Bank Arena.
However, a 13-0 run to end the third quarter sparked by Natalie Romeo turned a six-point deficit into a seven-point advantage heading into the fourth quarter.
NU, which made just 11 of 22 free throws in the first three quarters, hit 11 of 14 in the final period and got 15 of Jessica Shepard's team-high and freshman-record 35 points to pull away for a 90-67 win.
"It was a tale of two halves," NU coach Connie Yori said. "We didn't play with a lot of urgency on the defensive end in the first half, and it showed by giving up 46 points. We played with a lot more urgency and played harder and really played a good second half."
The final margin was a far cry from the way the game went for 3½ quarters for NU, which improved to 8-2, including 8-0 at home.
The Huskers fell behind 21-10 on a layup by Catelyn Preston with 2:20 left in the first quarter. Shepard, who scored all but four of NU's points in the opening quarter, scored the final six points to draw NU within 23-16 after the first 10 minutes.
Nebraska was without starting forward Rachel Blackburn because of illness, and her replacement, Allie Havers, picked up her third foul with 5:55 remaining in the first half. That meant Anya Kalenta got more action, and she responded with a career-high 14 rebounds to go with seven points.
The Huskers appeared to finally wake up when Romeo, who had a career-high 10 assists, suffered a gash above an eye with a flagrant foul screen. Kyndal Clark hit one free throw, then Rachel Theriot scored six straight points to pull NU to 33-30 with 3:30 left in the second quarter. The Huskers then committed a pair of turnovers on consecutive possessions and, just like that, Northern Arizona was back up 40-30 and NU couldn't get any closer than seven the rest of the first half and went into halftime down 46-37.
Theriot hit a pair of shots to start the third quarter to cut the deficit to 46-41. Alyssa Rader answered for Northern Arizona with five consecutive points to push the lead back to 51-41.
After NU got to 51-48, Northern Arizona called a timeout and then, as the shot clock was running down, Preston hit a three-pointer to push the lead back to 54-48. After the teams traded baskets, the Lumberjacks led 56-50 with 3:46 left in the third quarter.
Theriot, who scored 12 of her 23 points in the third period, added a three during the game-changing 13-0 run to end the quarter.
"After Rachel got going from the outside, they had to guard her more and weren't able to double as easily," said Shepard, who broke the previous record of 34 points by Debra Powell in 1982.
To start the fourth period, Nebraska extended its run to 15 straight before Northern Arizona got back within five points. The Lumberjacks still trailed by just six, 71-65, with 5:24 left before NU ended the game on a 19-2 run.