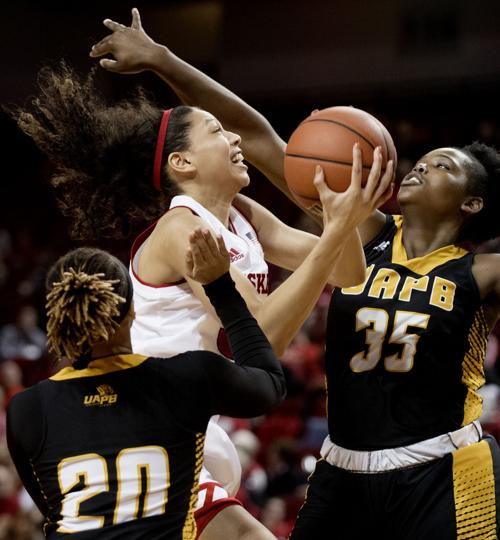 No Kissinger, no problem.
In the absence of its leading scorer, the Nebraska women's basketball team handled Arkansas-Pine Bluff 73-52 Saturday at Pinnacle Bank Arena.
Taylor Kissinger hurt her knee late in the Clemson game Thursday and was in street clothes on the bench Saturday. Nebraska coach Amy Williams is hopeful the freshman will be ready to go in Wednesday's game against Kansas.
Nebraska dominated in the first half against Arkansas-Pine Bluff, leading 22-4 at the end of the first quarter and taking a 37-12 advantage into halftime. Kate Cain, Emily Wood and Hannah Whitish were the keys in picking up the slack in Kissinger's absence. The trio combined for 37 points and 10 assists.
"I thought they sparked us," Williams said of the three players. "Emily came out with a bang and just hit a bunch of threes there to kind of get things started and Hannah is playing her best when she has games like today when she has eight assists and two turnovers. Just things where she's able to get the ball to players in scoring positions."
Cain found success in the post against an undersized Lions squad, a much-needed boost with a strong perimeter shooter in Kissinger sidelined.
"And Kate, we'll take that field-goal percentage any day, (7-for-10) is very efficient," Williams said. "I thought she found herself in good places around the basket and her teammates really found her and she was able to keep the ball high and finish and a double-double for her, that's good to see."
Despite the Huskers' strong start, Arkansas-Pine Bluff outscored them in second half 40-36.
"I think we took the foot off the gas a little bit in the second half," said Wood, who hit four three-pointers. "We had an opportunity to work on some zone defense and we didn't come out with the intensity we needed to keep playing hard like we did in the first half. And that showed."
The Lions threw on a full-court press and forced 10 Husker turnovers in the second half.
"We kind of let up a little," Williams said. "I thought that in the third quarter, when we were 6-for-22, and missed some easy baskets, some layups, some things that kind of rimmed out, some wide-open three-pointers, then we allowed those woes on that end to dictate our intensity on the defensive end."
Noe'll Taylor had 12 points to lead Arkansas-Pine Bluff. Malik Muhammad, a senior and Lincoln High graduate, had nine points, including 6-for-6 from the free-throw line.
Up next for the Huskers is a trip to Kansas on Wednesday. Wood, a native of Salina, says she's anticipating the return home.
"I'm excited. I grew up going to camps and playing at Allen Fieldhouse, so it will be a good trip back home."