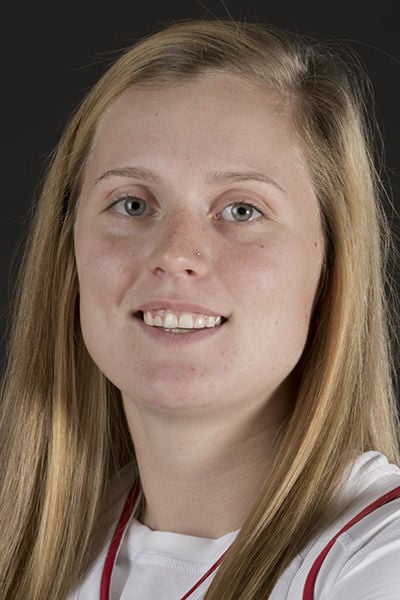 In the first game of a three-game road trip, Hannah Whitish and the Nebraska women's basketball team took down previously undefeated Kansas 66-49 Wednesday at Allen Fieldhouse in Lawrence, Kansas.
It was the first true road win for the Huskers since Jan. 24, 2016 at Michigan.
Sophomore Whitish took over the game in the second half, when she scored 25 of her career-high 29 points. Kansas native Emily Wood finished with six points on two made three-pointers, grabbed two rebounds and added an assist.
"I guess it's a good time to have it," Whitish said when asked in the postgame radio interview what it means to have her career high at Allen Fieldhouse.
The first quarter was tight as the Huskers took an early 12-10 lead. That lead quickly disappeared as Kansas outscored Nebraska 26-15 in the second quarter and led by nine going into the half.
"I think Hannah's three at the end of the half was a momentum boost and a confidence booster for her," NU coach Amy Williams said.
Whitish sparked the Huskers to start the second half, creating a 5-0 run by herself with a three-pointer off of Jasmine Cincore's assist and a jumper that followed a Maddie Simon steal.
"To have that toughness and grit to overcome a 1-for-7 half just shows how much Hannah has grown," Williams said.
With 4:04 left in the quarter, the Huskers went on an 8-0 run to regain the lead for the first time since the start of the second quarter. Nebraska led 46-45 going into the final frame after trailing by as many as 13 points.
For the second straight quarter, Whitish scored five straight points. She finished with 15 in the quarter. After Kansas tied the game at 46 on a free throw, Whitish went back to work and Wood, who grew up about two hours away in Salina, capped a 12-0 run with a three-pointer with 3:17 to play that put the Huskers back firmly in control.
"It was a special moment for (Wood) when she hit that three," Williams said. "I couldn't help but smile."
Defensively, Nebraska relied on Cincore's hustle and five blocks from Kate Cain, who also added five points and nine rebounds. Taylor Kissinger, who missed the Huskers win Saturday against Arkansas-Pine Bluff with a bruised knee, sat out a second straight game.
The Huskers allowed just four points in the final frame as the Jayhawks (7-1) went 0-for-14 from the field in the fourth quarter and shot 29 percent for the game. Kansas' final field goal was a Brianna Osorio layup with 55 seconds left in the third quarter.
Nebraska (6-3) faces Drake in Des Moines, Iowa, on Saturday at 2 p.m.