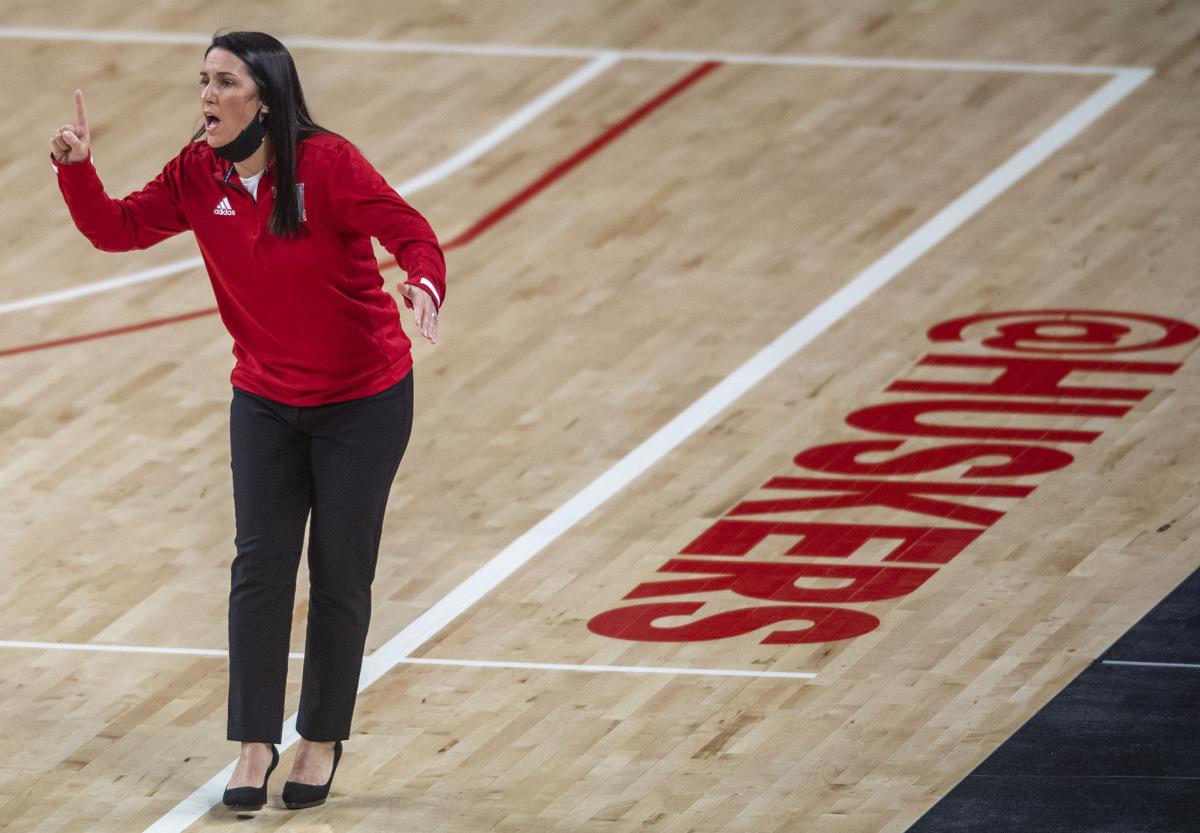 There are still challenges for college basketball teams because of the COVID-19 pandemic, but Amy Williams can now exhale a little.
Nebraska finished its season recently with a 13-13 record in Williams' fifth season as the Nebraska women's basketball team's coach.
Recruiting is still difficult without being able to host prospects on campus. There may be transfers in and out of the program over the next few months.
Williams said the past year has been "challenging." The start of Nebraska's season was delayed about 10 days due to COVID-19 cases for the Huskers. But Nebraska played 19 of its 20 scheduled Big Ten games and even played into the postseason in the WNIT.
"There is no guide book for how you do this," Williams said. "It's led me to feeling a lot closer to some of my colleagues on staff and the other coaches. A number of times I've reached out to John Cook or Rhonda Revelle or Fred Hoiberg or anybody to say, 'How did you deal with this?' I think that's created a camaraderie and a closeness there."
One thing that Williams really missed was having her family — husband Lloyd and daughters Kennadi and Bentli — around the team due to COVID-19 guidelines limiting exposure to the team.
Williams said Nebraska's first-year players haven't yet seen her as a wife and mother.
"That's the first time in my head coaching career that I've had practices where my daughters aren't bouncing the ball and shooting on the side hoops, or Bentli is setting up a Gatorade stand," Williams said. "Or my husband (a former college coach) is sitting over there watching practice and having a feel for the zone we put in that day that we were talking about at home."
Assistant coach Chuck Love also has young children who visit the gym.
"It's been such a staple in my career that it just felt very odd and kind of empty without that," Williams said. "I would say that would be one thing that I desperately missed about this season is for my players to have a relationship with my family, and for them to see me in that role of mom. We've navigated through it and feel excited that hopefully we're going to get back to more normalcy moving forward."
Here are Williams' thoughts on a few other topics during an interview after the season ended:
Do you expect fewer transfers than last offseason? Last season, there were three (Leigha Brown, Kayla Mershon and Ashtyn Veerbeek). 
AW: "That's such a hard thing to predict, and right now we're at that point where we're all decompressing from a long season. We're going to be giving the girls a couple of weeks off and then we will start to have some individual meetings and have some discussions. I think I saw that the women's basketball portal had over 540 people already in it, and that's with teams still playing. So I think the nature of sports today is there is some transition and change that happens in offseason. That's become normal."
Do you expect players using the extra year of eligibility due to COVID will be an issue at the end of each season for the next few years? 
AW: "Our hope is that we can start to have those conversations earlier on. Obviously you can't just wait until the end of every senior year and then say, 'Oh, what are you thinking?' Recruiting requires that you plan much more in advance for that. Every circumstance is going to be a little different. This will be the only year that we'll have an expectation to be able to go above and beyond scholarship limits."
Have your thoughts on Kendall Coley's potential changed after Coley came early and played 12 games? 
AW: "I feel just as excited as I was (before she came), and maybe even more so from just having the opportunity to witness how coachable she is and how much she wants to work and get in the gym and improve. She showed some flashes in the little bit of bonus time that we were able to get her in some game minutes. I think that's going to be valuable experience for her."
How could Kate Cain benefit from playing a fifth season at Nebraska, before trying professional basketball?
AW: "The competition of playing in the Big Ten Conference, obviously another year of that is just going to make you better. But I think the biggest thing would be for her to be able to have a senior year that's a little more normal and playing in front of the incredible Nebraska fan base and those types of things. That's an opportunity that I'd sure love to see her be able to take advantage of, or that would be one of the benefits of being able to come back."
What have you seen from watching incoming freshman Alexis Markowski's games online? 
AW: "There were so many times where she just made up her mind that she was not going to allow her team to lose. It was fun to watch her determination and will to get herself back to cutting down another (state championship) net."
Have you heard any activity in the practice gym outside your office yet?
AW: "Yes. As much as I told them two weeks off, there still have been some balls bouncing down there. I guess that's not a bad thing."