Sam Haiby's good news traveled so fast that other people knew before she did.
What was first thought to be a season-ending knee injury for the Nebraska women's basketball senior guard was later determined during surgery not to be as severe.
That meant Haiby was probably going to be able to play this season after all.
It was great news for Haiby, who had made the decision to return for a fifth season in hopes of having another special season after Nebraska won 24 games and reached the NCAA Tournament last season.
Now, after another injury scare in November, Haiby is back playing for the Huskers and helping Nebraska push for a return trip to the NCAA Tournament.
The Huskers (12-7, 4-4 Big Ten) have another chance for a resume-boosting win when they host No. 11 Maryland on Sunday at 1 p.m., having already taking a surprising 90-67 win against the Terrapins in December. That was the first time Nebraska had ever beaten Maryland in women's basketball.
It was during surgery to repair a suspected torn ACL on Oct. 27 that Haiby got the good news. Her knee got scoped, but there wasn't a need for a full repair.
"My mom couldn't be there, so it was Coach (Amy Williams) and Allison Weidner," said Haiby, who is from Moorhead, Minnesota. "They wheeled me back and 20 or 30 minutes later I woke up and I didn't have a brace on my leg and Coach Williams said it wasn't torn. That was that."
"My team knew before me; my parents knew before me," Haiby said. "I remember waking up and I had a ton of text messages from my team, and my dad and my mom and my brother. I was still out of it from the anesthesia, but it was kind of surreal."
Later, when she got home to roommates Jaz Shelley, Isabelle Bourne and Trinity Brady, they all sat there in shock. Haiby was back.
It's been a trying nine months for Haiby, who knew last season she would need offseason shoulder surgery. After that came the knee surgery, and then another small scare when she got hurt during her first game back this season.
"It's been a long, bumpy ride, but I'm just grateful that I'm able to play my final year here," Haiby said.
That was the second surgery in the past year for Haiby. In April, Haiby had that shoulder surgery, which required her to be in a sling.
"My roommates were a lot of help because I only had one arm for about five weeks," Haiby said.
Only a few weeks after she was back practicing without any restrictions, Haiby injured her knee on Sept. 12 while playing defense in practice.
"I didn't practice the rest of the time, just because it felt weird. I wasn't in a ton of pain," Haiby said. "And then that night the pain went from about a two to like a 12 out of 10. So I was fighting that the whole night, and then we got the MRI and they said ACL. And then I ended up going in for surgery."
On Sept. 23, Williams announced that Haiby would miss the season, which was crushing news for a program set to return the five players who were starters to end the season.
Haiby delayed the surgery because she was in a friend's wedding. Then after surgery on Oct. 27, Haiby knew there was a chance she'd be able to play after all.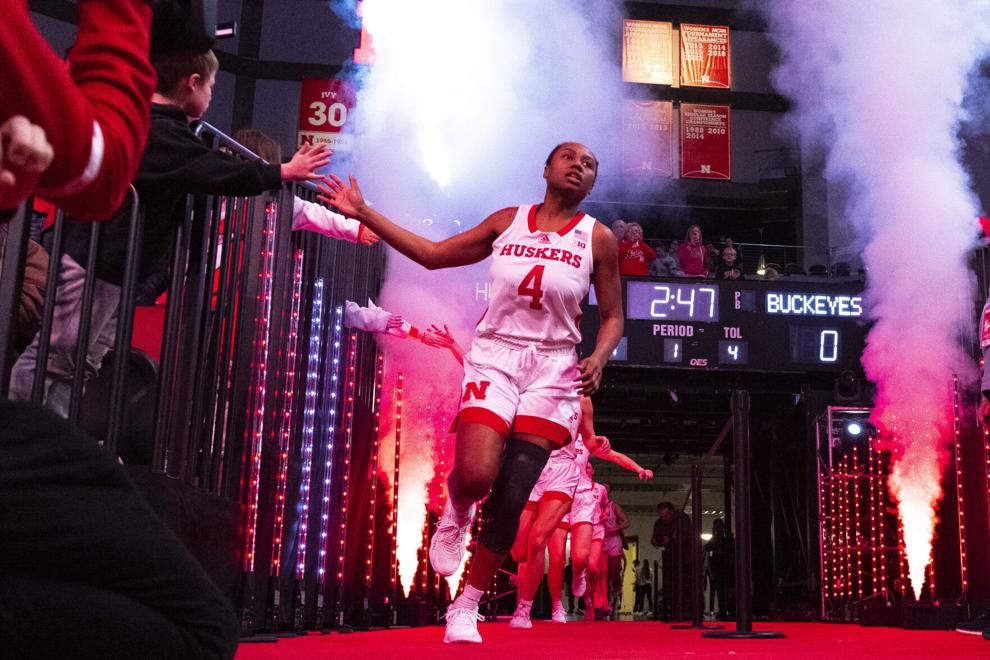 About two months after Nebraska announced Haiby was done, Haiby was back playing in the Huskers' game against Tarleton on Nov. 22 at Pinnacle Bank Arena. She had to leave the game after "tweaking" the knee injury again. At the time she was limited to playing about eight minutes per game, and the injury came after she'd played about six minutes.
She didn't play the next six games before returning to the lineup on Dec. 18 against Wyoming.
"I felt a lot stronger in that game," Haiby said. "As an athlete, you want to get back on the court as soon as you can. I was kind of pushing and fighting to get out there. But everything happens for a reason, and I'm healthy and feeling good now."
You don't know how much you miss basketball until you're injured, Haiby said.
"Once it's gone you realize how much you enjoy grinding with your teammates every day," she said.
Haiby hopes to play pro basketball next year.
In Nebraska's 71-64 win against Purdue on Wednesday, Haiby was back looking a lot like she had in past seasons — she averaged at least 10 points in each of her four college seasons. She played 33 minutes, finishing with 14 points, four rebounds, three assists and three steals.
She was doing what she does best — attacking the basket on drives to the hoop.
"I've always prided myself on that," Haiby said. "I've been quicker than most people ever since I was younger, so just using that to my advantage."
Over the past five games, Haiby is averaging 11.4 points, 5.6 rebounds, 3.0 assists and 2.4 steals.
Maryland (15-4, 6-2 Big Ten); ppg.
G– Elisa Pinzan 5-8 Sr. 3.9
G – Abby Meyers 6-0 Sr. 13.7
G – Shyanne Sellers 6-2 So. 14.6
G – Diamond Miller 6-3 Sr. 18.7
F – Faith Masonius 6-1 Sr. 7.1
Nebraska (12-7, 4-4); ppg
G – Jaz Shelley 5-9 Jr. 13.1
G – Maddie Krull 5-9 So. 5.2
G – Sam Haiby 5-9 Sr. 8.8
F – Isabelle Bourne 6-2 Jr. 10.9
C –Alexis Markowski 6-3 So. 12.7