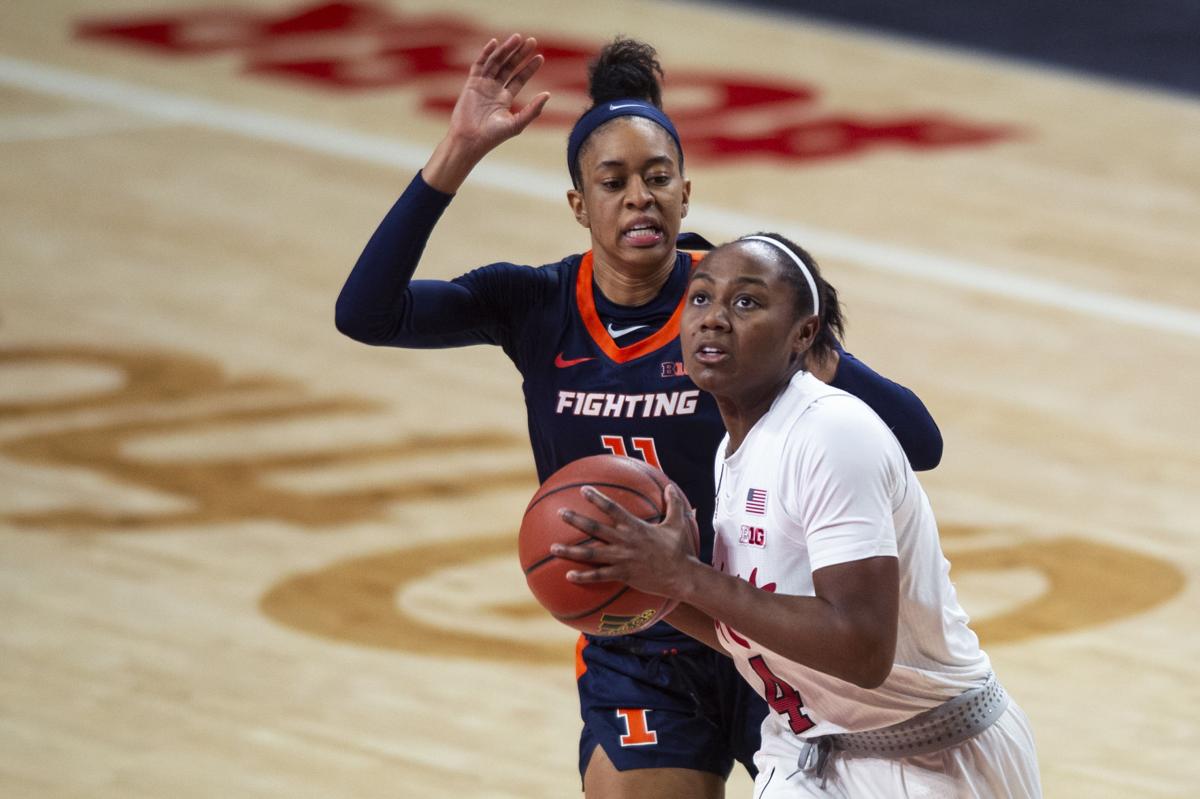 The Nebraska women's basketball crew is back together.
And, in a rarity in college sports, it's almost the same squad from last season. The Huskers began summer practice this week, and they did so without having a player leave the program to transfer to a new team in the three months since last season ended on March 20.
Now, Nebraska hasn't been completely immune to the uptick in transfers in college basketball. Two years ago, three players left, including leading scorer Leigha Brown to Michigan. And last season Makenzie Helms transferred just a few games into the season.
Nebraska coach Amy Williams "feels great" about no players leaving.
"In today's climate, it's unique," said Williams during an interview prior to a Big Red Blitz appearance in Columbus on Wednesday.
About 1,000 players have entered the NCAA transfer portal since last season began, an average of about three per NCAA Division I program.
Nebraska keeping its roster intact is especially noteworthy because players didn't lose eligibility for last season due to playing during a pandemic. Some of NU's players could have transferred and still played several years at a new school.
Williams feels like a strong culture on the team — led by returning captains Sam Haiby and Isabelle Bourne — contributed to the team sticking together. She thinks it's a tight group.
"I think last season we took some steps in the right direction with our team culture and the connectedness of our group," Williams said. "So I think that allowed for our kids to feel really good about each other."
Nebraska should return everyone from last season except for center Kate Cain, who chose not to use the extra season of eligibility and will try to play in one of the overseas professional leagues instead.
Last season Nebraska finished with a 13-13 record, including a 1-1 mark in the postseason WNIT. The Huskers had four wins against ranked teams.
Several injuries and previous transfers meant there were a few games when the Huskers only had seven available players. But Williams expects depth to be better this season, with a roster of 16 players.
First impressions: Nebraska began eight weeks of summer workouts with a full team practice on Monday.
Williams said it was a good start.
"It was so exciting to have that kind of competitiveness right away," she said. "That's a huge focus for us in this eight weeks is we really want to create competition and a lot of fire and energy. So we did more three-on-three and things that would get kids after it, and they really bought into that and got after it."
The practice was also the first for four of Nebraska's incoming freshmen — guards Allison Weidner and Kendall Moriarty, forward Alexis Markowski and center Tatiana Popa.
Freshman guard Kendall Coley previously joined the team in January and appeared in 12 games last season.
Williams said each of the freshmen added something to the team.
"Both Kendalls found themselves matched up against each other some and they were taking each other to the perimeter and posting each other up a little bit," Williams said. "(Weidner) made some fantastic passes."
Markowski, the high school player of the year from Lincoln Pius X, showed she was ready to compete at the college level.
"There were times where I thought maybe she was going to tackle (Bella Cravens) after a loose ball. She just gets after it," Williams said. "And Tatiana shows us something different with her length and size. They were all so nervous, and excited, but they did exactly what we needed them to do, and that's play hard."
Jaz Shelley, who transferred from Oregon during the offseason, has also joined the team in Lincoln.
Schedule begins to take shape: Nebraska will return to an 18-game regular-season conference schedule in 2021-22, and Nebraska now knows how many times it will play each league opponent. Nebraska has only one game against defending league champion Maryland. Here is Nebraska's draw for league games:
Home and away: Indiana, Iowa, Minnesota, Penn State and Wisconsin.
Home only: Michigan, Northwestern, Purdue and Rutgers.
Away only: Illinois, Maryland, Michigan State and Ohio State.
More details about Nebraska's nonconference and conference schedules will come this summer.
Injury update: Trinity Brady (ankle injury) and Nailah Dillard (surgery on both hips) still aren't practicing after each missed nearly all of last season. Williams does think Brady and Dillard will be able to play this season.