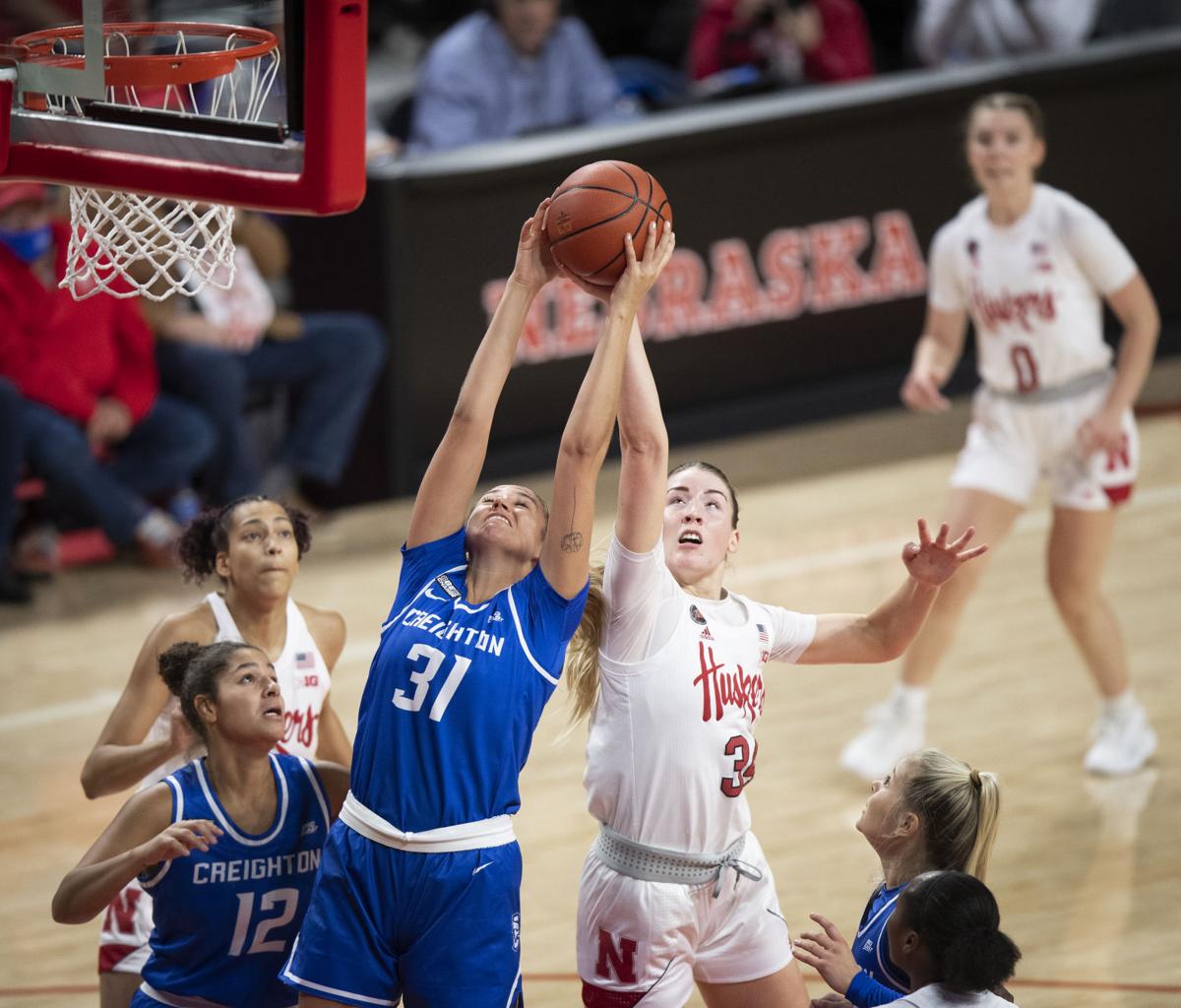 One of coach Amy Williams' favorite plays from the Nebraska women's basketball team's win against Creighton on Wednesday showed the expanded depth for the Huskers this season.
On that play, Allison Weidner dove to the floor to rebound a missed three-pointer by the Huskers in an all-out hustle play. She quickly flipped the ball to Jaz Shelley, who passed the ball to Bella Cravens, who passed it to Kendall Moriarty for a three-pointer. Swish.
That was one of the highlights of Nebraska's 67-62 win against the Bluejays, which raised the Huskers' record to 4-0.
Weidner and Moriarty are freshmen who come off the bench. During its game against Creighton last season, Nebraska was down to seven available players by the end of the game.
On Wednesday, the Huskers rotated 12 players into the action, and 10 scored.
Williams' philosophy on playing time is if you're playing as hard as you need to be, especially on defense, you're going to need to rest on the bench for a few minutes.
Nebraska playing in three blowouts to start the season affects how the stats look right now. But for Nebraska, it's noteworthy that seven players are averaging six points or more per game.
That depth was especially beneficial on defense against Creighton. Freshman Kendall Coley played 18 minutes and had two blocks and one steal. Weidner played 13 minutes and had four points and three rebounds.
Nebraska's players off the bench bought into playing great defense, Williams said.
"(Coley) just made things difficult and used her length and just did a lot of really good things for us," Williams said. "Kendall Moriarty had some good minutes. I thought Allison Weidner came in and got some deflections, tips, steals. There was just good balance there. From the first five, to the next five, to whoever got in the ballgame, they just did a really good job of buying into defensive pressure and not letting things be easy for Creighton."
Nebraska will finish a stretch of five straight home games to start the season when it plays North Carolina Central (0-3) at noon Saturday.
Coach impressed: Creighton coach Jim Flanery thinks Williams may have her best team during her six seasons as Nebraska coach.
"I told their staff before the game I think it's potentially the best team that Amy has had since she's been here," said Flanery after losing to Nebraska for the first time since 2015. "I feel like that they have a lot of weapons. They have good inside-outside balance and really good depth. The freshmen class can obviously help them with (Alexis) Markowski and Weidner."
Huskers love having Markowski: Markowski is averaging 10 points per game, and has shown she can be tough to stop inside at the college level, just like she was in high school at Lincoln Pius X.
"She is a competitor, and I just love having her on this team," Williams said. "I thought she really sparked us with a presence in the post. She's very difficult to move off that block."
Markowski thought it was fun playing against several Creighton players she knows from high school and club basketball.
"The environment was awesome, and I just love playing in the red," she said.
Better in the close games: Nebraska winning its first three games in routs came with one small problem: The Huskers hadn't had to try to finish off a close game like it did Wednesday against Creighton.
They worked on that in practice, but it's different in a real game. Now, they'll have some experience in that area.
"The big thing is we need to understand is late-game situational stuff," Williams said. "I just didn't think we handled that very well. I think that's the biggest learning lesson for us out of this ballgame. We need to execute. If we take a timeout to advance the basketball and we draw up a set, you need to get in the right spot so we can execute the set and not have to take a five-second call. Those things are going to get under my skin just a little."