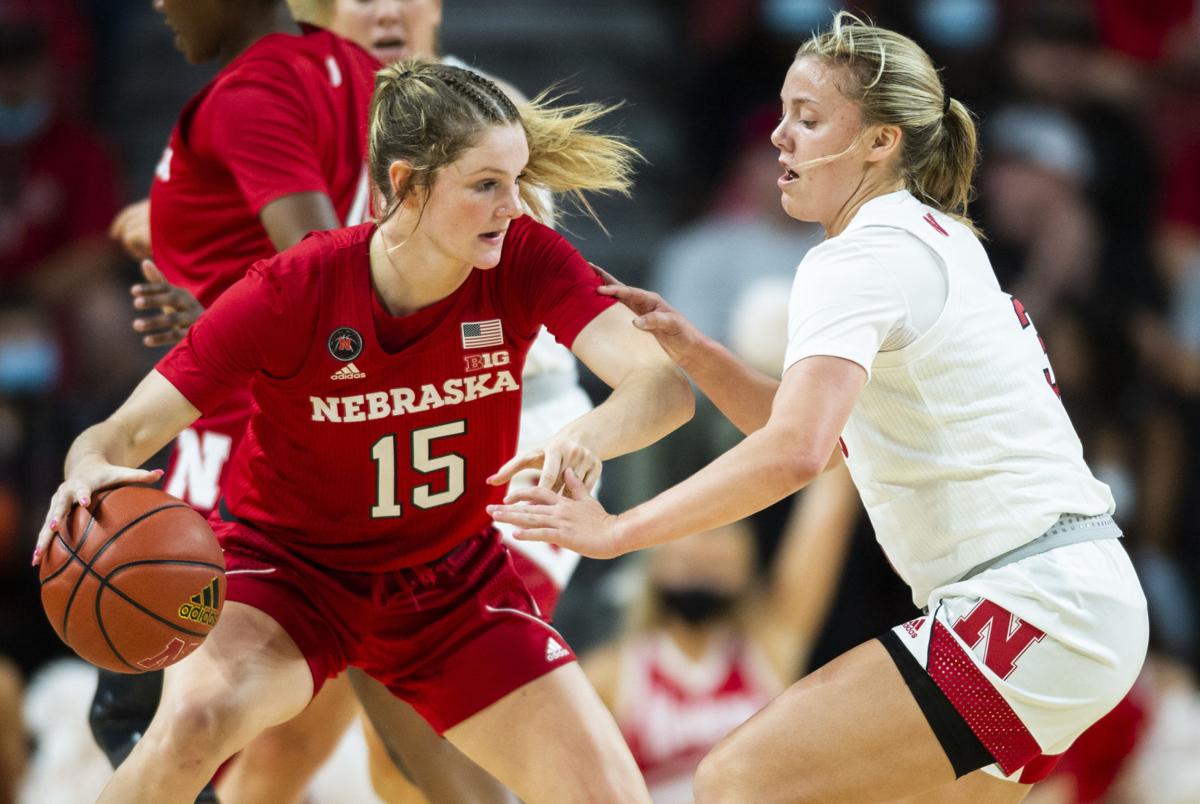 The Nebraska women's basketball team only lost one player from last season — Kate Cain — while adding four freshmen and one transfer.
And coach Amy Williams says that transfer, guard Jaz Shelley, is "a special player."
Shelley came to Nebraska after two seasons at Oregon. She never averaged more than seven points per game, but she has shown she can really shoot it. In one game, she made 10 three-pointers — the second-most in a college game that season — on just 14 attempts.
"She most definitely brings something that we have not had," said Williams on Monday, about one week into official practice for the Huskers.
"She's just a true point guard with great vision. She makes everyone around her better. She's a fantastic scorer and shooter. ... She's got a confidence and a composure about her. The way she plays the game it's something that is already affecting our team."
Shelley returned to Lincoln on Monday after playing for Australia in the FIBA Asia Cup the past two weeks, where she helped the team to a bronze medal.
"Jaz is a very good three-point shooter," said Husker guard Sam Haiby, who earned second-team All-Big Ten honors last season. "I think she's also going to help feeding our posts — she's a really good passer and deceptive. She's athletic, so she's going to be able to run the floor. Jaz is going to be a great addition to the team."
Work on the boards: Nebraska beat four ranked teams last season, but still finished ninth in the Big Ten with a 9-10 record, and 13-13 overall. To return to the NCAA Tournament for the first time since 2018 the players know they'll need to be good rebounding.
"The team that wins the Big Ten is always leading the conference in rebounding, so that's going to be one of our main points of emphasis this year," Haiby said.
Big event for recruiting: Nebraska had a group of recruits in town last weekend. They got to see the program be part of the Opening Night with Husker Hoops event at Pinnacle Bank Arena, where both the men's and women's teams scrimmaged and rapper G Herbo performed in front of a crowd of about 6,500.
Williams said the night was "huge" to help create excitement for the women's program.
"I'm a firm believer that the rising tides raises all ships," Williams said.
The basketball teams are close.
"We office right next to each other," she said. "We bounce a lot of ideas off of each other."
Nebraska has one known commit for its 2022 recruiting class that signs next month in Callin Hake, a guard from Minnesota.
Freshmen have big personalities: Nebraska's freshmen are guards Allison Weidner and Kendall Moriarty, and forwards Alexis Markowski and Tatiana Popa. Also part of the group is Kendall Coley, who joined the Huskers for the second part of last season.
"The whole crew of freshmen, they just have all kinds of personality," Williams said. "They bring energy and they want to compete."
Williams was also encouraged with a meeting she had with Markowski last week, calling it one of her favorite meetings she's ever had with a player.
"At least 15 times in that meeting she said, 'I just want to win,'" Williams said. "She means it. She is a very competitive young lady. She wants to do whatever she can do to help our team win. It doesn't matter if it's in rebounding drill or if it's going to be against Maryland in Big Ten play. She wants to win, and that's a great characteristic to be bringing into our program."