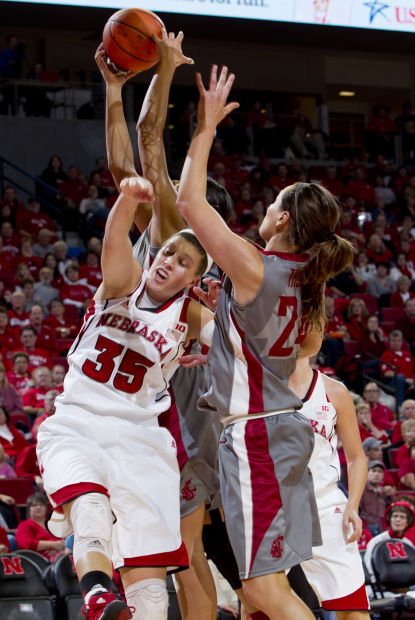 It was exactly the play the Huskers wanted.
The No. 10 Nebraska women's basketball team rallied from big deficits twice, but couldn't complete the job, falling to Washington State 76-72 on Saturday in front of 4,529 fans at Pinnacle Bank Arena.
Trailing 71-69 with 30 seconds to play, Nebraska coach Connie Yori drew up a play to free senior Jordan Hooper for a three-pointer.
"It was a perfect handoff by Rach (Rachel Theriot), I just didn't finish the shot," said Hooper, who ended up with 24 points and 14 rebounds but was just 6-of-27 from the field. "We usually just hand it off and I shoot it, and whatever happens, happens. Tonight, unfortunately, it was like the rest of the game. It didn't go in."
Washington State converted 5 of 6 free throws in the final 30 seconds to hold on for the upset.
"Obviously, for the Cougars it was a happy Thanksgiving," Washington State coach June Daugherty said. "It was a tough trip here coming off a loss at BYU. We got here early (Wednesday) to practice because we were not real pleased with the way we were playing. I'm really proud of the team for taking that to heart."
Washington State (4-4) must have had a pretty good shooting practice, because the Cougars were deadly on three-pointers. Coming into the game shooting just 28 percent beyond the arc, WSU buried six three-pointers in the first 10 minutes and finished 12-of-25. Five different Cougars made threes.
You have free articles remaining.
"Right now, we're playing defense like we hope they miss instead of let's make them miss," Yori said. "They hit shots, but we're just not able to take a lot of things away from our opponents right now. They go 12-for-25 from the three-point line. We have basically the same shots and we go 4-for-18, so there you go."
Nebraska (6-1) fell behind 29-14 in the first half but roared back to take a 30-29 lead on a pair of Hooper free throws. Washington State regained the lead and got three-pointers from Brandi Thomas and Sage Romberg to close the half with a 45-38 advantage.
Another three-point barrage to start the second half — two from Lia Galdeira and one from Romberg — keyed an 18-6 WSU run for a 63-44 lead with 12 minutes to play. But the Huskers had one more run in them.
"We switched up our defense a little bit," Hooper said. "We played with a lot of heart and a lot of guts tonight. I think that's what brought us back in the end."
Emily Cady scored 10 points in a 16-0 run that pulled the Huskers to 65-60 with eight minutes to go. It was a one-point game, 66-65, after a Tear'a Laudermill putback with 4:21 to play and Theriot's three-pointer made it 71-69 with 1:49 remaining. Hooper blocked a WSU shot with 50 seconds left, but the Huskers couldn't convert their final chances.
Fatigue likely played a factor in Nebraska's misses down the stretch. NU's five starters played 181 of the 200 minutes.
"We were tired," Yori said. "Jordan had some really good looks, both driving the ball, and then we ran a couple of things to get some stuff for her going to basket. Normally, the shots Jordan took today, we'll take those all the time."
Cady finished with 13 points and 13 rebounds, and Hailie Sample (11 points), Laudermill (10) and Theriot (10) also finished in double figures. Tia Presley led Washington State with 17 points, and Galdeira added 14. Taylor Edmundson came off the bench to hit three three-pointers and scored 13 points.
Nebraska goes on the road Wednesday to play at North Carolina as part of the Big Ten-ACC Challenge.