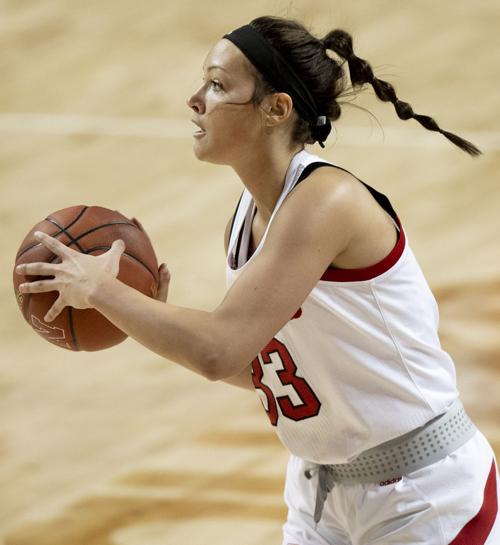 Nebraska women's basketball player Taylor Kissinger is ending her college playing career due to injuries, the athletic department announced Tuesday.
The 6-foot-1 guard was preparing for her fourth season with the Huskers, and was expected to have two more seasons of eligibility after taking a medical redshirt last season. In high school Kissinger was a top-50 national recruit while playing at Minden, a Class C-1 high school in Nebraska.
Kissinger faced setbacks during her rehabilitation following surgery, and her participation in practice was limited this summer.
"I love basketball and I love Nebraska. It was always a dream of mine to play for the Huskers, and I want to thank (coach Amy Williams) for giving me a chance to make my dreams come true," Kissinger said in a news release. "Injuries are forcing me to move to the next part of my life in basketball, which hopefully leads to a career helping other players achieve their dreams."
Kissinger was known for her three-point shooting, and as a sophomore ranked No. 4 nationally and No. 1 in the Big Ten when she made 45 percent of her three-point attempts. In one game that season she was a perfect 6-for-6 on threes. She also made six threes in what ended up being her final college game.
She finished her college career with 559 points, 214 rebounds, 78 assists and 36 steals. Her career .404 (122-302) three-point percentage is the best mark in program history.
Williams is looking forward to helping Kissinger continue to develop in the next stage of her career.
"We are obviously disappointed to see Taylor's playing career cut short by recurring injuries, but we are excited she will remain with us in a different capacity," Williams said. "No one is more passionate about being a Husker, and she still has so much to offer this program."
Kissinger appeared in 60 games with 31 starts over two-plus seasons with the Huskers. She averaged 10.0 points and 4.1 rebounds while appearing in 25 games with seven starts as a true freshman in 2017-18.
She helped the Huskers produce the biggest turnaround in the nation and advance to the 2018 NCAA Tournament despite missing six games in midseason with a knee injury. She also suffered an upper body sprain late in 2017-18 that limited her contributions at the end of the season.
I love Nebraska and loved representing the university for the past 3 years. Unfortunately, my injuries are preventing me from coming back my last year. I'm grateful for the opportunity to still contribute to the team on the sidelines. Thank you, Husker Nation. Go Big Red always. pic.twitter.com/aAVRVMQVHX

— taylor kissinger (@tswish33) September 15, 2020
She produced her most consistent season as a sophomore, playing in all 30 games with 24 starts in 2018-19, while averaging 8.9 points and 3.2 rebounds. She tied the Nebraska single-season record by making  45% (62-136) of her three-point attempts and connected on 88% (30-34) of her free throws.
All three of Kissinger's siblings played college basketball. Her brother, Derek, played at Hastings. Older sisters Brooke and Jamie played at Creighton and San Diego, respectively.
Center Kate Cain is the only senior on Nebraska's roster for this season.