The Nebraska women's basketball team announced its schedule on Tuesday, including 15 home games.
Nebraska's 29-game regular-season schedule will feature 18 games against teams that qualified for postseason play in 2018, including 12 games against 2018 NCAA Tournament teams.
During the offseason, the Huskers have approached nearly a 100 percent renewal rate among 2017-18 season ticket holders, and tickets for new season ticket holders will go on sale at 10 a.m. Wednesday through the Nebraska athletic ticket office at Huskers.com or by calling 1-800-8-BIGRED.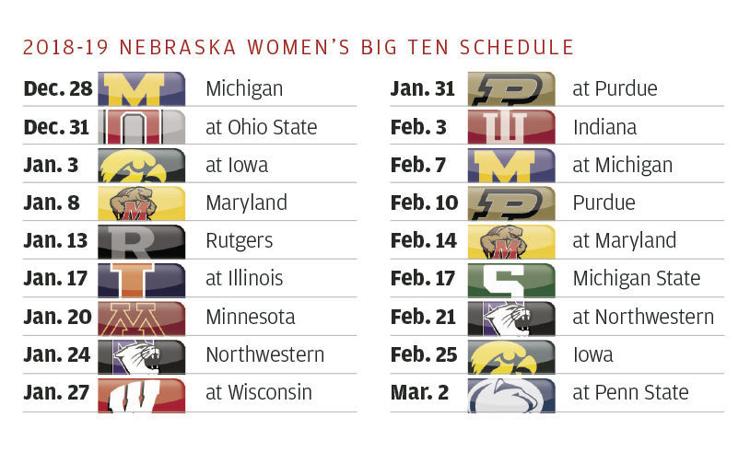 The Huskers, who posted the nation's top turnaround in 2017-18 in their second season under coach Amy Williams, return four starters and each of their top five scorers from a team that went 21-11 overall and tied for third in the final Big Ten regular-season standings at 11-5. Nebraska advanced to the first round of the 2018 NCAA Tournament.
After an exhibition game against Nebraska-Kearney on Nov. 3, the Huskers will tip off the regular season at home against Missouri Valley Conference champion Drake on Nov. 7.
The Huskers got a tough matchup in the ACC/Big Ten Challenge, going on the road to play Louisville on Nov. 29. Louisville reached the NCAA Final Four last season.
The Big Ten Conference is returning to an 18-game league schedule this season. Nebraska will open the Big Ten season at home against Michigan on Dec. 28. Nebraska's first four games in the league will feature top-six finishers from the final 2018 Big Ten standings, including defending conference regular-season and tournament champion Ohio State in Columbus on Dec. 31.
The final regular season home game will be Feb. 25 against Iowa. That will be senor night for Lincoln Pius X graduate Maddie Simon and graduate transfer Kristian Hudson.
The Huskers end the regular season with a game at Penn State on March 2. The Big Ten Tournament will once again be in Indianapolis.
Nebraska's 2018-19 schedule: Nov.: 3—Nebraska-Kearney (Exhibition); 7—Drake; 11—USC Upstate; 16—at Washington State; 23—at Miami*; 25—vs. Radford*; 29—Louisville; Dec.: 2—at Creighton; 5—Kansas; 8—San Jose State; 15—Denver; 18—at Arkansas; 28—Michigan; 31—at Ohio State; Jan.: 3—at Iowa; 8—Maryland; 13—Rutgers; 17—at Illinois; 20—Minnesota; 24—Northwestern; 27—at Wisconsin; 31—at Purdue; Feb.: 3—Indiana; 7—at Michigan; 10—Purdue; 14—at Maryland; 17—Michigan State; 21—at Northwestern; 25—Iowa; March: 2—Penn State; 6-10—Big Ten Tournament in Indianapolis. (* Miami Thanksgiving Classic)