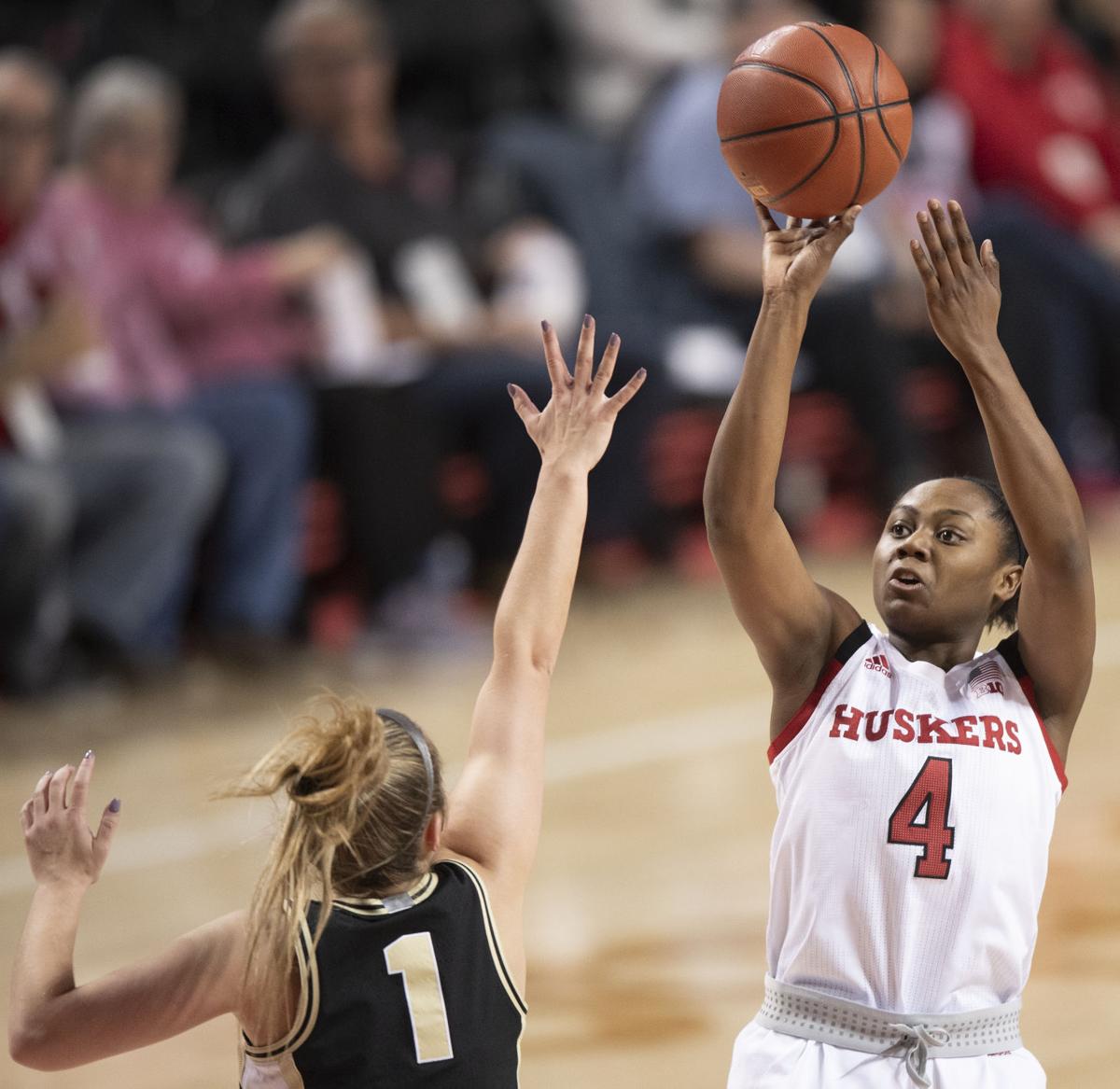 Everything is usually a lot easier in basketball when you're making shots, and that was certainly the case for the Nebraska women's basketball team in its last game.
In an 80-58 win against Illinois last week, the Huskers made a season-best 13 three-pointers, including making 11 of 16 three-pointers in the first half. That helped the Huskers get the easy win to end a two-game losing streak.
That three-point showing was a complete reversal from the previous game, when Nebraska lost by 13 points to Ohio State. In that game Nebraska missed its first 16 threes of the game, and finished just 2-for-20 beyond the arc.
Nebraska (17-11 overall, 7-10 Big Ten) being able to make some threes would give a boost to how much longer the Huskers play this season. Nebraska plays its final regular-season game on Thursday at No. 22 Indiana. Next week is the Big Ten Tournament, and after that the postseason (probably the WNIT).
Nebraska's three-point shooting took a big hit when Taylor Kissinger suffered a season-ending injury.
Nebraska hasn't been making threes like it was earlier in the season during a recent stretch where it lost six of seven games. The Huskers still rank No. 6 in the Big Ten in made three-pointers per game with 6.6.
But during the Big Ten season Nebraska has also had five games when it made five or fewer three-pointers.
Senior guard Hannah Whitish leads the Huskers with 62 three-pointers.
How does Whitish feel about the three-point shot in basketball?
"I like the shot a lot, personally," Whitish said. "We work on it a lot."
Sam Haiby has added 29 three-pointers this season, Leigha Brown has 27 and Ashtyn Veerbeek has 22.
When the players work on shooting outside of practice they put up a lot of threes, but they try to shoot threes like they would during a game.
"Our coaches stress a lot of game-speed shots, because you can stand on the three-point line with nobody in the gym and knock down a shot," Whitish said. "But having somebody in your face and running at you, or coming off of screens, it's way different.
"A lot of time with our coaches we try to get game-speed shots, so we are running the down screen to a tight curl with a pop. That's a shot you get in a game. You're not just going to stand on the three-point line and shoot. You're going to come off screens and come off ball screens and everything like that. That sets us up for being able to knock them down in a game."
It can also help Nebraska's three-point shooting if teams have to focus on center Kate Cain inside the paint. Then Nebraska's guards get more open threes, and that's when Whitish feels like the Huskers should make them.
"The amount of work that everybody puts in, the open shots should definitely fall," Whitish said.
Nebraska coach Amy Williams was thrilled that all the work the Huskers put into the game against Illinois paid off. Before the last practice prior to the Illinois game, Brown was dripping in sweat from an early shooting session, Williams said. Then Brown made 4 of 5 threes in the game.
"To see it pay off in a game situation is something that I think we'll carry with us," Williams said.