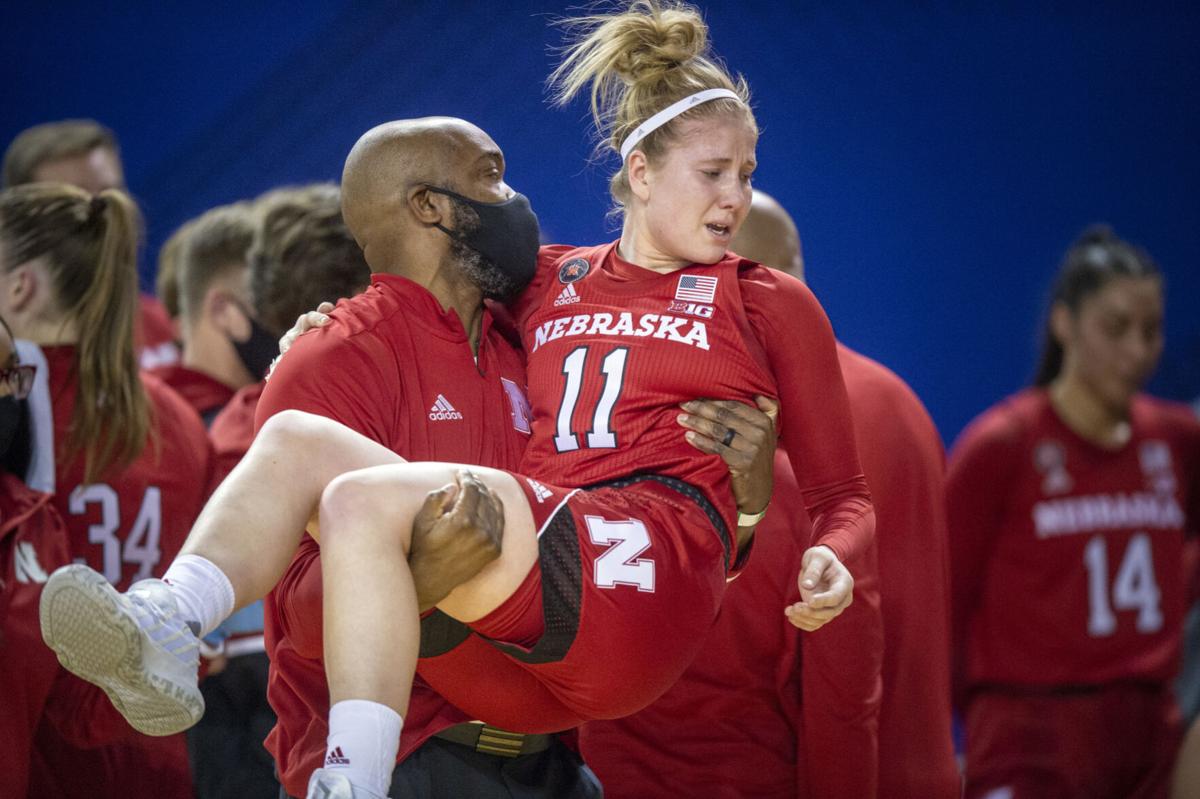 The COVID-19 season for the Nebraska women's basketball team is also starting out as the injury season.
With a second season-ending injury announced recently, the Huskers are down to nine available players as the Big Ten season gets serious this week for the Huskers with games against No. 15-ranked Indiana and Purdue.
Nailah Dillard, a guard who transferred from Texas Tech in April, had hip surgery Tuesday and will miss the entire season. She was injured this summer and hadn't played.
Also, junior guard MiCole Cayton can't play yet after having offseason knee surgery. She's been in uniform for games and takes part in warmups but isn't cleared for full-court practice with contact.
Even when Cayton is able to return, coaches will be cautious with her playing too many minutes due to a history of knee injuries.
The Huskers play Indiana at 3 p.m. Sunday. The game will be broadcast on Big Ten Network. Then Nebraska plays Purdue on Wednesday. With UNL classes not in session, the team will stay in Indiana after Sunday's game and not make the return trip before playing Purdue.
Nebraska's nine available players also may be misleading. Guards Trinity Brady and Ruby Porter are each currently injured. Brady injured her ankle in the second game of the season and has been on crutches the past two games. Last week, Ruby Porter hurt her ankle during Nebraska's 78-62 loss against Creighton. That was Nebraska's first loss.
So, for the second half against Creighton, the Huskers only had seven available players, and then six when Isabella Bourne fouled out in the fourth quarter.
Now Nebraska may be preparing to go into the busy part of the Big Ten season without being able to use six guards it thought in May would be playing right now.
"We knew this year would be filled with adversity," Nebraska coach Amy Williams said. "I thought that it would probably come more in the form of COVID, and it really hasn't been that. It's been the adversity that we've fought. It's been a couple of season-ending or career-ending injuries. It's been a couple of ankle injuries that's pulled us into a position where now all of a sudden you have (Isabella) Bourne who is playing 31 minutes, and about eight of those at her primary position."
The injuries and Helms leaving have led to more playing time for walk-on guard Whitney Brown. And some forwards needing to play defense against guards.
"It's teaching us lessons," Williams said. "We don't want to back down from the challenges and adversity that comes our way, and we want to be able to find a way to adjust. (Bourne) has been a beacon of being able to do that and just embrace whatever we throw at her. And (Bella Cravens) is guarding out of position and doing something that she's never done before. We're asking her to make those types of adjustments. I think they're doing a good job of just embracing, 'Hey, whatever this team needs me to do, let me do it.'"