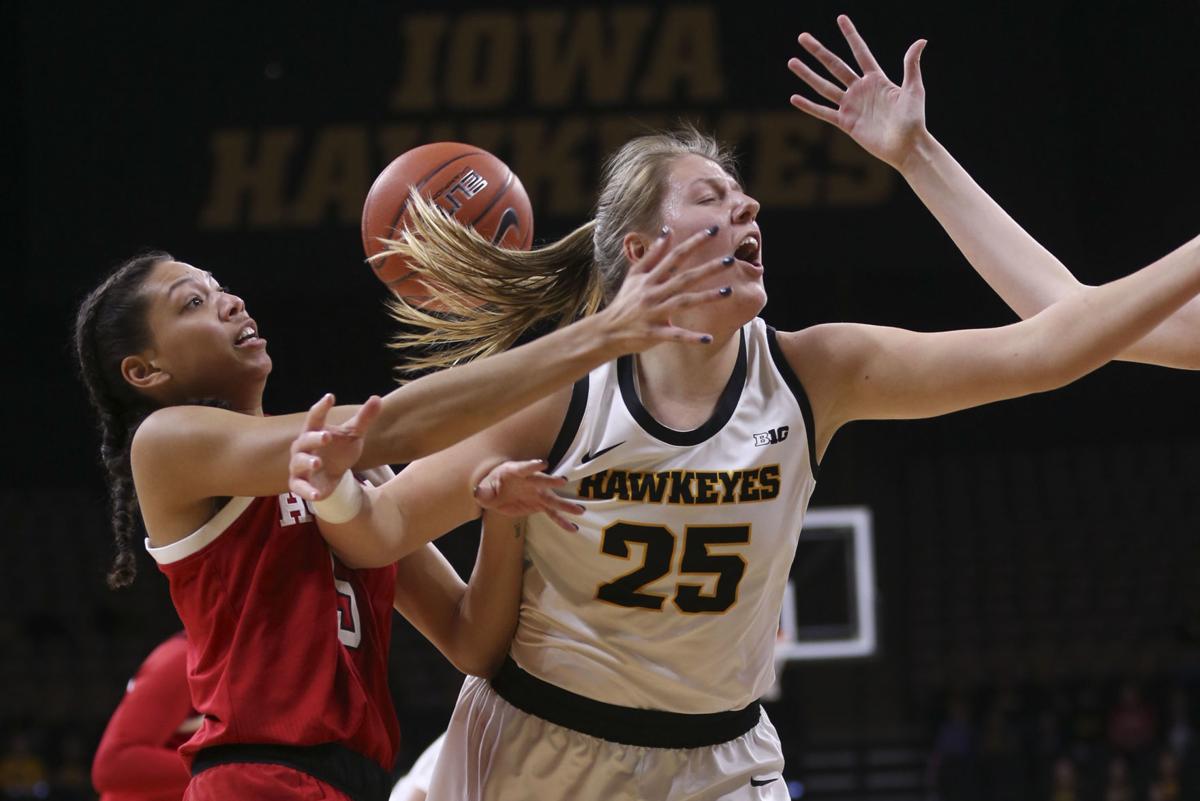 Nebraska joined a long list of college women's basketball teams that haven't been able to win a game at Iowa over the past 2½ seasons.
The 20th-ranked Hawkeyes used a big second half to beat Nebraska 76-60 on Thursday. Iowa has now won 33 consecutive home games over three seasons. That stretch includes a remarkable 19 straight Big Ten home games, including two against Maryland, the best program in the conference.
Nebraska is actually the last team to beat Iowa at Carver-Hawkeye Arena, completing the feat in January 2018.
The Hawkeyes (19-4, 10-2 Big Ten) are tied for first place in the league standings. Nebraska (15-8, 5-7) has lost three straight games for the first time this season.
Iowa had a great season last year, winning the Big Ten Tournament and reaching the NCAA Elite Eight, and has kept that going despite losing three senior starters.
The Hawkeyes got great games Thursday from senior point guard Kathleen Doyle and sophomore center Monika Czinano.
Doyle kept her impressive season going by scoring 15 points and setting a school record with 15 assists. Several of those assists came from getting the ball inside to Czinano, who scored a game-high 23 points. Czinano was just off her season-high of 24 points, and was 11-of-20 from the field. She also got Nebraska in foul trouble as the Huskers worked hard to try and defend her.
Nebraska had a good first half, committing just three turnovers and trailing just 35-32 at halftime. But Iowa quickly stretched a three-point halftime lead to 12 points by the end the third quarter.
You have free articles remaining.
Iowa outscored Nebraska 41-28 in the second half. Nebraska went to the fourth quarter trailing 57-45 and could not get closer than 10 points the rest of the way.
Nebraska missed eight of its last 10 shot attempts of the game, and didn't score in the final 2½ minutes of the game.
"We felt pretty good heading into halftime, and then kind of the offensive woes again in the second half," said Nebraska coach Amy Williams on the Husker Sports Network.
Nebraska cut down its turnovers from recent games, finishing with just eight, but just didn't make enough shots. Nebraska missed 22 three-point attempts in the game, going 8-for-30.
"We played with pretty good pace, and by our evaluation we got shots that we think are great shots for our team, and we just didn't make them," Williams said. "You can't come into a place like Iowa and get a win shooting 32 percent."
Leigha Brown led the Huskers with 20 points, and her eight points in the first quarter kept the Huskers in the game early.
Hannah Whitish added 14 points, and Kate Cain had 12 points and five blocked shots.
Iowa's passes led to a lot of good baskets, with the Hawkeyes having 23 assists on 28 field goals.
Be the first to know
Get local news delivered to your inbox!