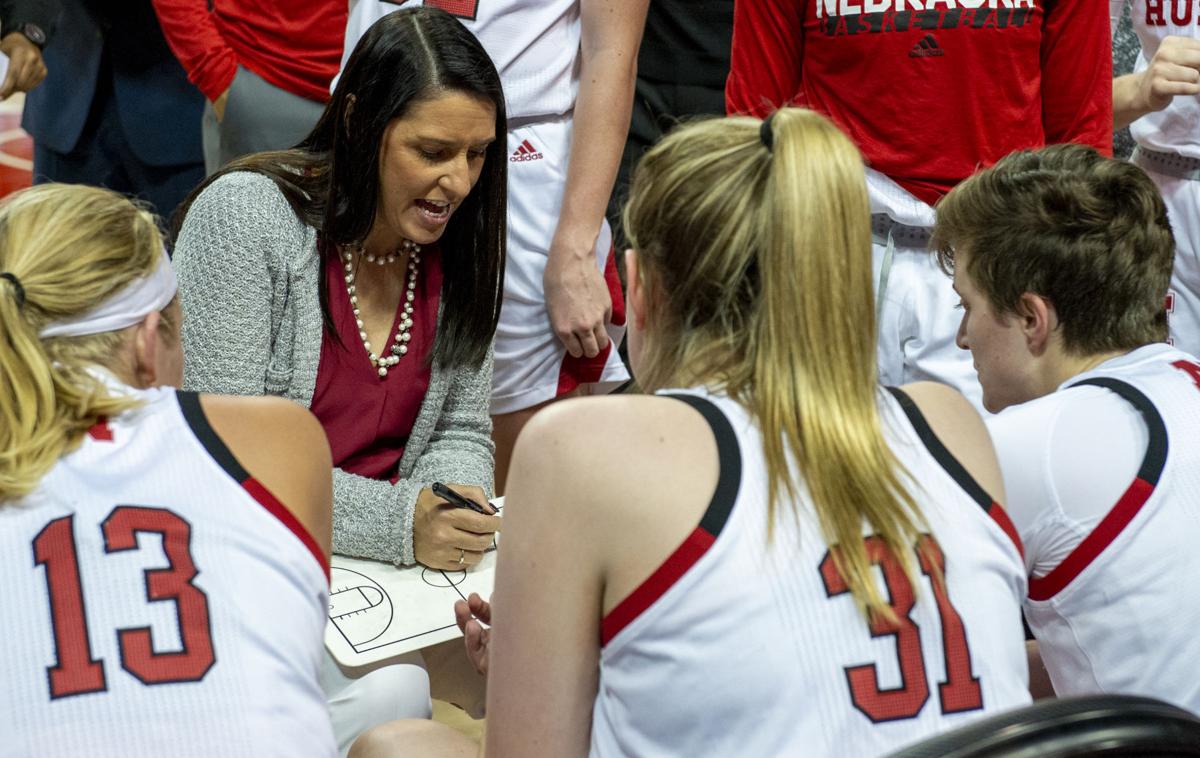 The teams that the Nebraska women's basketball team will play next season aren't completely shutting down right now despite restrictions for players and coaches because of the virus pandemic, so the Huskers aren't either.
Nebraska played its last game on March 5. Head coach Amy Williams was gearing up for a stretch of recruiting visits before the NCAA suspended off-campus recruiting.
"Right before I was getting ready to do a stretch of three straight home visits we got the word that all of the recruiting had been shut down," Williams said.
But Nebraska has still been able to have some success in recruiting in the past few weeks to help replenish the roster, and that's been critical after its roster at one point dipped to just six returning players and three freshmen due to graduation and players leaving the program.
The Huskers had four seniors this season with Hannah Whitish, Nicea Eliely, Grace Mitchell and Kristian Hudson.
And since last season, Nebraska has had three players make plans to transfer, including two starters. Leigha Brown is going to Michigan, Kayla Mershon to Minnesota and Ashtyn Veerbeek to Dordt, an NAIA program in her hometown of Sioux Center, Iowa.
In the past week Nebraska has added two transfers to the roster. Mi'Cole Cayton is a former top-100 recruit who played at California, and the graduate transfer should be eligible to play right away. And the Huskers got another transfer guard with Nilah Dillard from Texas Tech.
Nebraska also got a commitment from Kendall Coley, a high school junior and top-40 national recruit from Minneapolis. She's the third commitment for Nebraska's 2021 recruiting class, joining Kendall Moriarty, a top-80 recruit from Illinois, and Allison Weidner from Humphrey St. Francis.
With transfers and high school recruits not able to visit, the Nebraska coaches have been busy making phone and videoconference calls.
"It's whatever the next best thing is," Williams said. "Whenever you can't be face to face with recruits with campus visits or out in home visits, then the next best thing is to try and get FaceTime calls and being proactive on the phone with our current players and our recruits. That's been keeping us busy."
One such call was very successful. Cayton wasn't planning to make her decision on where she would transfer until next month, but shortly after a lengthy call with Nebraska coaches, she committed.
There are still a lot of transfers in the NCAA portal, and Nebraska will keep trying to add to its roster.
"We can't host any visits, but we have been very actively working the phones and have had several really good conversations here with late recruiting, which would be grad transfers and transfers and junior college transfers, and things like that," Williams said.
Now most of Nebraska's players are in their hometowns taking online classes at UNL.
"Our primary focus is just keeping them on top of their academic schedule and making sure they're keeping up with their classes online and finding ways to stay active without gyms, and things like that," Williams said.
Nebraska's players would have gotten a few weeks off after the season to rest and heal any injuries before resuming workouts. Now the players are finding ways to get workouts done at home.
"I would say the majority of the players that I've talked to have been active," Williams said. "They've been getting out and trying to run outside and do some outside work and some things that (strength coach Stuart Hart) has been able to send their way."