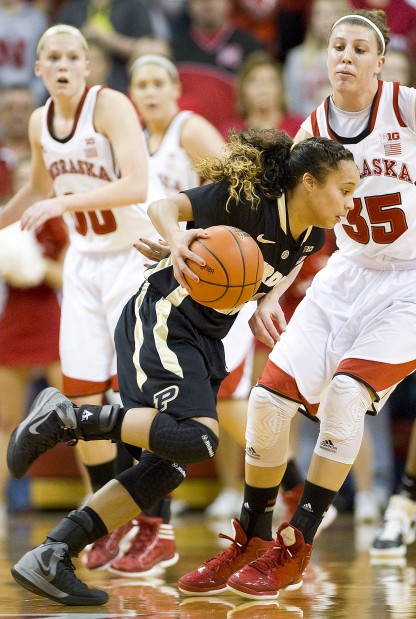 Throw a basketball in the second round of the NCAA women's tournament Monday night, and it was likely to hit a native Nebraskan.
Nebraska was playing at Texas A&M, the 2011 national champion, and Creighton was playing at Tennessee, the eight-time national champion and five-time runner-up. Meanwhile, Purdue was at Louisville, and Iowa was playing Notre Dame.
The common thread for several of those teams? Rosters with players from the Cornhusker State.
The Huskers (25-8), in the Sweet 16 for the second time in four years, will play Duke at 1:30 p.m. Sunday in Norfolk, Va. Nebraska counts heavily on Alliance sharpshooter Jordan Hooper and scrapper Emily Cady from Seward. Sadie Murren of Wahoo and Courtney Aitken of Centura High School are freshmen on the bench for the Huskers.
Creighton (25-8) wouldn't have been in the tourney without Alyssa Kamphaus of Seward, Alexis Akin-Otiko of Bellevue West, McKenzie Fujan of Bishop Neumann in Wahoo and Sarah Nelson from Omaha Westside. Purdue rode the talents of Lincoln Southeast graduate KK Houser.
Kansas State freshman Brianna Craig from Lincoln Northeast was the third-leading scorer for the Wildcats and Marissa Kastanek was the second-leading scorer for North Carolina State. Houser helped Purdue beat Nebraska twice. Creighton beat the Huskers in Omaha in December, shutting out Jordan Hooper for the only time in her career.
Omaha Marian grad Vicki McIntyre plays for Florida, still alive in the WNIT tournament. Katie Birkel of Lincoln Southeast is the leading scorer for North Dakota State, and teammate Jamie Van Kirk of Sutton is the fourth-leading scorer, adding to the total of 20 Nebraskans playing Division I women's basketball. Carly Grenfell of York is the fifth-leading scorer for Drake.
Next year, Alexa Kastanek of Southeast will play for Iowa, Lauren Works of Southwest is headed to Creighton and Hannah Trvdy of Seward will play at Nebraska. In a couple of years, Journal Star Player of the Year Jessica Shepard of Southeast will play for Nebraska. She'll play her next two seasons at Fremont High.
"I think the coaching in Nebraska high schools is excellent, and that raises the level of competition," Nebraska coach Connie Yori said. "We have so many more club teams, playing solid competition through the year, and that has helped sharpen the skills of the players in the state, too.
"We'll always look in-state first and then out of state in recruiting," Yori said. "We've been very fortunate to have a number of girls from Nebraska. When you look around at other Division I schools with girls from here, it shows just how good the competition is in Nebraska."