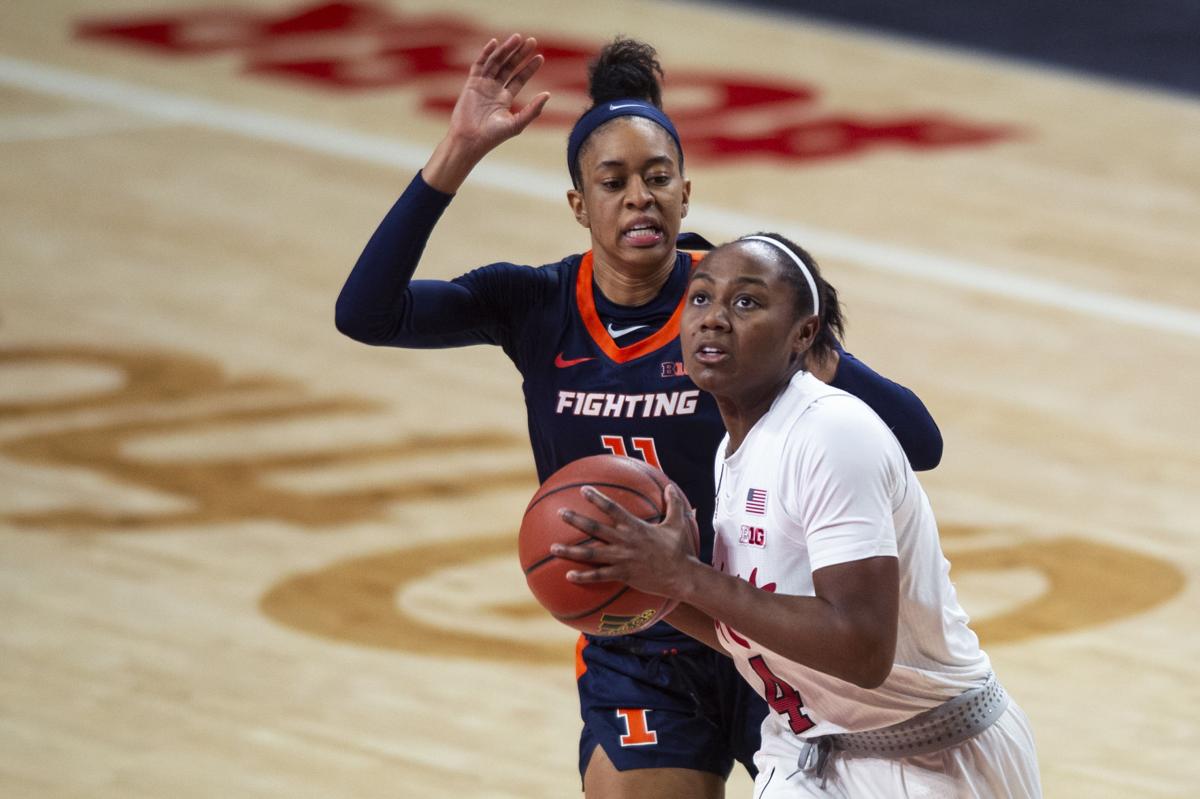 Before the season began, Nebraska women's basketball coach Amy Williams challenged junior guard Sam Haiby to be one of the team's best rebounders.
At 5-foot-9, Haiby is one of the smaller players on the team, but the guard from Moorhead, Minnesota, accepted the challenge anyway. Guards can be good rebounders, too.
"My dad has always said, 'Be a rebounding guard,' so when Coach said that, I knew in the back of my head that's something I can improve on to help the team," Haiby said. "So when she told me that, I took that to heart and really have come out strong in that category this year."
Haiby has been right there as Nebraska's leading or second-leading rebounder this season. She ranks second on the team with an average of 7.3 rebounds per game. That's one of the areas she's made a big jump in after averaging 4.2 rebounds last season when she was also a starter.
How does Haiby think you can become a better rebounder?
"It's definitely just a heart thing," Haiby said. "You got to want the ball, I guess. Just staying active and moving on the floor. Offensively, get them out of position and be able to get those extra plays when needed. And definitely just crashing hard and wanting the ball."
Haiby continues to show growth as an all-around player. Going into Sunday's 2 p.m. road game against No. 23 Michigan State, she leads the Huskers in scoring (17.3 points per game), assists (3.8) and steals (1.3).
Haiby has improved her scoring average by an impressive 7.3 points per game this season. When Haiby uses her speed to drive to the basket, she's often successful.
Haiby's approach to rebounding this season is that it's just one more way she can help the Huskers win.
"This year the coaches kind of pointed that out to me, just to be impactful in other areas of the floor other than just scoring," Haiby said. "So I took that to heart and just try to go out there and play hard and get some rebounds when I can. Bella (Cravens) is definitely in there banging, that's very obvious to everyone, so we love her for that. Just where I can fill in and try to make those extra hustle plays when needed."
Of course, none of Haiby's 66 rebounds was bigger than when she got the rebound of her own missed shot and made the putback at the buzzer to beat No. 15 Northwestern on New Year's Eve.
"Sam has been pretty special," Williams said. "I think the one thing that we've really noticed is that she's been able to find ways to score the basketball, but I think she's really embraced and understands that she means so much more to our team than that."
This is another season where rebounding will be a key factor in how much success the Huskers (5-4, 3-3 Big Ten) have. Cravens, the transfer from Eastern Washington, has helped in that area. She has 67 rebounds, one more than Haiby. Cravens had 16 rebounds in a win against Illinois and 13 when Nebraska beat Rutgers.
But Nebraska still ranks last in the Big Ten in rebounding margin. In each of Nebraska's four losses, the Huskers were outrebounded, and twice by a wide margin. Michigan got 30 offensive rebounds against the Huskers, which is tied for the most ever by a Husker opponent.